Pope Francis, the Vatican's substitute teacher
Are there any grown-ups in charge?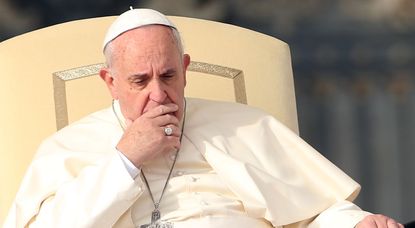 (Image credit: Franco Origlia/Getty Images)
What is going on at the Vatican? Low-level plots and high-octane insults are leaking out a steady rate. And for now, Pope Francis seems to be absent.
There is the ongoing attempt to smear the pope's top reformer. Francis has given Cardinal George Pell extraordinary power to reform the Vatican's finances, particularly its bank, a job that has put a lot of Italian noses out of joint. Earlier this year, anonymous critics began to charge that Pell was racking up outrageous expenses. In an effort to make Pell look like an out-of-touch traditionalist, he was accused of purchasing a "cappa magna," a long and luxurious robe that is strongly associated with the arch-traditionalist Cardinal Burke, whose career was basically ended by Francis last year. It was an obvious, clumsy smear.
Now Pell is being hit by much graver accusations. Last week, Peter Saunders, a lay member of a Vatican commission that is handling cases of child sexual abuse, went on the Australian version of 60 Minutes and called Pell a sociopath. The accusations, combined with a media campaign in Australia, make it seem as if Pell was intimately involved in protecting an abusive priest. But he was not a bishop in charge of that priest, and his record on the issue is one of the few commendable ones in the church hierarchy. Pell says he is considering legal action against Saunders, creating the ugly spectacle of a battle between two Vatican reformers.
Subscribe to The Week
Escape your echo chamber. Get the facts behind the news, plus analysis from multiple perspectives.
SUBSCRIBE & SAVE
Sign up for The Week's Free Newsletters
From our morning news briefing to a weekly Good News Newsletter, get the best of The Week delivered directly to your inbox.
From our morning news briefing to a weekly Good News Newsletter, get the best of The Week delivered directly to your inbox.
Has Pope Francis intervened to protect his cardinal? No, not really.
Recently Vatican officials held a conference on climate change. The invited speakers included economist Jeffrey Sachs and U.N. Secretary General Ban Ki Moon. The former has been a noted opponent of the church on a number of issues, and even promotes abortion as a "low-risk" intervention to reduce fertility, as part of an effort to reduce the global population. When Catholic and pro-life journalists sent questions to Archbishop Sánchez Sorondo, one of the conference's organizers, he responded with a breathtaking glibness that reads like a mid-2000s contribution to DailyKos.
When asked simple questions by pro-lifers about the wisdom of the church offering those men a platform, Sorondo said, "The Tea Party and all those whose income derives from oil have criticized us." He castigated the questioner by saying that Sachs and Moon "don't even mention abortion or population control. They speak of access to family planning and sexual and reproductive health and reproductive rights." What does this Vatican official think is meant by "reproductive rights"?
But Sorondo's nasty, conspiratorial response was outdone by Margaret Archer, president of the Pontifical Academy of Social Sciences. Her response to pro-lifers accused the questioner of being a defective Catholic who must only be concerned with human dignity between conception and birth, a clichéd rhetorical attack that should be beneath a woman of her station, let alone a representative of the Vatican. She also accused the critics of being in the pocket of energy industry lobbyists. Does no one else find this unseemly? Her high-handedness and open partisanship were astounding: "I am appointed by the pope and responsible directly to him. I'm afraid that leaves you and your cohort out in the cold."
In other words, when asked for clarity about the Vatican giving a platform to population-control advocates, the Vatican's published response was, essentially: "You lousy corrupt Tea Baggers don't even know what Catholicism is."
There are theological politics at play as well. Cardinal Pell was one of the chief conservative voices at the ongoing Catholic synod on the family. As the synod began to look like a fait accompli for European bishops who want to soften the church's teaching on sexual issues, Pell notably intervened against what he called "the manipulation" of the synod by the pope's handpicked men. Recently a number of these European bishops and theologians met in a study group that included media outlets to plot their strategy for the synod.
When Pope Benedict resigned in 2013, it was believed that he did so because his lack of control at the Vatican and his ill health portended a disaster. If the "Vatileaks" scandal could happen while he was still lucid and active, what would happen if another stroke incapacitated him for years at a time? The leaks had shown that Benedict's efforts to reform the Vatican's opaque finances, the handling of sexual abuse cases, and even the liturgical life of the church itself had been undermined by his subordinates.
Francis is said to have won election through a coalition of ecclesiastical liberals and others who wanted to see a de-Italianized Vatican — a reformed institution. There are constant rumors about a big revision to certain Vatican offices, namely the Congregation for the Doctrine of the Faith, an office that has a few scandals to recommend it for demolition.
But right now, Pope Francis looks like a substitute teacher, barely aware of the unseemly machinations in the back of his classroom — or barely in authority to stop them.

Continue reading for free
We hope you're enjoying The Week's refreshingly open-minded journalism.
Subscribed to The Week? Register your account with the same email as your subscription.