10 books to read at the beach this summer
From best-selling tomes to sci-fi page-turners, TheWeek.com rounds up a summer's worth of reads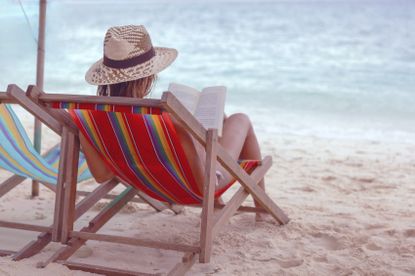 (Image credit: iStock)
The Bartimaeus Trilogy, Jonathan Stroud
The Bartimaeus Trilogy, by Jonathan Stroud, is a sorely underrated entry in the modern fantasy fiction genre. It concerns the djinni Bartimaeus, his young magician master Nathaniel, and an alternate history in which a magically assisted Britain is the world's most powerful empire. It has a very cynical view of magicians, who have no power except that which they can wring out of enslaved spirits like Bartimaeus — but they use that power to rule over the rest of humanity. In tone, it lands somewhere between Harry Potter and A Song of Ice and Fire, though it has little of the overpowering bleakness of George R. R. Martin's offerings. It is written from Bartimaeus' perspective, and his snide comments, often presented in footnotes, are reliably hilarious. In quality of characterization, coherence of world-building, and above all tightness of plotting, the series is head and shoulders above most fantasy novels. And though the trilogy stands well alone, Stroud also recently wrote a prequel, The Ring of Solomon, as a nice nightcap. —Ryan Cooper, national correspondent
Carter Beats the Devil, Glen David Gold
Subscribe to The Week
Escape your echo chamber. Get the facts behind the news, plus analysis from multiple perspectives.
SUBSCRIBE & SAVE
Sign up for The Week's Free Newsletters
From our morning news briefing to a weekly Good News Newsletter, get the best of The Week delivered directly to your inbox.
From our morning news briefing to a weekly Good News Newsletter, get the best of The Week delivered directly to your inbox.
The year is 1923, and legendary stage magician Charles Carter has just invited a very special guest to take part in his next trick: U.S. President Warren G. Harding. The elaborate illusion, performed in front of a sold-out crowd, is enough to make any Secret Service agent sweat: Carter decapitates the president, chops him into pieces, and feeds him to a lion — then presents Harding again, miraculously unharmed. But Carter's clever trick backfires when the president dies for real just a few hours later. Carter Beats the Devil is perfect for a long day at the beach. It's hefty, so it'll keep you occupied, but it's rapidly paced, so you'll blaze right through it. And its episodic narrative weaves in at least a dozen real-life historical figures, offering the challenge of trying to catch Gold's many references. Above all, Carter Beats the Devil is just a lot of fun — a clever, engaging blend of history and fiction that saves its greatest tricks until the very end. —Scott Meslow, entertainment editor and film and television critic
The Goldfinch, Donna Tartt
Who says last year's bestseller can't be this summer's perfect beach read? Donna Tartt's 784-page tome The Goldfinch is gripping, if at times meandering (I repeat: 784 pages long). The novel follows Theodore Decker's coming of age, beginning with the loss of his mother in a tragic accident. Young Theo is compassionate and smart, despite having lived a childhood plagued by tragedy and a sense of unworthiness. Adult Theo, on the other hand, is constantly teetering on the edge of a breakdown, even while displaying a veneer of great success. Never completely showing her hand, Tartt wonderfully captures the manic state that comes with finding oneself. The Goldfinch delights in the beauty that can be found in those bittersweet moments that lead toward self-discovery — and in the insurmountable spaces between close friends, between painting and viewer, and between book and reader. —Stephanie Talmadge, digital production assistant
Little Bee, Chris Cleave
If you had to judge this book by its cover, the burnt­-orange jacket and beautiful silhouette would probably convince you that Little Bee is a fun, simple summer read. But Chris Cleave's novel is much deeper than your typical tanning tome; chronicling the intertwined lives of a Nigerian refugee and a British magazine editor, the novel is moving, witty, and always thoroughly captivating. Cleave gives his two narrators alternating chapters to tell their respective sides of a complicated situation. As the novel progresses, the women hint at the reason they know each other, revealing more and more details as the pages turn, but it's not until you're fully invested in the characters that Cleave pulls back the curtain on the depth of their relationship. The short story is that Little Bee and Sarah O'Rourke met by chance on a beach in Nigeria, during the throes of the country's oil wars. The long story will have you chuckling, shuddering, smiling, and tearing up, all at once. —Kimberly Alters, social media editor
Paris Trance, Geoff Dyer
If summer is the season of golden limbs and azure skies, of windless days and silent hours, then surely there is an entire epoch that we can call our life's summer — a time, usually in youth, when everything is as voluptuously still as a ripe peach on the branch. This is the prevailing atmosphere of Geoff Dyer's Paris Trance, the story of two 20-something expatriates in France who discover love, Ecstasy, and electronica in the pre-internet heyday of the 1990s. While there is plenty of cutting repartee and frenetic action — drug-fueled dancing, hyper-competitive tennis, a lot of sex — the broader feeling is one of blissed-out completeness, a rare moment of perfection that is all the more poignant for being fleeting. The beauty of this comic, touching novel is that it captures, like glowing fireflies in a jar, our endless summer; we can feel, as Dyer puts it, "time going nowhere else, staying." —Ryu Spaeth, deputy editor
Persuasion, Jane Austen
This is That Other Book by Jane Austen, the one your English teacher never got to, the one that doesn't have a Keira Knightley- or Kate Winslett-led movie adaptation, the one that gets treated a lot like, well, Anne Elliot, the protagonist of That Other Book. Better known as Persuasion, Jane Austen's last completed novel is as dark as the iconic writer gets. Of course, Jane Austen Dark is many authors' lite, but still, compared with its predecessors the book skews sober in its musings on human character and in its skepticism of the happily-ever-after. We follow the ups and downs — mostly downs — of Anne, a sensible, steady woman of 27 who eight years earlier was persuaded to give up her engagement to Frederick Wentworth, then a young naval officer. Austen-esque circumstances throw the pair together again, replete with Anne's silly but kind neighbors the Musgroves, and her insufferably prideful father and older sister. Persuasion offers up a slower pace than other Austen fare, and a calmer heroine than Emma Woodhouse or Elizabeth Bennett, but it is as worthy a read as any of Austen's offerings — and the best part is you don't have to write a five-page essay on it for English class when you're finished. —Sarah Eberspacher, associate editor
Reading Revelation Responsibly, Michael J. Gorman
I grew up reading the last book of the Bible, with the Left Behind series as my commentary, so needless to say, Michael J. Gorman's Reading Revelation Responsibly was a welcome foil to those sometimes terrifying, often confusing early studies. Gorman offers up a challenging but always readable look at the apocalypse — as it would have been understood by its original audience: a "prophetic, pastoral, visionary guide to worshiping and following the Lamb," which "calls us to unlearn and abandon the false but often seductive gospel of empire." Particularly noteworthy for American readers is Gorman's critique of American civil religion and the sacralized violence it demands. While Revelation's insistence that the Christian choose between ultimate allegiance to Christ or to Caesar is in many ways specific to its first-century context, Gorman ably highlights the book's liturgical, poetic, and political elements for readers of any time or place. —Bonnie Kristian, contributing writer
The Secret Place, Tana French
I tend to bring books of real literary ambition to the beach, while everyone else brings genre lit. Why not split the difference, and settle on Irish detective novelist Tana French? All of her stories make a perfect beach read. She has the plotting acumen of the best airport-lit, but her work contains real psychological depth, and the characterization of a true regional master. Her region is Dublin — and any social divides therein. Her only gimmick is to write each successive novel from the perspective of a character introduced in the previous work. One especially good option is The Secret Place, set in a posh girl's school connected to an unsolved murder. Detectives Stephen Moran and Antoinette Conway have to contend with huffy administrators in addition to two cliques of girls whose friendships and rivalries become a distorting and twisted institution in themselves. You'll be the last one on the beach with it, while everyone else is packing up. —Michael Brendan Dougherty, senior correspondent
The Paris Wife, Paula McLain
Add the 1920s to your list of summer destinations with The Paris Wife. Paula McLain's novel introduces readers to Hadley Richardson, Ernest Hemingway's first wife, and offers up a fictionalized account of the couple's historical relationship, with all its joys and struggles, from Hadley's point of view. For those fascinated by the Lost Generation, the novel more than delivers: As Richardson and Hemingway frolic from France to Austria to Spain, they meet such luminaries as Gertrude Stein, F. Scott Fitzgerald, and Ezra Pound. The presence of Hemingway's crew makes for a truly colorful cast of characters, and McLain uses them to render a robust depiction of the times, rather than an isolated account of Hadley and Ernest's time together. But at its core, The Paris Wife is a drama-filled love story that will leave you mourning the end of their affair, even if you come away impressed by McLain's ability to offer a new perspective into the life of one of America's literary greats. —Emily Goldberg, editorial intern
Some of My Best Friends are Black, Tanner Colby
Tanner Colby begins his book with a question: Why, in 2008, as a liberal guy living in New York City, did he not have any black friends? His quest for an answer turned into Some of My Best Friends Are Black, which sees Colby try to figure out where integration has failed and succeeded in four major aspects of American life: our schools, neighborhoods, churches, and workplaces. What he ends up with is an incredibly nuanced portrait of the history of civil rights. From generations of failed attempts to integrate Catholic churches in Louisiana (some still right across the street from each other), to the rise and fall of a Black Madison Avenue, Colby uses his skills as a storyteller to create a compulsively readable, endlessly surprising account of race and how it factors into American life. —Marshall Bright, digital production assistant

Continue reading for free
We hope you're enjoying The Week's refreshingly open-minded journalism.
Subscribed to The Week? Register your account with the same email as your subscription.