Why American cities need to double down on public housing
It's time to bring the projects into the 21st century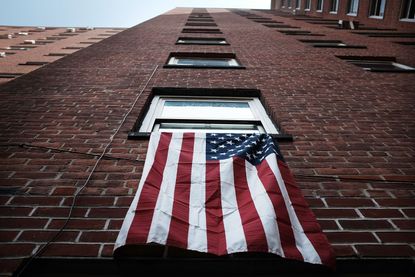 (Image credit: Spencer Platt/Getty Images)
From about the 1960s to the 1990s, the major problems in big, established American cities were declining populations and urban blight. Now, many of them are facing the opposite problem: an influx of thousands of new, middle-class residents — the dreaded gentrification.
In the main, cities have tackled the problem in two ways: twiddle thumbs, or sprawl all over creation. Liberal cities on the coasts have mainly followed the former strategy, while conservative ones in the South and the Sun Belt have chosen the latter. While the sprawl method does at least lead to reasonably affordable housing, it's not so much the result of smart planning as lots of cheap surrounding land — the coastal cities are already boxed in, so they can't sprawl like Phoenix can.
It's time to bring back public housing in a big way. In cities that are facing a looming affordability crisis, it serves as a key bulwark that must be strengthened.
Subscribe to The Week
Escape your echo chamber. Get the facts behind the news, plus analysis from multiple perspectives.
SUBSCRIBE & SAVE
Sign up for The Week's Free Newsletters
From our morning news briefing to a weekly Good News Newsletter, get the best of The Week delivered directly to your inbox.
From our morning news briefing to a weekly Good News Newsletter, get the best of The Week delivered directly to your inbox.
The typical liberal policy suite to boost affordable housing — centered on inclusive zoning and rent control — simply does not create enough units fast enough to prevent low-income people being priced out of the market in a few years. Portland, Oregon, probably has the cheapest and most agile housing market of any major liberal city (new apartment starts are up 10-fold since 2011), and residents are still feeling the price strain — and starting to develop the usual case of NIMBYism.
Of course, public housing has an absolutely terrible reputation, one that is partly deserved. Back in the 1950s and '60s, when much of the U.S.'s public housing was constructed, the dominant aesthetic was gigantic, poorly conceived towers that concentrate the very poor. They were also often constructed on land obtained by bulldozing existing low-income housing that was in equal or better shape.
However, as Rachel Cohen demonstrates in a sharp piece, what remains still serves as basically functional housing for 2.2 million Americans, many of whom would have nowhere else to go. In high-pressure rental markets like Washington, D.C., public housing is essentially the only low-income housing that's left.
There just isn't nearly enough of it. The D.C. Public Housing Authority closed its waiting list back in 2013, when it had 70,000 names waiting for 8,000 units. Meanwhile, there is quite a lot of empty land in D.C. — even wealthy Ward 1 has 255 vacant lots.
Public housing can serve as a bastion of affordability. Being outside of the market, it is mostly free from market pressures that can quickly obliterate cheap market-rate housing. In theory, it can be built more quickly, by condemning empty land or snapping up foreclosed properties — with the principle of always adding to the housing stock, unlike in the past days of "slum clearance."
Of course, one needs a competent bureaucracy to run such things, and "competent" is not usually how Washington is described. But that is simply a background condition of all housing policy — the grinding slowness of the D.C. permitting process is a similar obstruction to more market units.
So here are a few principles for 21st-century public housing:
1) Abandon the Stalinist, gigantic apartment block model. These are more expensive, require a lot more land and maintenance, and tend to be built on mad-architect lines with a total disregard for functionality. Worse, they concentrate poverty, a known factor for all manner of social ills.
2) Public housing should be ordinary. Though obviously it should be built efficiently, public housing ought to appear just like any other building. Abolish the "projects" stigma.
3) Public housing should be dispersed. Smaller buildings ought to be spread out all over the place, not just in the poorest districts. Though the super-elite residents of Georgetown would collapse in paroxysms of rage to hear it, there ought to be a good number of units there as well. Indeed, rich neighborhoods are particularly well-suited to public housing. Poor people need the high-quality services and schools a lot more than rich people do.
Again, this is only part of the solution. But while there is broad agreement that additional construction should be brought to bear on housing supply, advocating for public housing is typically met with scorn or sheer bewilderment. On the contrary, these are two great tastes that taste great together.

Continue reading for free
We hope you're enjoying The Week's refreshingly open-minded journalism.
Subscribed to The Week? Register your account with the same email as your subscription.