What True Detective could learn from Mr. Robot, the real best show on television
The floundering HBO show definitely needs some advice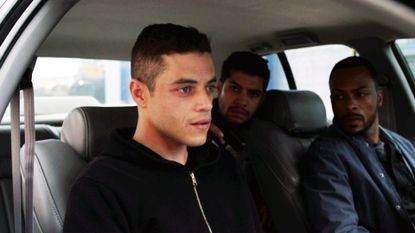 (Image credit: Courtesy USA Network)
Sign up to our 10 Things You Need to Know Today newsletter
A free daily digest of the biggest news stories of the day - and the best features from our website
Thank you for signing up to TheWeek. You will receive a verification email shortly.
There was a problem. Please refresh the page and try again.
The season finale of True Detective just wrapped up. Does anyone really care?
I don't mean to kick this much-maligned season of True Detective while it's down — there was, uh, one good episode — but if the anthology crime series returns for a third season, it needs to reinvent itself. And if it's looking for lessons on crafting suspenseful, compulsively watchable TV, it could learn multitudes from this summer's out-of-nowhere best show: Mr. Robot.
TV buffs entered June drooling with excitement for season two of the acclaimed True Detective, only to be disappointed by a massive sophomore slump. Seemingly out of good ideas, writer/creator Nic Pizzolatto threw every plotline he could think of at the wall. Unfortunately, every single one stuck, and we were been left with a convoluted, boring mess that wastes the talents of the show's four worthy stars (Colin Farrell, Vince Vaughn, Rachel McAdams, and Taylor Kitsch).
Subscribe to The Week
Escape your echo chamber. Get the facts behind the news, plus analysis from multiple perspectives.
SUBSCRIBE & SAVE
Sign up for The Week's Free Newsletters
From our morning news briefing to a weekly Good News Newsletter, get the best of The Week delivered directly to your inbox.
From our morning news briefing to a weekly Good News Newsletter, get the best of The Week delivered directly to your inbox.
Meanwhile, USA Networks — best known for feel-good, grandparent-friendly shows like Suits and Royal Pains — released a show so off-brand you had to wonder if they had been hacked. Mr. Robot is set in a world that's ostensibly our own — but we see it through the eyes of Elliot (Rami Malek), a morphine-addicted, potentially mentally ill, self-described "vigilante hacker" who dreams of dismantling the corporate world. That might sound darker than everything going down in True Detective's Vinci, but Mr. Robot is the most fun you're going to have with the small screen all summer.
The greatest legacy of True Detective's acclaimed first season was its visual language. Most prestige television shows have a big-name director craft the look of a series by helming the pilot episode, then hire other directors throughout the season to approximate the same style. (For example, Martin Scorsese directed the first episode of Boardwalk Empire, which offered a blueprint for future directors of the show.) The first season of True Detective made an almost unprecedented move by placing one director, Cary Fukunaga, at the helm of all eight episodes. By doing so, the network allowed Fukunaga to not just set a course but guide the ship. His lens — from the intense, unforgettable six-minute tracking shot through a firefight in project housing to his sweeping establishing shots of Louisiana bayous — informed the show as much as Pizzolatto's writing.
The same cannot be said for True Detective's second season, which had seven directors for eight episodes. (The biggest name, Fast & Furious' Justin Lin, helmed the first two.) You may remember a guy dressed as Jesus, dragging a cross down the highway. Or a Conway Twitty impersonator singing in a purgatorial bar while Ray Velcoro bleeds from a stomach wound. Those flourishes were some of the show's most memorable moments this year — but they don't fit at all with the bureaucratic drudgery of the rest of the season. Consistency is key.
Mr. Robot, like True Detective, doesn't have a single director — but it does have a single vision. Each episode is seen through the eyes of Elliot, who views the world in an extremely specific (and paranoid) manner. Niels Arden Oplev, best known for the Swedish version of The Girl with the Dragon Tattoo, established that template in the pilot; every director who has worked on the series thus far held true to that.
Of course, while the visual language of a series is important, so is the actual language. You know, the English language, which Pizzolatto now seems to think only exists as non-rhyming, vaguely prophetic couplets.
True Detective's characters have been saddled with awkward, chewy dialogue all season. Those speeches and asides might be great for fortune cookies or earning MFAs, but they don't tell us anything about the characters' inner lives. But I guess they don't need inner lives, because they're so quick to state exactly what they're thinking, feeling, or doing. "Show, don't tell" is Creative Writing 101, but Pizzolatto seems to have somehow missed it in his MFA classes. For one of many examples, take the argument between Rachel McAdams' Ani Bezzerides and Colin Farrell's Velcoro in episode 7: "You're not a bad man." "Yes, I am."
Flip over to Mr. Robot to see a show that develops its characters without on-the-nose speeches. One scene of Elliot sitting between his nightstand and bed, shaking and crying from loneliness, tells us more about him than a 20-minute speech from Vince Vaughn's Frank Semyon. When Elliot takes a whining dog out to a city street to relieve itself or sticks a hard drive in his microwave on the off-chance that the person he hacked set him up, we see his compassion and paranoia. And that means we don't need to waste time hearing about it.
A good show is watchable, intriguing, and exciting. Television is not school, and it's certainly not work. It can be challenging, but it should be enjoyable.
And that's where the difference between the two shows is starkest. True Detective wants us to live in the shadow of its ennui. Mr. Robot is fun, and it balances its darkness by making the viewer feel invested in the on-screen action. And because it's so sure of itself, Mr. Robot can crack a joke about Facebook or Maroon 5 without undercutting its fundamental seriousness.
Both True Detective and Mr. Robot aspire to be thrillers — but only Mr. Robot remembers that being a thriller requires you to thrill an audience. True Detective's memory hasn't completely faded in adolescence; this season, both the orgy infiltration and the tunnel shootout felt alive (if not incongruous within the larger narrative). But the show has forgotten its old tricks. Everything enumerated above is something True Detective nailed, with gusto, in its first season. If it comes back for a third, it would do well to look to both its competition and its own roots for inspiration. After all, Mr. Robot proved that it's still exceedingly possible for an underdog to come out on top.
Continue reading for free
We hope you're enjoying The Week's refreshingly open-minded journalism.
Subscribed to The Week? Register your account with the same email as your subscription.
Sign up to our 10 Things You Need to Know Today newsletter
A free daily digest of the biggest news stories of the day - and the best features from our website
Travis M. Andrews is writer and editor from New Orleans. He has written for Time, Esquire, The Atlantic, Mashable, The Washington Post, and The Times-Picayune. When he was younger, he wrote on his mother's walls. She was displeased. For more about Travis, please visit www.travismandrews.com or follow him on Twitter @travismandrews.