Why the Internet of Things will be worse than a zombie apocalypse
Welcome to your new living nightmare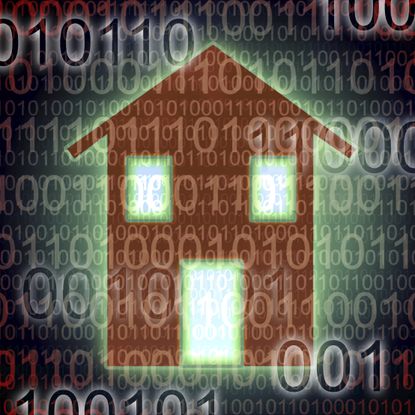 (Image credit: iStock)
It all sounds so pleasant, this "Internet of Things" just around the corner, when the objects of our world will be armed with programming that lets them invisibly communicate with one another. Your freezer will know you're light on Häagen-Dazs and alert the grocery store to add two tubs to the next order! Your car will drive itself, by sharing its exact position and speed with the road and with all the other cars! Your wallet will talk with all the items in your Home Depot cart, and pay on the way out the door — no waiting in line! A whole world of magically chatting clocks and candlesticks, like something out of Disney: as wonderful as it is inevitable. Right?
Don't you believe it.
Let me ask you this. Did you read about the Internet of Things in a book, or hear about it from a town crier? Nope — you read about it on the internet. That's right: The internet told you it would be a great idea to let the internet control every object on planet Earth.
Subscribe to The Week
Escape your echo chamber. Get the facts behind the news, plus analysis from multiple perspectives.
SUBSCRIBE & SAVE
Sign up for The Week's Free Newsletters
From our morning news briefing to a weekly Good News Newsletter, get the best of The Week delivered directly to your inbox.
From our morning news briefing to a weekly Good News Newsletter, get the best of The Week delivered directly to your inbox.
I'm suspicious.
It's going to start simply — light bulbs that know when they need to be changed. But the tech for inter-object communication is miles ahead of the machine learning that will help them learn to understand and interpret their data. Essentially, they're going to be chatty long before they're brilliant — like a sea of Kardashians crawling all over every corner of your life.
It's going to be a living nightmare.
They'll be smart enough to try to help, but not smart enough to understand human behavior — a recipe for disaster. Your thoughtful, mood-sensing trousers will remind you to pick up your Viagra... right in front of your date. Your phone will helpfully post all the photos on your phone to Facebook while you sleep (yes, even THAT ONE).
They'll be gossiping about you all day long, at the speed of light. Your socks will tell the laundry basket that you skipped your workout today; it won't be long before the whole linen closet knows. And the freezer and the grocery store won't just replace those two tubs of Häagen Dazs, they'll speculate as to why you went through two tubs in one night. (Store: "You think he was sad? Or was he getting high?" Fridge: "Who knows, girlfriend? Let me ask the ashtray, hang tight...")
It gets worse. Don't expect this thick ubiquitious soup of information about you to be safe from hackers — it won't be. If they can compromise credit card systems and NASA and even your car, how hard is it going to be to hack your toaster? Imagine the hell these nogoodniks could wreak by gaining access to all that juicy stuff your appliances know about you. One minute you're innocently belting out Ariana Grande in the shower, and the next your compromised smart razor is threatening to post the audio to your Tinder account, unless you authorize your toilet to cough up its weight in Bitcoins.
I think I'm losing the metaphor here, but you get the idea.
Finally, let's not forget, none of this will be free. Advertisers will charge in like the running of the bulls to monetize this. When your fridge senses you're low on pickles, it won't order you pickles, it'll order you pickle advertising. Everywhere you go, all day long, you'll hear songs about pickles, see pickle billboards in your peripheral vision, be confronted on the sidewalk with competing 3-D dancing smellovision pickle holograms, or whatever the hell ads will have evolved to by then. You'll go to bed that night stinking of brine, with pickle jingles shaking your brain by the stem.
I know our scientists are just just trying to help — but just stop. I don't need the stereo helpfully belting out Pharell's "Because I'm Happy" every time the room senses my shoulders slump. When I'm alone I want to be alone, not surrounded by semi-sentient nubbins trying to fine-tune my life. So until we can make sure the objects are at least reasonably intelligent — I'm only talking like Stephen Baldwin level — let's keep them mute and dumb.

Continue reading for free
We hope you're enjoying The Week's refreshingly open-minded journalism.
Subscribed to The Week? Register your account with the same email as your subscription.