Why the U.S. and Japanese militaries want to be BFFs
But first, they need permission...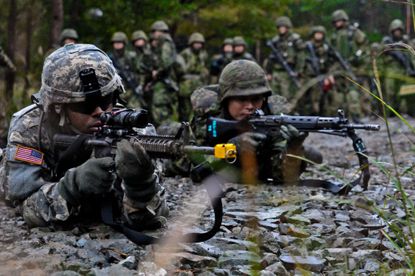 (Image credit: U.S. Army Flickr)
Sign up to our 10 Things You Need to Know Today newsletter
A free daily digest of the biggest news stories of the day - and the best features from our website
Thank you for signing up to TheWeek. You will receive a verification email shortly.
There was a problem. Please refresh the page and try again.
Last week off the coast of Okinawa, a U.S. Army special operations helicopter was conducting an exercise alongside the supply ship USNS Red Cloud. What happened next is unclear, but the helicopter made a "hard landing" on the deck of the ship — hard enough to sever the helicopter's tail boom.
Seven service members were injured in the landing — none seriously. Later, it was revealed two of the injured personnel were not Americans, but Japanese special forces troops. Their presence was proof the Japanese military is growing increasingly closer to the Pentagon — close enough to one day, perhaps, fight side by side against China or North Korea.
Seventy years after the end of World War II in the Pacific, the U.S. and Japan are closer than ever. But is that good for both countries and the region as a whole?
Subscribe to The Week
Escape your echo chamber. Get the facts behind the news, plus analysis from multiple perspectives.
SUBSCRIBE & SAVE
Sign up for The Week's Free Newsletters
From our morning news briefing to a weekly Good News Newsletter, get the best of The Week delivered directly to your inbox.
From our morning news briefing to a weekly Good News Newsletter, get the best of The Week delivered directly to your inbox.
Japanese Prime Minister Shinzo Abe wants his country to take a greater role on the world stage, and is pushing Japan's legislature to allow Tokyo to work more closely with allies. Abe's main goal is to make collective self-defense — the idea that countries can band together to defend one another in the event of war — Japanese policy. Collective self-defense is the general thinking behind NATO, and a right guaranteed under Article 51 of the UN charter.
Abe has his work cut out for him. In the wake of World War II, a strong pacifist inclination has been ingrained in the Japanese people. Even something as universal as collective self-defense is disallowed in Japan, on the grounds that it could drag the island nation into a war.
Abe and his supporters, on the other hand, believe that other countries (particularly the United States) will not come to help Japan in a crisis if Japan is not willing to help them. Abe has a point, one made sharper by China's recent aggressive moves in the South and East China Seas.
Abe's proposed changes to security law, which have passed the lower half of Japan's legislature, must now pass through the upper half to become law. It's probably going to happen. And when it does, Japanese and American forces will be able to operate side by side in ways they never have before. At the same time, Tokyo is preparing for its navy, the Maritime Self Defense Force, to operate closely with the U.S. Navy during wartime. How close? The two sides will be able to share the same military communications network.
That doesn't sound like much, but the implications are huge. Japan is buying into the U.S. Navy's so-called "Cooperative Engagement Capability (CEC)."
Under the CEC concept, networked air and naval forces can share data with one another. Surface ships are vulnerable to attack by anti-ship missiles, and can usually only detect low, fast moving threats as far as the horizon. Anti-ship missiles are also flying faster, at speeds of up to Mach 3, leaving their targets 30 seconds or less to take defensive action.
CEC allows aircraft to fly above the fleet, acting as its eyes and ears, detecting threats far beyond the fleet's radar. An E-2D Hawkeye Airborne Early Warning and Control aircraft, for instance, could guide a fleet's air defense missiles to shoot down threatening anti-ship missiles, long-range ballistic missiles, and even cruise missiles.
Cooperative Engagement Capability will seamlessly integrate the U.S. and Japanese fleets as though they were one. An American Hawkeye could provide targeting data to a Japanese ship, or vice-versa. The benefit to both sides is a larger pool of air and naval assets that can work together.
The United States isn't the only country Japan is working with. Japan has also undertaken joint military exercises with Australia and the Philippines, and has training agreements with India, Indonesia, and Vietnam.
Is all of this a good thing? Is it wise for Japan to step up and claim its right of collective self-defense? Is an assertive Japan a positive force for good in the world, especially given its wartime past?
So long as that stepping up remains within a bilateral — and multilateral — context the answer is a resounding yes. Mutual dependency will encourage Tokyo to act more on the global stage while ensuring Japan will become vulnerable if it becomes too aggressive.
The more it relies on the United States, Australia, or any other ally the more leverage that ally has with the Japanese government. If the government were to become aggressive, its allies can pull their links to Japan — leaving the country isolated and vulnerable.
Japan is entering uncharted territory. A Japan that did not have the support of its neighbors and allies would be one to be wary of. So far, that has not been the case. In the meantime, Japan can do a great deal for the world, and we should look forward to a world where it plays a bigger role.
Continue reading for free
We hope you're enjoying The Week's refreshingly open-minded journalism.
Subscribed to The Week? Register your account with the same email as your subscription.