Why so many great actresses are ruthlessly cut out of big Hollywood movies
Black Mass, Tomorrowland, and X-Men: Days of Future Past prove just how expendable most female roles really are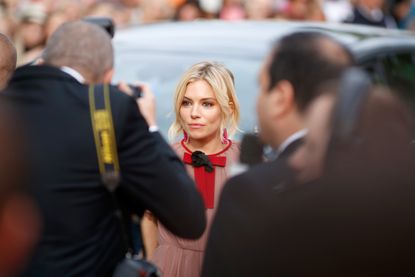 (Image credit: Tristan Fewings/Getty Images)
Sign up to our 10 Things You Need to Know Today newsletter
A free daily digest of the biggest news stories of the day - and the best features from our website
Thank you for signing up to TheWeek. You will receive a verification email shortly.
There was a problem. Please refresh the page and try again.
If you see Black Mass, the buzzed-about crime drama opening in theaters this weekend, don't expect to find Sienna Miller. She was cast in the movie. She's just not in it anymore.
Miller was cast as Catherine Grieg, accomplice and girlfriend to gangster Whitey Bulger (Johnny Depp) during his many years on the run. She had scrupulously researched the role, talking to people who knew Bulger and Grieg and perfecting a South Boston accent. She filmed her scenes. Director Scott Cooper described her as "fantastic." But when it came time to edit, he decided to focus on Bulger's life in Boston. Miller's work was scrapped; at best, it'll turn up in the DVD extras.
What's troubling isn't that Miller was cut. Cooper probably made the right narrative decision for his film. What's troubling is that Miller could be cut.
Subscribe to The Week
Escape your echo chamber. Get the facts behind the news, plus analysis from multiple perspectives.
SUBSCRIBE & SAVE
Sign up for The Week's Free Newsletters
From our morning news briefing to a weekly Good News Newsletter, get the best of The Week delivered directly to your inbox.
From our morning news briefing to a weekly Good News Newsletter, get the best of The Week delivered directly to your inbox.
It's not unusual for actors to find some or all of their work relegated to the cutting room floor. (Terrence Malick, in particular, is notorious for his ruthlessness during post-production.) But these cuts tend to be more painful for actresses, because roles for women in film are so hard to come by in the first place. Those that do exist are often insubstantial or bland — which means, of course, that they're more likely to get cut. Take Black Mass. Without Miller, the film's sprawling ensemble consists of 14 men and five women. Of those women, only Dakota Johnson is prominent enough to warrant her own character poster, compared to seven of the men.
Miller is hardly alone in this. Consider the case of Judy Greer.
Greer — widely recognized as "the best friend" in rom-coms like 13 Going on 30 and 27 Dresses — appeared in four high-profile movies this summer: Tomorrowland, Entourage, Jurassic World, and Ant-Man. That might sound like an actor's dream. But none of those movies offered Greer much to do or say. The most bizarre was her Tomorrowland role — a blink-and-you-miss-it sighting that could only generously be considered a cameo. According to director and co-writer Brad Bird, Greer and a few other actors had filmed scenes with the heroine Casey's entire family, but they were later axed because they "bogged up the opening." He expressed disappointment at having to cut Greer, calling her "a fantastic actress" and saying he felt "cheated by not getting to use her performance." But if Bird really appreciated Greer's acting abilities so much, you have to wonder why he didn't give her more to do in the first place.
Greer took the decision in stride. "The funny thing is that my role in Tomorrowland was so small, and they were very sweet," she said to Grantland. "[They] were like, 'We feel so bad. We loved you. Brad Bird loved you. He wants to work with you again.' And I was like, 'My role was kind of small, so it's fine,' but you also don't want to be like, 'Oh, my part was so small, so who cares?' Because of course I cared. At the same time, I was like, 'I can't imagine that in the scope of that film anyone would've totally noticed me anyway.'"
A role's quality depends on more than just screen time, and cinema is rich with small yet memorable performances, from Jodie Foster in Taxi Driver to Viola Davis in Doubt. But seldom is Hollywood's gender imbalance more evident than during the editing process. Men generally occupy roles central to the story, driving the action. Women are stranded in peripheral roles, observing the action from a distance. Men get to be the hero; women get to be the hero's love interest. They function less as integral pieces of the narrative than as diversions, providing temporary amusement or superficial conflict to disguise stalled momentum. How often do romantic subplots feel necessary, not obligatory? How many roles for women would disappear if those dutiful romantic subplots didn't exist? Think about how many film narratives would hold up perfectly if the female characters were removed.
Take Bennett Miller's Oscar-nominated Moneyball. The script included multiple scenes with Billy Beane's ex-wife Sharon (Robin Wright), whose contributions were trimmed to a single scene in the final cut. Still, Wright made out better than Kathryn Morris, who played Beane's second wife, Tara, and whose scenes were completely excised. In both cases, the cuts are justifiable; Moneyball succeeds, in part, because it focuses on the baseball narrative — a side of Beane's life that just happens to exclude women.
No matter how famous an actress is, she can still wind up in a throwaway role. At age 11, Anna Paquin became the second-youngest Oscar winner in history for her turn in Jane Campion's The Piano. She has since worked with celebrated filmmakers like Spike Lee and Noah Baumbach, in addition to anchoring a hit HBO show. Yet that didn't stop her from being cut out of X-Men: Days of Future Past. Director Bryan Singer explained that Paquin's sequence was deemed "extraneous" during editing, while writer Simon Kinsberg claimed her storyline was "substantial," but "didn't fit" with the movie as a whole. She went from being co-lead in the original X-Men to basically invisible in Days of Future Past.
This is the problem. Screenwriters create shallow parts for women that contribute little to the overarching narrative. Directors conclude those parts are unnecessary and get rid of them, instead of wondering if they could be improved. And the industry continues to ignore, pigeon-hole, and devalue its best actresses. To Hollywood, female characters are disposable, as are the women who play them. They, and we, deserve better.
Continue reading for free
We hope you're enjoying The Week's refreshingly open-minded journalism.
Subscribed to The Week? Register your account with the same email as your subscription.
Sign up to our 10 Things You Need to Know Today newsletter
A free daily digest of the biggest news stories of the day - and the best features from our website
Amy Woolsey is a freelance writer who recently graduated from George Mason University in Fairfax, Virginia. Her writing has appeared in the Mason student newspaper, Fourth Estate, and Bitch Flicks, a feminist pop culture website. She blogs about film and TV at theauramusings.wordpress.com.