The rise of Europe's far right
As a backlash against immigration grows, ultra-right parties are gaining adherents across Europe. How strong are they?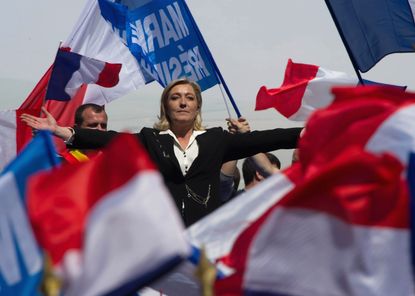 (Image credit: Pascal Le Segretain/Getty Images)
Sign up to our 10 Things You Need to Know Today newsletter
A free daily digest of the biggest news stories of the day - and the best features from our website
Thank you for signing up to TheWeek. You will receive a verification email shortly.
There was a problem. Please refresh the page and try again.
As a backlash against immigration grows, ultra-right parties are gaining adherents across Europe. How strong are they? Here's everything you need to know:
What do these parties stand for?
Far-right parties have been gaining across the EU for several years, as nations that were once nearly entirely white and Christian have absorbed large numbers of Muslim immigrants from the Middle East and North Africa. These parties are right wing in a very European sense: They tend to be nationalistic, favoring promotion of Christian values and strict limits on immigration, but also support a strong welfare state for native Europeans. Their overarching theme is that the benefits of a country should go to the Europeans who were born there and pay taxes there, not to newcomers. In last year's elections to the European Parliament, the EU's legislative body, far-right parties gained enough seats to have their own bloc, which gives them access to EU funding. Led by Marine Le Pen of France's National Front, the group includes the Dutch Party of Freedom, Italy's Lega Nord, and the Austrian Freedom Party.
Subscribe to The Week
Escape your echo chamber. Get the facts behind the news, plus analysis from multiple perspectives.
SUBSCRIBE & SAVE
Sign up for The Week's Free Newsletters
From our morning news briefing to a weekly Good News Newsletter, get the best of The Week delivered directly to your inbox.
From our morning news briefing to a weekly Good News Newsletter, get the best of The Week delivered directly to your inbox.
Why now?
Lots of economic and cultural insecurity. The euro financial crisis involving Greece, Italy, Spain, and Portugal struck just as Europe was faced with a mass influx of people from the Middle East and Africa seeking asylum, as well as movement from poorer EU countries to richer ones. Since the global economic crash of 2008, employment throughout the EU has jumped from under 7 percent to nearly 11 percent, and most countries cut benefits. Even in such traditionally tolerant and liberal countries as Sweden and Germany, many people began to feel their country was being asked to take in foreigners while citizens were making do with less. Then, too, immigration has visibly changed some of Europe's oldest cities. Paris had to ban street praying because hundreds of men were spilling out of overcrowded mosques and setting up prayer rugs blocking streets and sidewalks. In Malmö, Sweden, where just half the population is ethnic Swedish, crime has soared as rival immigrant gangs battle one another and police.
How has Sweden reacted?
Sweden long prided itself on its generous asylum policy, welcoming twice as many refugees per capita as any other Western country. In 2014, for example, the country of 9.5 million took in more than 85,000 people, mostly Muslims from Syria, Iraq, and Somalia. But the new arrivals' failure to assimilate has sent voters stampeding to the right. The Sweden Democrats, a once-reviled party with roots in neo-Nazism, took 13 percent of the vote in last year's election to become the third-biggest party in Parliament, mostly on a campaign to halt immigration. Over the summer, as the flood of refugees pouring into Europe dominated headlines, the popularity of the Sweden Democrats soared, and now they are the most popular party in Sweden, with more than 25 percent support.
What about Germany?
Germany is a special case, because there the nationalistic far right has been practically outlawed since the end of World War II. With no outlet in mainstream politics, anti-immigrant fervor erupted last October as a street movement in Dresden. For four months, the Patriotic Europeans Against Islamization of the West, or Pegida, organized weekly mass demonstrations calling for strict controls on Muslim immigration. Now the Alternative for Germany, a small anti-EU party, has begun reaching out to Pegida supporters, promising to fight immigration and promote "more children for German families."
Where else is the far right strong?
It's well established in France. Le Pen has managed to purge the National Front of the overtly anti-Semitic tone set by her father, party founder Jean-Marie Le Pen. Now the National Front is considered mainstream, taking 25 percent of the vote in local elections this year. Polls show that Le Pen may be one of just two candidates to make into the second round of the 2017 presidential election amid rising anti-immigrant sentiment. In Denmark, meanwhile, the far right is now part of the government. The Danish People's Party soared to second place in the June elections, amid public disgust over a shooting rampage in Copenhagen in which the son of Palestinian immigrants killed two people and wounded five. Already, it has slashed benefits for migrants in half and begun taking out ads in Lebanese newspapers warning asylum seekers not to come to Denmark. Nowhere, though, is the right stronger than in Hungary.
What's happening in Hungary?
The neo-fascist Jobbik party, which advocates ethnic purity for Hungary, took 20 percent of the vote last year to become the third-biggest party in Parliament. Its influence has pushed the right-wing ruling party, Fidesz, even further rightward. Hungary has built a razor-wire fence along the border with Serbia in an attempt to keep out migrants, and Prime Minister Viktor Orban said the EU should not accept people who have "a radically different culture" and religion. "Is it not worrying in itself that European Christianity is now barely able to keep Europe Christian?" he said. "We have no option but to defend our borders."
Thanking 'Mama Merkel'
While the far right has gained strength, it still represents a minority of Europeans. Many Europeans, in fact, are appalled by the rise of these parties, and have staged large demonstrations in support of their immigrant populations. After vandals threw firebombs at several Swedish mosques this year, Swedes responded with "love bombs," covering mosque doors with paper hearts and notes of support. In Iceland last week, after the government said it would accept just 50 Syrian refugees, more than 15,000 Icelanders volunteered to sponsor refugee families in their own homes. In stadiums across Germany, soccer fans have been hanging banners saying, "Welcome refugees." Chancellor Angela Merkel has made a point of saying Germany has a responsibility to accept refugees from the brutal civil war in Syria, and some Syrians are calling her "Mama Merkel" and "Compassionate Mother." "German people deserve to be thanked," said Syrian refugee Monis Bukhari, who arrived in Berlin two years ago and already has a German passport. "They showed us so much sympathy."
Continue reading for free
We hope you're enjoying The Week's refreshingly open-minded journalism.
Subscribed to The Week? Register your account with the same email as your subscription.
Sign up to our 10 Things You Need to Know Today newsletter
A free daily digest of the biggest news stories of the day - and the best features from our website