Indiana Jones and the raiders of the lost Hollywood franchise
Please, Disney: Don't turn Indiana Jones into a Star Wars-style "cinematic universe"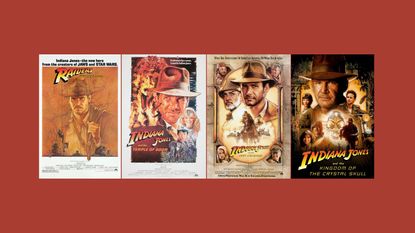 (Image credit: Illustration by Lauren Hansen)
Thirty-four years after the release of Raiders of the Lost Ark, the Indiana Jones franchise — like Indiana Jones himself — is pretty long in the tooth. Kingdom of The Crystal Skull, which attempted to revive Indy in 2008, didn't help matters, falling flat with fans and critics alike. But we live in an era in which the franchises of the past are the new movies of the future. Star Wars is finding new life under Disney. Why not Indiana Jones?
This isn't a mere "what if." Lucasfilm president Kathleen Kennedy confirmed this spring that a new Indy film "will one day be made" by Disney. All the more reason to tread cautiously. Indiana Jones is a very particular character, rooted in a very particular place and time — and any attempt to alter the formula could easily lose what made him so compelling in the first place.
Indiana Jones' origins can be traced to the pulp magazines of the 1930s. Called "pulp" because of the cheap paper they were printed on, publications like Weird Tales and Black Mask featured stories of adventure and treasure hunting — and you had to buy the next issue to find out what happened next. That format was eventually borrowed by the Republic Serials of the same era; viewers had to go to a matinee each week to see how the hero escaped from the edge of a cliff. (Yes — this is the actual origin of the word "cliffhanger.") Indiana Jones was born from this tradition of cliffhangers.
Subscribe to The Week
Escape your echo chamber. Get the facts behind the news, plus analysis from multiple perspectives.
SUBSCRIBE & SAVE
Sign up for The Week's Free Newsletters
From our morning news briefing to a weekly Good News Newsletter, get the best of The Week delivered directly to your inbox.
From our morning news briefing to a weekly Good News Newsletter, get the best of The Week delivered directly to your inbox.
In 1977, George Lucas retreated to a Hawaiian beach, hoping Star Wars' presumptive failure would make fewer headlines there. While there, he ruminated on a character he'd had in the back of his mind: a 1930s-era archaeologist named Indiana, in honor of Lucas' dog. Lucas thought his friend Steven Spielberg would be a great director for the project, and when Spielberg revealed he wanted to tackle 007, Lucas told him he had something better.
The creative collaboration could hardly have been more fruitful. Raiders of the Lost Ark became the highest grossing film of 1981 and went on to spawn two rousing sequels in the '80s.
Today, Disney owns both Star Wars and Indiana Jones, and it's hard to imagine they won't try to franchise Jones as they're already doing Star Wars. A new trilogy, a Marion spin-off, an Abner Ravenwood-centric prequel… what Indiana Jones fan wouldn't get excited about a massive expansion of the franchise?
Well, me, for one.
Indy is the rare figure whose success is reliant on a very specific time period. While Star Wars can expand in countless directions — really, as far and wide as the galaxy itself — and James Bond evolves with the world around him, Indiana Jones is the personification of the pulp era. He is frozen in time. The franchise needs Indy — if we didn't know that before, we know it now after the disastrous introduction of Mutt Williams (Shia LaBeouf), an aborted spin-off figure, in Crystal Skull. And Indy's world is fixed from about 1930 to 1960.
The Indiana Jones franchise will continue in some form. Kathleen Kennedy has already confirmed it. There have been rumblings about a reboot, with Bradley Cooper and Chris Pratt floated as likely contenders for the role of Indy. Again, the instinct is understandable; Harrison Ford is 73 and cannot continue to play Indiana Jones indefinitely.
I have my doubts that a new actor can don the fedora as one dons the Bond tuxedo. Indy is tough, cynical, and kind of a jerk. Harrison Ford, who has always been a bit of a grump himself, was perfect. He brought an edge to Indy — the sense that, while a scientist by degree, Indy is really more of a tomb robber at heart, and a bad archaeologist by today's standards. He's a thief of other cultures, and a man so obsessed with finding "rare antiquities" that he'd leave the love of his life in the clutches of the Nazis to gain his real prize. He does the right thing in the end, but he's often dragged to that decision kicking and screaming. Would today's Hollywood let its leading man be such a jerky antihero?
Maybe. But if a new Indiana Jones is inevitable, there are at least a few key things Disney should keep in mind. The era is a necessity — a 1980s-flavored riff on the 1930s — and the character should never be dragged into the modern world. He should not be modernized, or made more funny or hip; Jones is at his best when he sticks to history, especially his. And even with a new actor, the old movies should stay in the canon, building on the adventures of the past.
Most of all, no one but Ford should lay hands on the Ark again. Give a new Indy a new MacGuffin, and a new adventure to claim it. Let's not dig into the past. After all, Indy himself would only raid it for a museum display.

Continue reading for free
We hope you're enjoying The Week's refreshingly open-minded journalism.
Subscribed to The Week? Register your account with the same email as your subscription.