Empire recap: No steps forward, two steps back
A ho-hum episode serves as a reminder that a bigger Empire is a better Empire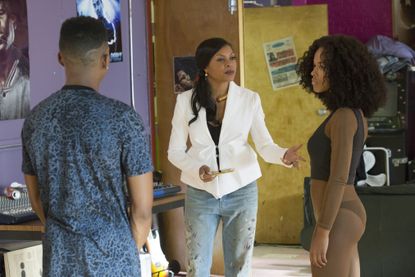 (Image credit: Chuck Hodes/FOX.)
Sign up to our 10 Things You Need to Know Today newsletter
A free daily digest of the biggest news stories of the day - and the best features from our website
Thank you for signing up to TheWeek. You will receive a verification email shortly.
There was a problem. Please refresh the page and try again.
Empire's defining trait is its hugeness. From moment one, the series has been uniquely brazen, and (sometimes overly) generous with its twists and turns. Those are the qualities that turned the series into the biggest thing on television.
Sadly, huge empires like Empire have a nasty habit of thinking they're too big to fall. And if the Romans, Greeks, and Mongolians eventually fell, there's no reason the Lyons can't.
It's certainly too early to judge the second season as a whole. But I can't help but worry that Wednesday night's "Without a Country" displayed the first cracks in the mould of a crumbling Empire.
Subscribe to The Week
Escape your echo chamber. Get the facts behind the news, plus analysis from multiple perspectives.
SUBSCRIBE & SAVE
Sign up for The Week's Free Newsletters
From our morning news briefing to a weekly Good News Newsletter, get the best of The Week delivered directly to your inbox.
From our morning news briefing to a weekly Good News Newsletter, get the best of The Week delivered directly to your inbox.
Last week, I worried the show's explosive premiere burned so brightly that it would suck the light from future episodes. The premiere was so jam-packed that I expected the show would, for better or worse, try to outdo itself. Instead, it did the opposite. "Without a Country" was guilty of the worst crime an episode of Empire can commit: being boring.
The problems start with the physical separation of Lucious and Cookie. With Lucious in jail, the crackling tension he generally shares with Cookie has all but disappeared, leaving their son Jamal to play the role of his father. He turns out to be a poor substitute. When Cookie announces that she and her other two sons plan to start their own company, Jamal's hurt puppy dog eyes lack the wallop of Cookie's previous standoffs with a snarling Lucious.
In Lucious' absence, Cookie, Andre, and Hakeem are launching their own label, subtly titled Lyon Dynasty. (Yes, it sounds like "Lyin' Dynasty" when spoken aloud, and yes, that lack of subtlety is intentional. Remember Mimi Whiteman from last week?)
The new label is rife with problems from the get-go. We're treated to a spat between Cookie and Anika — a character Empire clearly doesn't know what to do with. And Andre and Hakeem find themselves at each others' throats when the young rapper — his album in limbo since it contractually belongs to Empire Records — decides to become a "mogul."
Hakeem plans to achieve this goal by creating a girl group that includes a Latina girl, a black girl, and a white girl, which he plans to call "Rainbow Sensation." (Abject revulsion at that name is the only thing everybody else at Lyon Dynasty can agree on.) Eventually, Andre gets bored and quits, while Hakeem draws one of his budding singers into that absurdly large hot tub he hangs out in when he's not whining about his brothers.
Finally — angry that his record is still being held and tired of living in Jamal's shadow — Hakeem leaks his own album. It should be a gut-punch, and it's possible it will pay greater dividends down the road, but so far, Jamal's reaction is akin to an eye-roll. "That's how its gonna be?" he asks lamely.
We've seen this all before. Empire has never had a problem with walking back storylines — does anyone remember that Jamal had a child for a few episodes last year? — but now it's just recycling them. When Andre asks Lucious if he can return to Empire Records and receives an inevitable "no," it's supposed to highlight Lucious' coldness — but we already know about that. Just last week, he ordered a man's long and painful death. How is hurting his son's feelings (yet again) anything but a repetitive backward step for this character?
At least jail is kind of interesting. Let's pick up with McKnight (Chris "Ludacris" Bridges), a rapper-hating, macho prison guard, who hints he has confiscated Lucious' medicine.
There's plenty of tension in this conflict, and the episode has an opportunity to explore the racial politics between McKnight and Lucious, two black men on opposite sides of the law. But the resulting conversation is disappointingly shallow. "I think you make us all look bad," McKnight tells Lucious, later adding, "I'm not your brother, inmate."
Where is this going? Luckily for Lucious (and the audience) relief comes in the form of Thirsty Rawlings, an attorney played by the always welcome Andre Royo (who you might remember as Bubbles from The Wire). Rawlings' sketchy law degree, which comes from the University of Guam, doesn't stop him from taking care of business — getting Lucious his medicine and the equipment to record a new track.
McKnight confiscates the computer Lucious uses to record his track, and Thirsty demonstrates his unique approach to the legal system by having McKnight beaten in the jail's parking lot. Finally, when it comes time for a bail hearing, Thirsty offers some new "evidence" — photos of the judge in the midst of an S&M session, ball gag in mouth — which immediately results in a set bail.
The episode ends with Lucious out of jail. In this, there's hope for Empire to climb back up the charts next week. But this repetitious, consequence-free episode is a reminder that Empire is always better when it goes bigger.
Previous Empire recaps:
Continue reading for free
We hope you're enjoying The Week's refreshingly open-minded journalism.
Subscribed to The Week? Register your account with the same email as your subscription.
Sign up to our 10 Things You Need to Know Today newsletter
A free daily digest of the biggest news stories of the day - and the best features from our website
Travis M. Andrews is writer and editor from New Orleans. He has written for Time, Esquire, The Atlantic, Mashable, The Washington Post, and The Times-Picayune. When he was younger, he wrote on his mother's walls. She was displeased. For more about Travis, please visit www.travismandrews.com or follow him on Twitter @travismandrews.