Empire season 2 premiere recap: What's in the box?
Sex, murder, double-crossing, pimping — Empire is back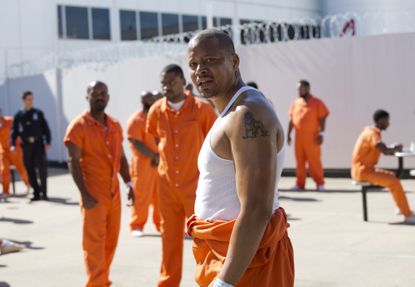 (Image credit: Chuck Hodes/FOX.)
Sign up to our 10 Things You Need to Know Today newsletter
A free daily digest of the biggest news stories of the day - and the best features from our website
Thank you for signing up to TheWeek. You will receive a verification email shortly.
There was a problem. Please refresh the page and try again.
Empire has been a smashing success for Fox, crushing its competitors in the ratings last winter to become broadcast television's number one show. Almost 17 million people watched the season one finale in March. And still, Wednesday's season two premiere might be Empire's greatest hit yet.
Each episode of Empire is catchy, crazy, soapy, absurd — and totally enthralling. So when Chekhov's single rose on the doorstep from season one reappeared in the season two premiere as a severed head in a box, I didn't even blink. No twist is too crazy for Empire.
And in that vein, Wednesday's episode, "The Devils Are Here," bailed on the first season's slow build to crescendo, and instead jumped right to murder, star-studded concerts, famous guest cameos (if you needed any proof that Empire is a phenomenon, just look to Chris Rock and Marisa Tomei's considerable roles), double-crossing, more murder, triple-crossing, brothers fighting brothers (literally), Cookie's increasingly eclectic wardrobe, sex parties, and partner swapping.
Subscribe to The Week
Escape your echo chamber. Get the facts behind the news, plus analysis from multiple perspectives.
SUBSCRIBE & SAVE
Sign up for The Week's Free Newsletters
From our morning news briefing to a weekly Good News Newsletter, get the best of The Week delivered directly to your inbox.
From our morning news briefing to a weekly Good News Newsletter, get the best of The Week delivered directly to your inbox.
The episode opened with a #FREELUCIOUS concert — remember, he went to jail in last year's finale for the murder of Cookie's cousin Bunkie Williams. The concert and its hashtag are both a farce. Cookie's playing the crowd — "Justice for all. Not justice for some, but justice for all!" — to support the family company Empire Records in public, while privately convinced (and hoping) her ex-husband will spend his life behind bars.
In typical Empire over-the-topness, the concert includes an Al Sharpton cameo and a nod to #BlackLivesMatter. Cookie opens the show dressed as a gorilla in a cage, complaining of the incarceration of black men before screaming for someone to let her out the second she's back behind the curtain.
The extraordinarily wealthy Mimi Whiteman is also at the concert. Yes, her name is Whiteman, and she is played by Marisa Tomei. Cookie is honey-potting her, hoping to bleed $250 million from Whiteman to purchase a controlling interest in Empire Records. (Remember, at the end of last season, Lucious named Jamal his successor, angering Cookie and her other two sons, Andre and Hakeem.) When Cookie discovers Whiteman has a crush on Anika, Cookie couldn't be happier to use this information to her advantage. She pimps her sexual nemesis out to earn a controlling share in her jailed husband's company. So Anika, against her wishes, sleeps with Whiteman, but fails to secure the dough. Whiteman invests, but she does so with Lucious, who offers a more lucrative deal. Sex sells, but money is power.
And in this sense, Empire's season premiere reinforces the show's guiding principle: Every man for himself. Manhattan may as well be Westeros as far as Cookie and Co. are concerned.
But unlike Cookie's allegiances, some things don't change, and the show's fluid relationship with gay rights and homophobia is one of them.
Last season, Lucious went from wanting to put Jamal, who is gay, in both a literal and blatantly metaphorical trashcan to naming him the heir to Empire Records. In Wednesday's premiere, all it takes is one glance at Cookie and Whiteman chatting at the concert — on a TV screen in jail, no less! — for Lucious to figure out Cookie's plan with "that lesbian bitch in the red suit" and completely subvert it, keeping the company in Jamal's hands. Speaking of Jamal, last season's gay rights activist couldn't have looked more uncomfortable when his boyfriend's entourage appeared in his office.
Perhaps the only thing Empire mines for dramatic scenes more than the Lyons' relationship with homosexuality is gang violence. In Wednesday's premiere, two people were murdered, both incarcerated black men killed at the hands of other incarcerated black men.
Frank Gathers — Chris Rock icily portrays him against type in one of the best guest appearances I can remember on television — has been transferred to the prison where Lucious is being held without bail. What Gathers suspects (and learns) that no one else knows is that Cookie's grand jury testimony put Lucious there. So he does the only thing that makes sense — and sends Cookie a severed head in a box, which appears to belong to Cookie's confidant (the head only receives about a second of screen-time).
Let's talk about that head in a box for a moment. I'm more than willing to believe Gathers can send roses from prison, and that he can kill in prison, and that he can even behead in prison without much fanfare. But to kill and behead someone in jail, get his severed head out of prison, into a box, and onto someone's doorstep, where it sits without the smell alerting anyone to what's inside the box? Well, that's impressive. Maybe Frank Gathers should run Empire Records.
Errr, too late for that.
Yes, because at the end of the episode, Gathers' henchmen turn on their boss, offering an off-screen "loud and long" death, per Lucious' orders. (Word of advice, Lucious: When killing someone in jail, perhaps a drawn-out, purposefully noisy death isn't the way to go.)
This show paints in big, broad, crazy strokes. That's what we love about it. Nitpicking over the details is irrelevant. Everything we see is more of a signpost for emotion than an exploration into reality. No matter how many crazy twists and turns are thrown at us, the show always feels the same — exciting, compelling, and addictive. Much like 24, it's all high-wire emotion. It's pure fun.
Television isn't always a place for nuanced discussion, and Empire understands this.
Continue reading for free
We hope you're enjoying The Week's refreshingly open-minded journalism.
Subscribed to The Week? Register your account with the same email as your subscription.
Sign up to our 10 Things You Need to Know Today newsletter
A free daily digest of the biggest news stories of the day - and the best features from our website
Travis M. Andrews is writer and editor from New Orleans. He has written for Time, Esquire, The Atlantic, Mashable, The Washington Post, and The Times-Picayune. When he was younger, he wrote on his mother's walls. She was displeased. For more about Travis, please visit www.travismandrews.com or follow him on Twitter @travismandrews.