The possible silver lining to the Warner Bros. deal
Could what's terrible for theaters be good for creators?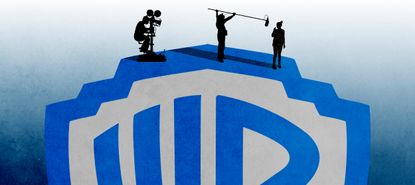 (Image credit: Illustrated | iStock, Wikimedia Commons)
Poor AMC. The world's largest movie theater chain just can't catch a break. First it was the James Bond film No Time to Die, pushed back on March 4 out of concern over how it would fare in the then-coronavirus-riddled markets, like China. "This is the first major theatrical release to shift as a result of coronavirus," Adweek's TV editor Jason Lynch tweeted in that sweet, more innocent time, "but it probably won't be the last."
Indeed. Next came skyrocketing domestic cases and shutdowns in the nation's largest markets of New York City and Los Angeles, followed by studios' hasty pivot to on-demand streaming. A theatrical release of Tenet was teased and delayed throughout the otherwise nonexistent summer blockbuster season, only to ultimately fail to live up to the expectation of bringing audiences back to the multiplexes in droves. Then last week, AMC received the biggest stab in the back yet from Hollywood: Warner Bros. Pictures, the second-largest movie studio, announced its "strategic response" to the pandemic would be to send all of its 2021 films to its streamer, HBO Max, in tandem with the theatrical releases, thereby sapping theaters of desperately-needed revenue. Et tu, Dune?
But while the Warner Bros. move is very bad for theaters and AMC stockholders (and probably even Warner Bros.), there is a potential slim silver lining.
Subscribe to The Week
Escape your echo chamber. Get the facts behind the news, plus analysis from multiple perspectives.
SUBSCRIBE & SAVE
Sign up for The Week's Free Newsletters
From our morning news briefing to a weekly Good News Newsletter, get the best of The Week delivered directly to your inbox.
From our morning news briefing to a weekly Good News Newsletter, get the best of The Week delivered directly to your inbox.
First, let's look at HBO Max, which overnight became one of the best-value streaming services out there. Buying a ticket to see all 17 of the Warner Bros. movies set to be released in theaters — which include The Matrix 4, The Suicide Squad, Dune, and Godzilla vs. Kong — would likely have cost you $160 (or upwards of $250, if you're a New Yorker). Under the new rollout plan, you're able to access them all — plus WarnerMedia's entire library — for $180 a year with an HBO Max subscription. That makes HBO Max (which has struggled to encourage sign-ups and still has under 13 million subscribers) look like a prettttty good deal compared to competitor Disney+, which charged its subscribers an extra, hefty fee to stream Mulan as a direct-to-streaming title in September.
But as several industry experts have pointed out, winning the streaming wars with the 2021 release strategy might not even be the endgame here for HBO Max and WarnerMedia's parent company, AT&T:
The top dogs at Warner Bros. have nevertheless insisted that the hybrid release strategy is a one-year plan and that they've given no thought to 2022 (sure). But what happens if AT&T does decide to pursue the Netflix model, and continues prioritizing its streaming arm over in-theater blockbusters as the appeal of the traditional exhibition model continues to erode?
Well, as Vulture's Alison Willmore muses above, that could potentially mean a collapse of big-budget movies, as expensive tent poles don't make as much sense for streaming-oriented businesses. But that also has the potential to translate into more diverse creators making movies. Shamefully, major studios are still tight-fisted with money when it comes to trusting women and minority filmmakers to make their biggest pictures; case in point, only two of Warner Bros.'s 17 movies set to come out next year are by female directors, and none are by women of color.
Netflix, on the other hand, has become a haven for diverse creators: 20 percent of its 53 original movies in 2019 were made by women, which was double the representation of the 100 top-grossing U.S. films of that year, Quartz reports. It's also become a go-to for Black programming, as well as having more LGBTQ characters represented than on all of the major U.S. networks combined, Digital Spy reports. Part of that is because, for the most part, Netflix isn't chasing box office numbers, instead pursuing the goal of hooking new subscribers and then keeping them around by churning out more and more content, regardless of how niche it might have sounded to conservative studio bigwigs. And, as it turns out, it's exactly what Warner Bros. has just positioned itself to do, too.
Netflix is also more friendly to riskier, original films. American auteurs like Spike Lee, Martin Scorsese, David Fincher — and soon, David Lynch — have found the studio welcoming of their passion projects, some of which had already been rejected by other studios in Hollywood. It's not unthinkable that great movies like Da 5 Bloods, The Irishman, and Mank would never have been made if not for Netflix's rather undiscerning race for new prestige content.
There's plenty to criticize about Netflix's throw-everything-at-the-wall approach to programming, and also plenty of reason to distrust studios' opportunistic move toward a hybrid exhibition model as soon as things got tight. If Warner Bros. really does intend to go back to doing things the old way once the pandemic is over, there's no reason to expect them to radically change their approach to programming — meaning the 2021 move will only gut theaters, without the possible upside of also creating new space for people who'd likely have gotten passed over in the pre-pandemic studio system.
But the coronavirus also hasn't fundamentally changed anything about the film business; it's just exposed and accelerated already-existing pressures. The VOD debate has been going on for years, with quarantine only a curious and untimely experiment in how it might work. Now, as we approach the end of the year, a jittery AMC, consumers shelling out for multiple subscription services, Hollywood studios, and stubborn optimists like myself all share the same looming question: What happens in 2022?

Continue reading for free
We hope you're enjoying The Week's refreshingly open-minded journalism.
Subscribed to The Week? Register your account with the same email as your subscription.