How the marijuana legalization movement went corporate
Marijuana legalization presents a golden opportunity for corporations to enrich themselves by selling a new intoxicant under ideal business conditions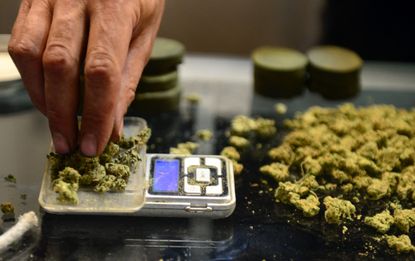 (Image credit: Frederic J. Brown/Getty Images)
Next week, Ohio voters will cast ballots on the Responsible Ohio marijuana legalization initiative. If it passes, the initiative will be historic not only for removing the prohibition against recreational marijuana use in the Buckeye State, but also for advancing the control of corporate interests over what was once an entirely grassroots movement to legalize pot.
The Ohio initiative, pushed by wealthy investors with no prior connection to marijuana activism, would grant its backers a permanent, lucrative oligopoly on marijuana cultivation in the state. The campaign ads for the initiative have offered the usual social justice-oriented arguments for legalization, but many long-term legalization proponents charge that the initiative's true purpose is to enrich its sponsors.
After setting out that only 10 facilities in the entire state will be licensed to cultivate marijuana for sale, the text of the initiative lists the specific locations and parcels of lands where these facilities will be based. Those parcels are owned by the well-heeled sponsors of the initiative, including basketball legend Oscar Robertson and reality TV staple Nick Lachey.
Subscribe to The Week
Escape your echo chamber. Get the facts behind the news, plus analysis from multiple perspectives.
SUBSCRIBE & SAVE
Sign up for The Week's Free Newsletters
From our morning news briefing to a weekly Good News Newsletter, get the best of The Week delivered directly to your inbox.
From our morning news briefing to a weekly Good News Newsletter, get the best of The Week delivered directly to your inbox.
In exchange for receiving an exclusive, permanent concession likely worth many millions of dollars a year, the anointed 10 will pay an initial license fee of $100,000 followed by a $50,000 annual renewal fee (a paltry fixed sum that inflation will further wither over time). The members of the cartel promise that they will be independent and not cooperate for economic gain, which if true would be a reversal of their behavior thus far.
Although their morals are being widely impugned, there is no questioning the cold economic logic of the initiative's backers. Marijuana legalization presents a golden opportunity for corporations to enrich themselves by selling a new intoxicant under ideal business conditions.
It has taken the alcohol industry decades of lobbying to roll back many of the restrictive, public health-oriented regulations established after the end of Prohibition. Booze industry executives must look with envy upon the emerging marijuana industry, which can use the ballot initiative process to achieve complete regulatory capture from day one. Virtually unfettered corporate power can be granted in perpetuity through marijuana legalization initiatives, particularly in states where legislative power to amend initiatives is constitutionally limited.
One might expect that the left-wing voters and organizations that support marijuana legalization would recoil at the thought of a corporate marijuana industry. But this is not a certainty.
The National Organization to Reform Marijuana Laws, the oldest and probably best known legalization activist group, is a case in point. As descendants of the anti-materialistic flower children, they might well have stood up to the capitalist takeover of Ohio's legalization movement. But the organization's board ultimately made the difficult decision to "hold their noses" and support Responsible Ohio. Like some other legalization activists, the bulk of NORML's board concluded that even corporate-dominated legalization is superior to prohibition.
Even were they inclined to fight the members of the Ohio cartel, NORML and other non-profit advocacy organizations may lack the clout to stop the march of corporate marijuana. NORML makes less than $10,000 in political donations a year nationwide, whereas the investors behind Responsible Ohio have raised $36 million to pass an initiative in just one state. No one with that kind of money is dependent on aging hippies for political influence.
More generally, if the corporate marijuana industry continues to grow, it is not clear that NORML and other legalization advocacy organizations will continue to be players in marijuana policy. The industry already has high-powered lobbyists of its own, and can use its lawyers to write initiatives and its advertising firms to sell them to the voters. If the industry ends up needing talent from within the activist community, Big Business can easily surpass the salary offers that non-profit advocacy organizations can make to their staffs.
No one should be surprised that in a country with an entrepreneurial culture, a commitment to free markets, and a political system highly attuned to corporate donations, legalized marijuana would develop a significant corporate presence. Indeed, many drug policy analysts, including me, expected this to happen eventually. But the rate at which the change is happening is truly startling, and will become even more so if the Ohio initiative passes.
If the marijuana industry ends up being a clone of the tobacco industry, will legalization supporters experience buyers' remorse? It depends who you ask.
Legalization supporters are, broadly speaking, divided into libertarians and traditional liberals. Libertarians used to worry more about corporate power, but in recent decades have tended to view the state as the only threat to personal freedom. For most of today's libertarians, corporate control of marijuana is a feature, not a bug.
In contrast, left-wing voters drawn to marijuana legalization because they believe it will reduce racial inequality and incarceration are less enthusiastic about pot becoming another profit center for 1 percenters. Because marijuana legalization has at most a slight majority of popular support, such voters are in a position to effectively veto corporate-led legalization schemes like Responsible Ohio. If they make the price of their support for legalization the protection of public health and safety, they are far more likely to be satisfied with the ultimate shape of legalized marijuana in America.

Continue reading for free
We hope you're enjoying The Week's refreshingly open-minded journalism.
Subscribed to The Week? Register your account with the same email as your subscription.