Metal as light as styrofoam and as strong as titanium — and 5 other amazing new materials
Self-healing plastic, the darkest material ever created, and more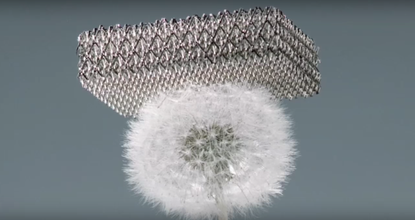 (Image credit: Screenshot/YouTube)
Earlier this month, aerospace company Boeing unveiled what it is calling "the lightest metal ever." Microlattice, as it's called, is so light that a slab of it can sit atop a fluffy white dandelion without disturbing the delicate seeds, as demonstrated in the video below. A slight breeze can send the material floating through the air. It is 100 times lighter than styrofoam but as strong as titanium.
The secret is in the structure: Microlattice is a mesh of thin metal tubes, each hollow on the inside, creating a material that's 99.99 percent air but still incredibly durable. "The trick is to fabricate a lattice of interconnected hollow tubes with a wall thickness of 100 nanometers, 1,000 times thinner than a human hair," said Dr. Tobias Schaedler, lead author of an article about the material that appeared in the journal Science. The material can also be compressed and manipulated, and has "extraordinarily high energy absorption."
The possible applications for Microlattice are vast, and no doubt, Boeing hopes to use it to build lighter planes and reduce fuel costs. "And because it's easy to manipulate and produced quickly, it's perfect for rapid manufacturing," writes Meg Miller at Co.Design.
Subscribe to The Week
Escape your echo chamber. Get the facts behind the news, plus analysis from multiple perspectives.
SUBSCRIBE & SAVE
Sign up for The Week's Free Newsletters
From our morning news briefing to a weekly Good News Newsletter, get the best of The Week delivered directly to your inbox.
From our morning news briefing to a weekly Good News Newsletter, get the best of The Week delivered directly to your inbox.
Microlattice is just one of many innovative materials we humans have created that could shape how we live and operate in the future. Here, a few more impressive examples:
1. Graphene
In 2004, researchers at the University of Manchester isolated graphene, a material made of a single layer of carbon atoms that's one million times thinner than a piece of paper. Graphene is so thin, it's actually two-dimensional. But it's stronger than steel and super flexible. It's also transparent and can move electricity 200 times faster than silicon. Graphene could produce electronics that bend and move like paper, which would be incredibly useful for wearables. For example, researchers recently created graphene-coated fabrics that can detect and alert a wearer to dangerous gases in the air. Graphene could also help produce clean drinking water in developing countries by acting as a filter, removing impurities. Researchers have even tried using graphene to create super-strong spider silk. "The material's long list of superlative traits make it seem almost magical, but it could have very real and drastic implications for the future of physics and engineering," writes Will Nicol at Digital Trends.
But graphene still has a lot of hurdles to clear before it can be considered a practical solution to any modern problems. "Scientists are still trying to devise a cost-effective way to produce graphene at scale," explains John Colapinto at The New Yorker. Right now, "the process is slow, exacting, and too expensive for all but the largest companies to afford."
2. Self-healing plastic
The human body's ability to repair itself after being wounded is remarkable, and researchers have tried to replicate it in the lab for years. So much time and money could be saved if our electronics and homes performed their own maintenance and fixed themselves when broken. "Cracks in water pipes and car bonnets would seal up," imagines James Morgan at BBC News. "Satellites could repair their own damage. Broken electronic chips in laptops and mobile phones would spontaneously sort out their own problems."
To that end, researchers at the University of Illinois, funded by the Air Force, created a gel that can automatically fill and repair holes within 20 minutes, getting the original material back to normal function in three hours. "What we had done is essentially mimic the blood clotting feature you see in humans and other biological systems so that now the fluids don't just bleed out of the hole anymore, they're actually retained in place and we grow on top of them until we completely seal up the damage itself," explains Scott R. White, professor of aerospace engineering at the University of Illinois. "The ultimate goal here is to have a material system that continually generates itself anew."
And because humans aren't the only creatures with magical self-healing properties, earlier this year a team of researchers at Penn State took inspiration from squid teeth to create a material that heals itself when exposed to water. Squid teeth are remarkably strong and can transform from liquid to solid in the presence of water. Researchers broke down the genetic code of the proteins in the teeth and incorporated them into a plastic that could be useful for repairing implants in the human body or deep-sea fiberoptics.
3. Data-storing glass
Japanese research company Hitachi claims to have created a type of quartz glass that can store 40 megabytes of data per square inch, and keep it safe for hundreds of millions of years. Inside the glass are layers of tiny dots where the data is kept in binary form (a series of zeros and ones) and can be read by a microscope. The glass is waterproof, heat resistant, and can withstand radiowaves. "We believe data will survive unless this hard glass is broken," said senior researcher Takao Watanabe. Perhaps by the time this glass can be put to practical use, we'll have created a way for it to heal itself.
4. Permeable concrete
A new kind of pavement could do wonders for areas prone to flooding and heavy rainfall. The material, called Topmix Permeable, is porous and can absorb 4,000 liters of water in just 60 seconds. So instead of sitting on top of the concrete and forming puddles or dangerous pools, the water quickly vanishes into the ground, where it is funneled into the city's drainage system to be recycled.
What makes Topmix Permeable unique is the absence of smaller pebbles and sand that make regular concrete dense and impenetrable. When you take those two things out of the mix, what's left are relatively large pebbles that allow water to seep through.
"The system can also help filter contaminants, such as motor oil, out of water — the multiple layers of porous stone essentially act as a giant filter," writes Emily Matchar at Smithsonian. And Tarmac says it could help create a cooling effect in summer months by allowing stored water to evaporate.
Topmix Permeable is about the same price as regular concrete options, but isn't yet available in the U.S.
5. Vantablack, the darkest material ever
Last year, researchers announced the creation of a new material so dark it can hardly be seen with human eyes. Vantablack, from Surrey NanoSystems, is made by putting a bunch of microscopic carbon nanotubes, each 10,000 times smaller than a human hair, together on a piece of foil. The tubes are so densely packed that almost all visible light is absorbed into the material and the foil appears texture-less no matter how it's bent or crumpled. "You expect to see the hills and all you can see … it's like black, like a hole, like there's nothing there," explains Ben Jensen, the chief technical officer of Surrey NanoSystems. "It just looks so strange."
Vantablack could be used in cameras and telescopes to block out light when capturing images of objects in space. And because it's so hard to see, Vantablack also has potential implications for stealth military gear.
Here's Vantablack on a piece of foil magically absorbing all the light from a laser beam:

Continue reading for free
We hope you're enjoying The Week's refreshingly open-minded journalism.
Subscribed to The Week? Register your account with the same email as your subscription.