The best fiction books of 2015
Works by Angela Flournoy, Lauren Groff, and more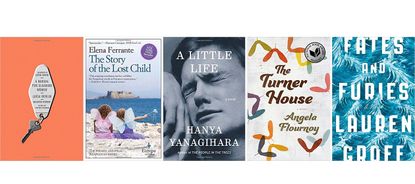 (Image credit: Courtesy of Amazon.com)
1. The Story of the Lost Child by Elena Ferrante (Europa, $18)
Elena Ferrante's latest work completes a quartet of novels that just might rank as "the greatest achievement of fiction in the postwar era," said Charles Finch at the Chicago Tribune. The Italian author, who writes under a pen name, has brought such honesty and insight to her portrayal of a profound, decades-long friendship between two women from a Naples slum that the experience of reading the books can be "something close to spiritual." In this concluding volume, Elena, who narrates, returns to Naples as a successful writer but finds herself again assuming the role of sidekick to brilliant, undereducated Lila, said Maureen Corrigan at NPR. The friends raise their children together, but the rivalry between them never dies, and after Elena breaks a vow and writes a novel about Lila, Lila breaks off contact and vanishes. The book's conclusion "masterfully returns to the opening moments of the first novel," revealing depths we couldn't initially imagine. "Brava, Elena Ferrante, whoever you are."
A dissent: Compared with the earlier books, the three-decade-long story in this finale feels "more roughly sketched," said Claire Messud at the Financial Times.
Subscribe to The Week
Escape your echo chamber. Get the facts behind the news, plus analysis from multiple perspectives.
SUBSCRIBE & SAVE
Sign up for The Week's Free Newsletters
From our morning news briefing to a weekly Good News Newsletter, get the best of The Week delivered directly to your inbox.
From our morning news briefing to a weekly Good News Newsletter, get the best of The Week delivered directly to your inbox.
2. A Little Life by Hanya Yanagihara (Doubleday, $30)
Of all the books I've read as an adult, Hanya Yanagihara's 700-page second novel is "the only one that's left me sobbing," said Steph Cha at the Los Angeles Times. Focused on four male friends who meet in college and move to New York together, it gradually zeroes in on the most damaged among them — a cipher named Jude who becomes a successful lawyer but can't overcome his childhood wounds. The hard truths Yanagihara forces us to confront prove "almost too much to bear." It's "a blessing for the reader" that she metes out the details of Jude's past suffering only gradually, said Anna Andersen at the Minneapolis Star Tribune. But though the story has no happy ending, "Yanagihara writes so well that it's difficult to put it down." A Little Life is at once "an ordeal to read" and "a transformative experience, not soon forgotten."
A dissent: Only readers enamored of their own sense of victimhood could love this "maudlin" novel and its often "atrocious" prose, said Daniel Mendelsohn at The New York Review of Books.
3. Fates and Furies by Lauren Groff (Riverhead, $28)
"Even from her impossibly high starting point, Lauren Groff just keeps getting better and better," said Ron Charles at The Washington Post. The 37-year-old author, whose Arcadia was arguably the best novel of 2012, has now followed up that impressive achievement with "a clear-the-ground triumph." Fates and Furies is the story, ingeniously split in two, of a contemporary marriage, and it "captures the complicated ways love blesses, transforms, and yes, deceives us over many years." Lotto and Mathilde are, from a distance, a perfect couple: He's a wealthy golden boy; she's an enigmatic blond beauty who agrees to marry him weeks after they meet at a party at Yale. In the book's first half, they grow ever closer; in the second, "how much they don't know is stunningly revealed," said Colette Bancroft at the Tampa Bay Times. Once we're suddenly allowed access to Mathilde's version of events, everything looks different. By the end, the "swoony" love story we began reading has become "a complex mystery, a modern fairy tale, a comedy of manners, a dark and shocking revenge drama" — all of it "told in prose so lyrical and lovely that its sentences can sweep you off your feet."
A dissent: The book's second half indulges in so much fairy-tale plotting that it becomes "a kind of vandalism of the novel form," said James Wood at The New Yorker.
4. A Manual for Cleaning Women by Lucia Berlin (Farrar, Straus, & Giroux, $26)
With this story collection, Lucia Berlin at last has assumed her "rightful place" in the canon of American short fiction, said Maggie Doherty at The New Republic. Little known in her lifetime, this peripatetic daughter of the American West worked as a maid, an ER nurse, a switchboard operator, and finally a professor, and she wrote with great specificity about the blue-collar world she often inhabited. "She might be the most interesting person you've never met," said Leah Greenblatt at Entertainment Weekly. A mother, an alcoholic, three times married and divorced, she published for 30 years before dying at 68 a decade ago — just as her fiction was gaining wider notice. The 43 stories collected here are mostly autobiographical, and sometimes read as one long, fascinating conversation. "Every detox ward, dingy Laundromat, and sunbaked Mexican palapa" that she conjures "spills across the pages in sentences so bright and fierce and full of wild color that you'll want to turn each one over just to see how she does it."
A dissent: This remarkable but overstuffed collection "would have been twice as good at a bit more than half the length," said Dwight Garner at The New York Times.
5. The Turner House by Angela Flournoy (Houghton Mifflin Harcourt, $23)
Angela Flournoy's impressive debut is an American epic that "tingles with immediacy," said Leigh Haber at O magazine. The story of a large Detroit family, The Turner House spans decades as it flashes back from 2008 to the city's 1940s surge and 1967 riots. Yet the Turners we come to know are living, breathing individuals: Cha-Cha, the eldest of 13 siblings, is now a trucker in his mid-60s who's seeing ghosts. Lelah, the youngest, is 41 and squatting in the family's abandoned home while battling a gambling habit and trying to keep up appearances. The young author, who was only an occasional visitor to Detroit while growing up, depicts the city and its resilient residents "with a precision longtime Detroiters like Elmore Leonard or Donald Goines would have envied," said Bill Morris at The Millions. "There are cracklingly alive scenes inside pawn shops and factories, casinos, and living rooms," and the Turners are as complicated and vital as their hometown. "Read The Turner House, and I'm sure you'll join me in waiting, eagerly, to see what its gifted author comes up with next."
A dissent: The family reunion that's meant as the book's climax feels "strangely cursory," said Morris.
How the books were chosen
Our rankings were created by weighting the choices and rankings of other print sources in their year-end recommendations. Sources included AVClub.com, The Boston Globe, Chicago Tribune, The Denver Post, Entertainment Weekly, Los Angeles magazine, Minneapolis Star Tribune, National Review, Newsday, New York magazine, The New York Times, NPR.org, O magazine, Publishers Weekly, Slate, Time, Time Out New York, Vogue, and The Washington Post.

Continue reading for free
We hope you're enjoying The Week's refreshingly open-minded journalism.
Subscribed to The Week? Register your account with the same email as your subscription.