Cam Newton coined an absolutely brilliant turn of phrase
On the linguistic merits of "butt-tight"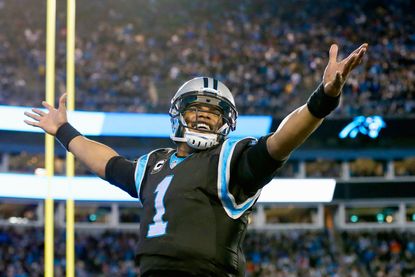 (Image credit: Streeter Lecka/Getty Images)
Carolina Panthers quarterback Cam Newton, this year's presumptive NFL most valuable player, coined an absolutely perfect turn of phrase in his post-game press conference this Sunday: "Butt-tight."
Once you get past the juvenile silliness the combination of the two words invokes, you realize Newton has deftly conjured a succinct descriptor for a certain feeling that almost anyone can relate to during a period of slow-building crisis, but which is particularly apt for sports.
In the game preceding Newton's presser, his Panthers had jumped out to a shockingly quick 31-0 lead over the two-time defending NFC Champion Seattle Seahawks. The Panthers D was as ferocious as they were opportunistic, forcing Seattle quarterback Russell Wilson into making a number of panicky throws and seemingly breaking the Seahawks' collective spirit in the process.
Subscribe to The Week
Escape your echo chamber. Get the facts behind the news, plus analysis from multiple perspectives.
SUBSCRIBE & SAVE
Sign up for The Week's Free Newsletters
From our morning news briefing to a weekly Good News Newsletter, get the best of The Week delivered directly to your inbox.
From our morning news briefing to a weekly Good News Newsletter, get the best of The Week delivered directly to your inbox.
Then came halftime. And slowly but steadily, Carolina's lead bled away. When the game clock finally struck zero at the end of the fourth quarter, the Panthers led 31-24, but watching the game in real time, one could almost feel as if the Panthers were saved by the bell. The aggressiveness and intensity of the first half had been replaced by a fearful hyper-caution in the second, which the Seahawks took full advantage of. They took risks and made big plays while the Panthers played a timid defense and were happy to settle for short-yardage running plays on offense. The Seahawks gnawed their way back, but fell just short.
It was such a dramatic near-collapse that rather than celebrating a trip to the NFC Championship game, Panthers Coach Ron Rivera felt the need to call his young team out during his post-game press conference, saying they still needed to "learn not to relax" when playing with a big lead and a whole lot of minutes left to burn. In the coach's mind, his team got lazy and complacent with such a comfortable cushion. But according to Rivera's field general, the team suffered from the opposite problem.
"There were a lot of guys playing with their butts tight," explained former Heisman Trophy winner and overall number one pick Cam Newton. "Coaches with their butts tight. At one point fans and myself were butt-tight, too."
Newton assured the assembled press that he and his squad would "get their groove back" by next Sunday's game against the Arizona Cardinals, where the winner will head onto the Super Bowl. But with that one miraculous explanation, Cam may have given us a colloquialism for the ages. "Butt-tight," loosely defined, is the crippling performance anxiety that can befall an athlete, a team, or a fanbase with nothing left to do but not fail. It can happen when you've got a lead so large that to lose would be simply mortifying.
Some have struggled to comprehend the physical manifestations conveyed by the words. One helpful person on the internet explained, "He was so uptight, you couldn't drive a needles up his arse with a ball-peen hammer," while another amateur linguist offered, "When you get nervous, sometimes you pucker your cheeks."
Perhaps not everyone finds their nether regions constricting during a moment when defeat seems about to be snatched from the jaws of victory — maybe some people get twitchy eyelids instead? — but certainly a great many of us have been afflicted by this particular kind of dread.
The 1992 Houston Oilers, whose name was mentioned just a few times by the Fox Sports announcers during yesterday's Panthers/Seahawks game, knew "butt-tight" all too well. They held a 32-point lead (one point more than Carolina's largest lead yesterday) over the Buffalo Bills in the third quarter of their AFC Wild Card game matchup. They lost 41-38, still the greatest NFL collapse of all time.
The 2004 New York Yankees will live in infamy for being the first (and thus far, only) Major League Baseball team to blow a three games to none lead in a playoff series. With a one-run lead in Game 4 and Mariano Rivera, the greatest closer of all time, on the mound, butt-tight just started to happen. Rivera walked the Boston Red Sox leadoff batter, then inexplicably helped the pinch-runner get warm on the cold October night by throwing over to first base a number of times. Then he surrendered a game-tying hit. The Yankees would lose that game, then blow a lead to lose the next night. By Game 6, Alex Rodriguez's desperate slap at Bronson Arroyo's glove epitomized butt-tight. A-Rod had so lost confidence in his team's ability to finish the job that he resorted to a pretty pathetic attempt at on-field sabotage in front of millions of people.
Butt-tight happens outside of sports all the time. For anyone who has ever felt like they've found "the one," but fears they'll be discovered as a charmless bore at any moment: butt-tight. You've spent months writing your thesis but are sucking air at the prospect of completing the bibliography: butt-tight. You're a presidential candidate with a double-digit lead but you find yourself prone to ill-timed gaffes so you rely on your well-worn stump speech? Butt-tight is a killer for established political campaigns, too.
It's not really born of the fear of success, but more likely the fear of failing when success has already been all-but-earned. You don't play butt-tight when you're in the heat of a contentious battle, it's a drain on the life-force and a blinding distraction. It is a tension born of plenty, when you've built a lead too big to fail, but all appears to be being lost right before your eyes.
With this one serendipitous phrase, Cam Newton expressed a malady both emotional and physical. Butt-tight happens.

Continue reading for free
We hope you're enjoying The Week's refreshingly open-minded journalism.
Subscribed to The Week? Register your account with the same email as your subscription.