How America's sexual extremists took over the public square
Whether on campus or in public restrooms, Americans need to get a grip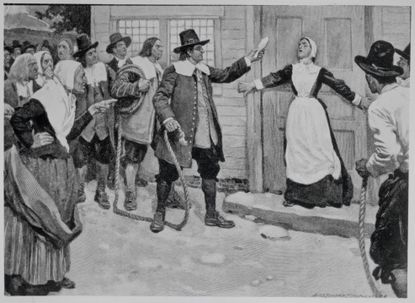 (Image credit: Baldwin H. Ward & Kathryn C. Ward/CORBIS)
Sign up to our 10 Things You Need to Know Today newsletter
A free daily digest of the biggest news stories of the day - and the best features from our website
Thank you for signing up to TheWeek. You will receive a verification email shortly.
There was a problem. Please refresh the page and try again.
In the midst of a presidential election cycle marked by rage and insurgency, it can be hard to keep perspective. The stakes in whether Donald Trump gets the GOP nomination, Bernie Sanders captures enough delegates to take down Hillary Clinton, or Supreme Court nominee Merrick Garland receives a vote in the Senate are vastly higher than those involved in the outcome of our rancorous debates on social issues.
It is nonetheless remarkable how deranged so many of us seem to become as soon as sex is invoked in a public dispute. Perhaps it shouldn't surprise us that a culture founded in part by Puritans would find itself so prone to extremism on matters of sexuality. Yet it's still distressing to see how often moralistic grandstanding drives public argument and policymaking when it comes to sex.
The porn panic provoked by a recent (and at best partially persuasive) Time magazine cover story is a prominent example. But it's hardly the only one.
Subscribe to The Week
Escape your echo chamber. Get the facts behind the news, plus analysis from multiple perspectives.
SUBSCRIBE & SAVE
Sign up for The Week's Free Newsletters
From our morning news briefing to a weekly Good News Newsletter, get the best of The Week delivered directly to your inbox.
From our morning news briefing to a weekly Good News Newsletter, get the best of The Week delivered directly to your inbox.
There is, first of all, the way sexual assaults are being handled on college campuses. The increased focus on such assaults over the past few years may well be justified, but the overwhelmingly bureaucratic response favored by both universities themselves and the U.S. Department of Education's Office of Civil Rights is not. If college administrators wanted to do a better job of protecting female students from various forms of sexual assault, especially rape, you might think they would do things like — oh, I don't know — crack down on Greek life, enforce the legal drinking age on campus, and make clear to students that all accusations of assault will be turned over to local law enforcement.
Instead, growing numbers of universities are choosing to fight sexual assault by establishing offices to oversee the creation and enforcement of regulations, under Title IX, covering every imaginable form of sexual or quasi-sexual conduct, ensuring that in all cases such conduct conforms to legalistic norms of consent. Thinking of coming up behind an attractive sophomore and planting a surprise kiss on the back of his neck? Think again. That kind of reckless behavior could carry consequences, including a sexual misconduct complaint.
The result is a supremely creepy combination of liberalism, Puritanism, and the infrastructure of a police state. In addition to stifling free speech and the free exchange of ideas on campus, such regulations go well beyond punishing bad behavior to require a transformation in the way people relate to one another at an individual level. Ruling common forms of flirtation and seduction out of bounds, they aim to remake romantic and sexual interactions on the model of contractual negotiations among business partners.
That's certainly one way to ensure student safety on campus. Whether it's the most sensible one is another matter.
A similarly disproportionate response to a problem can be seen in the cultural left's obsession with transgender rights over the past year or so.
In the six months leading up to last June's Obergefell Supreme Court decision grounding the right to same-sex marriage in the U.S. Constitution, a new struggle wrapped up with sexual identity exploded on the scene. Suddenly transgender rights-advocacy was pervasive in the news, with Caitlyn Jenner's visage plastered all over television screens and websites, and mainstream media outlets devoting story after story to the injustices faced and regularly endured by the transgendered.
All of us should refrain from and discourage cruelty. A person whose gender does not conform to culturally grounded norms of male and female no more deserves nastiness and ridicule than any other human being. But that doesn't — or shouldn't — mean that those norms themselves need to be completely erased or stamped out from American public life by, for example, doing away entirely with gender-specific restrooms and locker rooms. Avoiding gratuitous cruelty is one thing. Overturning social norms that suit 99.7 percent of Americans in order to make 0.3 percent of Americans feel somewhat less marginalized is something else altogether. That transgender activists feel entitled to push for such accommodations is a sign of sexual moralism run amuck.
But so is the noisy backlash against the transgender rights movement among social conservatives, who have taken to stoking unsubstantiated fears of the transgendered peeping through bathroom stalls and even engaging in outright sexual assaults if they begin using public facilities that match the gender with which they identify (but don't physically conform to).
Such arguments might have seemed persuasive in a time when most people denied the existence of homosexuals. But now that we know that roughly 2 percent of the population is gay or lesbian, the notion that public restrooms and locker rooms are places devoid of any form of sexual titillation is risible. The fact is that for a gay or bisexual man, a visit to a men's locker room might be as arousing as a visit to a women's locker room would be for a straight man. And of course the same goes for a lesbian or female bisexual in a women's locker room.
And yet public restrooms and locker rooms are not known as hotbeds of sexual assault. That's because people don't automatically act on their desires. They normally exercise restraint. The sense of restraint arises out of a mixture of self-interest (wanting to avoid rejection, embarrassment, and, in the case of criminal acts, legal punishment) and concern for the rights and well-being of others. This holds for gay men, lesbians, bisexuals, and the transgendered no less than for straight men and women.
Given this reality, what's the big deal about allowing (the relatively few) transgendered men and women to use the public facility of their choice?
Whether on campus or in public restrooms, Americans need to get a grip on their sexual anxieties.
Continue reading for free
We hope you're enjoying The Week's refreshingly open-minded journalism.
Subscribed to The Week? Register your account with the same email as your subscription.