Please cancel your plans with me
I want to hang out with you. Really, I do. Just not tonight.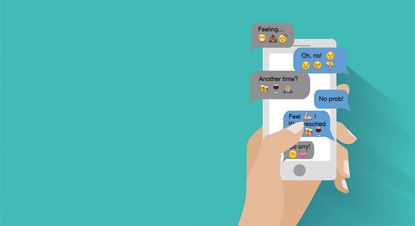 (Image credit: Illustration by Lauren Hansen | Image courtesy iStock)
"I'm not feeling so well," read a recent text message from a friend. "Would you mind postponing our drinks?"
Would I mind? No, I would not mind. In fact, I would be delighted to postpone.
Upon reading this text, I breathed an audible sigh of relief (I may have even given my coworker a high-five) because although I do want to see this person, I really do, I was exhausted from any number of things: work, staying out too late the night before, the fact that it was a Thursday — which comes after a bunch of other days in the week — my own ennui, the fact that if I kept these plans I'd feel even more tired the next day. The truth was, I'd been tiptoeing around cancelling myself. So when the cancellation came as it did, it was as good as an unexpected gift.
Subscribe to The Week
Escape your echo chamber. Get the facts behind the news, plus analysis from multiple perspectives.
SUBSCRIBE & SAVE
Sign up for The Week's Free Newsletters
From our morning news briefing to a weekly Good News Newsletter, get the best of The Week delivered directly to your inbox.
From our morning news briefing to a weekly Good News Newsletter, get the best of The Week delivered directly to your inbox.
Of course, I didn't say all that. "Oh no!" I texted. "Yes, definitely stay in and feel better. Take care of yourself! We'll reschedule."
See how I didn't entirely let them off the hook, never quite admitting that I had come this close to canceling myself, and by my good fortune alone they had just gotten to it first? This is a matter of strategy so much as it is me being a terrible friend.
Being canceled on might seem an upsetting slight, but I have come to find that it puts you in a distinctly advantageous power position. Being on the canceled side of plans means you are owed. Someone's going to have to make it up to you. Someone else feels guilty. While your canceling friend lurches about feeling incompetent and has to ransack their Google calendar to find another date that works, you can simply shrug and say pleasantly, "Oh no! Too bad! I'm sorry! I miss you!" as you seize your newly claimed hour and a half (or your whole night!) in another way, completely happily — even more happily than you would have been had that been the plan in the first place. You can also lord it over your friend for the next time, or the time after that, until, inevitably, you are the one who has to cancel and the power shifts.
Canceled plans are a virtual time machine. They take what was an obligated segment of precious time and turn it into something devoid of any obligations at all. You suddenly have a kind of freedom that previously didn't exist. You can do anything! You probably won't, but you could, and that's the joy of cancelled plans. You can sluggishly loll about. You can order a pizza. You can get things done! You have gone from a person who must coordinate and collaborate with another human to a free agent. Even if you'd been looking forward to the night (and I had, with this friend, who is still, I think, a friend, and hopefully not reading this), the fact that what was once a booked-up segment of time has now become open with possibility is endlessly buoying. In a time of great busy-ness, the canceled plan is almost as good as an hour-long massage.
But why is this? I turned to another friend whom I have also had cancel on me, and whom I have canceled on, for wisdom. She posited that in a time of social media we're already getting so many of our connections remotely: "I don't need happy hour drinks an hour from my apt, I was on FB all day and Netflix is calling," she texted. (Note: In a time of great canceling, you have these sort of conversations via text.) There's also the whole momentum factor. You stare at your computer, perhaps, for hours a day, and it's hard to break away to do the other thing, even if it is a looked-forward-to plan. The stakes for human interaction must be higher. There has to be more that you're getting in person than you get, say, by live-tweeting your favorite Sunday night show. And you have to put on pants, which can be a deterrent.
I've also realized that I tend to over-plan in optimism, thinking I'll have all the energy and time in the world, but when it actually becomes that day, I really only want to go out half as much as I expected. And, of course, it's far easier to cancel at the last minute than it ever was, given the many ways we have to get in touch with people at a moment's notice. Imagine canceling in the '90s. You'd just be a no-show, with no way to notify the injured party who was probably already waiting for you at Claire's Boutique.
Lately I've been playing a game I like to call Plans Chicken. (Actually, I've never really called it that until now, and should stop immediately.) But the idea — not to be confused with plans to eat chicken — is basically the same as when one person drives his car directly toward another heedlessly, and the other drives toward the first, and at the last minute (we hope) one veers off into the ditch, and they are both still alive, if now sitting in a puddle of their own urine because that whole charade was pretty nerve-wracking. With Plans Chicken there is no urine, but there is a faint frisson of excitement when you look at the clock and think, "Oh, it's 6 p.m., I should be getting in touch to confirm plans right now but I'm just going to wait…" and at 6:30 there comes that message you've been desperately waiting for. "Sorry, I'm stuck at work" / "Ugh, I have such a cold and feel like crap" / "My mother-in-law unexpectedly came into town and I have to go to dinner with her" / "It's raining. Can we raincheck?"
Even though you're being cancelled on, it feels so damn good. You've won at Plans Chicken! Go you.
Of course, if this happens consistently, you might begin to worry. There's a sweet spot in the cancelling, not too much, not too little, not too soft, not too hard, and always with seemingly legit reasons why (never claim you've been abducted by aliens or had to spend the afternoon cutting jeans into jorts; never ever say you don't want to see someone, unless you really don't, possibly ever again). As a rule of thumb, you can cancel one out of five times, maybe, or people start to worry that you don't want to hang out with them at all.
And then there are the moments when you're the chicken. When despite your best intentions and secret strategies, you must cancel first. Your mother-in-law (what? You're not even married? Not my concern) is staring you down and demanding you take her to Cipriani's. You have a horrible headache from doing too many Jameson shots the night before. Or maybe you really do have to work. Who among us does not? That's when you write and say with all of your heart and best sad-face emojis, I am so, so sorry, I really do love you, I really do want to see you, I need to cancel tonight but can we please reschedule for next week?
And your friend writes back and says, "Of course, no worries, send me some new dates that work for you," and you can't even really feel bad, except for yourself, because you know they're sitting there smiling. Even though they love you, too, there's just something about a cancelled plan that's too good to pass up.

Continue reading for free
We hope you're enjoying The Week's refreshingly open-minded journalism.
Subscribed to The Week? Register your account with the same email as your subscription.