The science of a successful first date
How to size up a potential suitor using cold, hard scientific data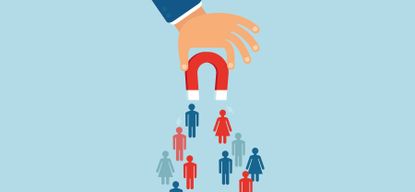 (Image credit: iStock)
Anyone who's ever spent time on the dating scene knows it can be brutal out there. First dates are especially grueling. The awkward getting-to-know-you question-and-answer session, the sleuthing for signs of their interest in you, and the awful feeling you get upon realizing you have to spend the rest of the evening in the company of someone with whom you have absolutely no chemistry.
Even online dating, which often relies on algorithms designed specifically to turn up a good match, can leave you empty handed and broken hearted. That's thanks in part to our own inability to tell the truth: One recent study revealed that 81 percent of online daters lie about themselves in their profiles. Men, for example, tend to lie about their age, height, and income; women are more likely to fudge on their weight, physical build, and age.
So, what's an honest single person looking for love to do? Take heed! When love at first sight fails, it's time to get analytical with cold, hard scientific data. Luckily for our purposes, there's a lot of existing research about human body language, behavior, and first impressions that can help you size up a suitor. After all, who needs romance when there's science? Here, a few research-backed tips that might help you gauge whether or not she's into you (and if you should be into her).
Subscribe to The Week
Escape your echo chamber. Get the facts behind the news, plus analysis from multiple perspectives.
SUBSCRIBE & SAVE
Sign up for The Week's Free Newsletters
From our morning news briefing to a weekly Good News Newsletter, get the best of The Week delivered directly to your inbox.
From our morning news briefing to a weekly Good News Newsletter, get the best of The Week delivered directly to your inbox.
If you're shopping for long-term love, research suggests you start the narrowing process before you even go on a first date by looking at occupation. Why? A person's career choice is a statistical indicator of their long-term relationship potential. Strictly by the numbers, you should look for an optometrist, a nuclear engineer, or a farmer, as they have the best chances of marital longevity. As for occupations to avoid? In a 2010 census study of divorce rates by profession, dancers (43 percent), bartenders (38 percent), and massage therapists (38 percent) scored devastatingly high.
When you finally meet face to face with that optometrist, how long do you have to make a good first impression? Five minutes? An hour? Long enough to at least order dessert? Nope. It only takes a tenth of a second to form a first impression, say Princeton researchers. And it doesn't matter how funny your jokes are or whether or not you offer to pay for dinner. Longer exposure can't alter how your date saw you when they first cast their (no doubt impeccably bespectacled) eyes in your direction.
To get a sense of whether or not you're off to a good start, use some good listening skills. No, no, I don't mean you have to listen to what your date says. This is more about how they sound when they say it. Researchers say voice modulation matters. If your date's voice is animated, rising and falling during the conversation, that's a sign that they're attracted to you. This is especially true for women.
While you're surveying the menu, casually ask your date about his or her favorite foods. Psychologists in Austria have linked a taste for bitter foods, such as radishes, vinegar, and unsweetened cocoa, with some potentially dangerous personality types. These lovers are more likely to have hostile thoughts and behaviors, and a particular interest in everyday sadism, which might be a deal-breaker, so that's good to know up front.
Next, survey your date's body language. Have you ever noticed that two people in a bar tend to strike the same posture, make similar gestures, and mirror each other's facial expressions? Scientists have confirmed that imitation truly is a high form of flattery. Mimicry equals attraction, so if your date rolls his eyes or checks his text messages at the same time as you do, the sparks are definitely flying.
Does your date gaze into your eyes? For how long? In two 2004 studies, psychologists found that a mutual, unbroken gaze held for two minutes increased passionate love between two people — even if they were strangers. But don't get carried away, because on the flip side, the researchers also found people who stare too long might be brazen liars. So there's a fine line between flirty glances and, you know, a psychopathic staring match. Look for the happy medium. And then look away.
What if your love interest is breaking their gaze too fast? A Johns Hopkins University study found that darting eyes could be a sign of impatience and a proclivity for impulsive decision-making. So, maybe you should be the one to choose the wine?
Also, check to see if their pupils are dilated. We've known for a long time that this indicates arousal, but a 2012 study says it's more complicated than we thought. Researchers found that our pupils enlarge not just when we're sexually aroused, but also when we're processing a challenging cognitive task. So if your date's eyes look like black holes, either they want to take you home, or they're solving a complex math problem in their head, like how to split the bill between you based on who ordered more food, or how big of a tip they can leave without overdrafting their bank account.
And then there's the feet. A study conducted in England found that, if a woman moves her foot away from her body, that's a sign that she's attracted to you. This is especially true when she's laughing. If she crosses her feet or tucks a foot under her body, trouble's brewing.

Continue reading for free
We hope you're enjoying The Week's refreshingly open-minded journalism.
Subscribed to The Week? Register your account with the same email as your subscription.