This innovation could change space travel forever
A spacecraft called Dawn just took a giant leap towards changing how we travel through the solar system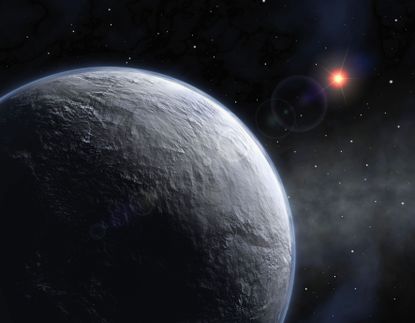 (Image credit: European Southern Observatory via Getty Images)
Sign up to our 10 Things You Need to Know Today newsletter
A free daily digest of the biggest news stories of the day - and the best features from our website
Thank you for signing up to TheWeek. You will receive a verification email shortly.
There was a problem. Please refresh the page and try again.
In the final hours of Monday, July 4, NASA's Juno spacecraft completed a tricky maneuver with pinpoint accuracy, and in doing so, became the second craft to enter Jupiter's orbit.
But Juno wasn't the only space probe having a big moment. Just days earlier, the Dawn spacecraft completed its mission to the asteroid belt that lies between Mars' and Jupiter's orbits. In the process, it may have ushered in a new technological era in space flight.
Launched in 2007, Dawn's goal was to study the two largest bodies in the asteroid belt, Vesta and Ceres — which are as big across as Arizona and Texas, respectively. Dawn visited Vesta from July 2011 to September 2012, and has been orbiting Ceres since March of 2015. The spacecraft's primary mission ended on June 30, but it's still sending back data.
Subscribe to The Week
Escape your echo chamber. Get the facts behind the news, plus analysis from multiple perspectives.
SUBSCRIBE & SAVE
Sign up for The Week's Free Newsletters
From our morning news briefing to a weekly Good News Newsletter, get the best of The Week delivered directly to your inbox.
From our morning news briefing to a weekly Good News Newsletter, get the best of The Week delivered directly to your inbox.
While Dawn's mission is important, how it got to the asteroid belt in the first place is equally fascinating. It used something called ion propulsion.
Most spacecraft, like Juno, use standard combustion to travel through space. A chemical fuel is burned, the expanding gas is directed out the back by a nozzle, and that's what propels the craft forward. Ion propulsion is different. It still uses a fuel — in Dawn's case, the gas xenon — but instead of burning the gas, a purely electrical system accelerates a few particles of the fuel at a time out of the spacecraft, at about 10 times the speed of regular combustion.
"Basically what you're trying to do is push your spacecraft forward by throwing something out the back very quickly," Christopher Russell, Dawn's principal investigator who assembled the mission, explains to The Week.
Ion propulsion is incredibly efficient, which cuts way down on the fuel the craft has to carry. That massively reduces costs, and leaves a lot more room for other cargo. Combustion systems also require big burns to get going and big burns to slow down again, while ion propulsion moves more smoothly, opening up all sorts of new routes and locations.
Commercial satellites have been using ion propulsion pretty regularly since at least 2000. But keeping satellites stabilized in geosynchronous orbit is easy compared to zipping a craft around the solar system. Thus, ion propulsion has only been used for space exploration one other time, on a demonstration project in the late 1990s called Deep Space 1.
"Dawn was the first actual science mission to use ion propulsion for NASA," says John Brophy, an engineering fellow at NASA's Jet Propulsion Laboratories, who worked on Deep Space 1 and oversaw the development and deployment of Dawn's ion system. "It's by far the best, most advanced propulsion system ever flown in space."
The impetus for Dawn began in the 1990s, when NASA emphasized smaller, cheaper, more focused missions. Russell and several others began trying to integrate ion propulsion into mission proposals, and set a goal of going to the asteroid belt. NASA has regular competitions where proposals vie for funding and launch slots, and after a few defeats and false starts, Dawn was finally selected. In fact, it beat out the proposal that would become the Juno mission several years later.
While there are several forms of ion propulsion, the version Brophy used on Dawn involves two grids, each about a foot wide and spaced half a millimeter apart. An electrical system powered by a solar array on the spacecraft passes a current through both grids, and the resulting voltage differential between the two is what accelerates the xenon particles as they pass through the grids. Each accelerating particle only provides a tiny amount of thrust — roughly equivalent to the pressure of a piece of paper lying in your hand — but in the airless and frictionless environment of space, a steady stream of that tiny thrust can build up to monumental speeds of about 24,000 miles-per-hour.
What Brophy and his coworkers aimed to do was build a grid and propulsion system that could pull this off, and demonstrate that the setup was durable enough to survive the whole mission. So before both Deep Space 1 and Dawn, they ran versions of the ion system here on Earth continuously for years to demonstrate their lifespan.
Finally, the Dawn mission became possible when Ceres and Vesta reached a once-every-17-years alignment, allowing the mission to visit them both. "That was really a great boon for space exploration to do the two largest asteroids in the asteroid belt with one mission," Russell explains.
So, what's next for ion propulsion?
Right now, traditional chemical combustion still allows for faster acceleration and speed, which makes it the preferred method for ferrying human beings through the solar system. But ion propulsion is better for missions hauling a lot of mass without a time-crunch. So it could be great for taking equipment to Mars to set up a base or colony, sending robotic missions to other planets and bodies, or for transporting mineral cargo between Earth and asteroids if commercial space mining ever gets off the ground.
Brophy is currently working on NASA's Asteroid Redirect Mission. The plan is to go to an asteroid, haul back a piece of it and place it in orbit around the Moon where astronauts can retrieve samples. Asteroid Redirect would use an ion propulsion system that's 20 times more powerful than the one on Dawn. The mission hasn't won final approval yet, but it's progressing, and will hopefully be ready for launch by December of 2021. And if it is successful, the system's power would only need to be increased another four or five fold to be able to take humans to Mars and back in the same time as standard combustion propulsion — and for way less cost.
If that happens, we'll all have Dawn and its successful flight to Vesta and Ceres to thank for it. "The ion propulsion system on Dawn worked essentially perfectly," Brophy says. "It opens the door to using this technology on a whole range of planetary missions."
Continue reading for free
We hope you're enjoying The Week's refreshingly open-minded journalism.
Subscribed to The Week? Register your account with the same email as your subscription.
Sign up to our 10 Things You Need to Know Today newsletter
A free daily digest of the biggest news stories of the day - and the best features from our website
Jeff Spross was the economics and business correspondent at TheWeek.com. He was previously a reporter at ThinkProgress.