I used to have 10 fingers. Then a lovable golden retriever ripped one off.
I had to own up to fact that my finger was in the wrong place at the wrong time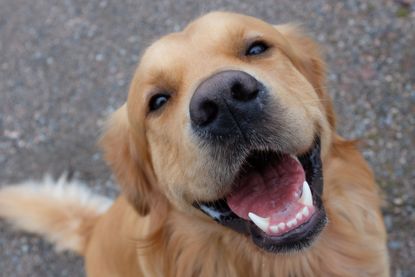 (Image credit: iStock)
Sign up to our 10 Things You Need to Know Today newsletter
A free daily digest of the biggest news stories of the day - and the best features from our website
Thank you for signing up to TheWeek. You will receive a verification email shortly.
There was a problem. Please refresh the page and try again.
As middle fingers go, the one on my right hand was never much of a winner. The nail was flattened, partly an inheritance from my father, but also the result of being caught in a garage door as a child. The cuticle was inflamed from frequent picking, and the tip was nicked from an old gym mishap. There was a rubbery little bump at the first knuckle, perhaps a cyst or the start of arthritis.
Of course, now that much of this finger is gone forever, I wish I had it back to admire all its imperfections. Funny, but the night before it was ripped away, I'd given the finger a proper clipping, like the death row inmate who gets a shave and a haircut just before execution.
It began with the slow start of a Tuesday morning in mid-September when I entered New York's Central Park with my dog Zeno, a miniature Schnauzer with a large personality. Zeno and I typically prefer to keep moving, but we stopped briefly to say hello to a friend and her golden retriever Hermes, an affectionate tail-wagger whom I've known since he was a rambunctious puppy.
Subscribe to The Week
Escape your echo chamber. Get the facts behind the news, plus analysis from multiple perspectives.
SUBSCRIBE & SAVE
Sign up for The Week's Free Newsletters
From our morning news briefing to a weekly Good News Newsletter, get the best of The Week delivered directly to your inbox.
From our morning news briefing to a weekly Good News Newsletter, get the best of The Week delivered directly to your inbox.
I'd barely given Hermes a single pat to his head when my friend yanked on his leash as another large dog was ambling by. Whether it was a provocative exchange of eye contact or the quick tension on the leash, or just some deep fear response, the normally sweet Hermes lunged at the other dog with white-fang ferocity. My middle finger took the full force of his bite.
Awful as it was to feel the flesh pulled away like Velcro, even more traumatic was watching the rounded, freshly-clipped fingertip fall to the ground as a foreign object. It could have been the eraser from a large pencil.
Out of nowhere, a man I'd never met pulled off his T-shirt to prepare a makeshift tourniquet and instructed me to keep my arm raised. He shouted for crossing guards at the school across the street to fetch a bag of ice to preserve the severed finger. And he did his best to calm me down, getting me to breathe evenly and assuring me that everything would turn out fine. (He had the emergency skills of a combat medic — I learned later he was a real estate executive.)
Waiting on a park bench for an ambulance to arrive, I wailed in disbelief. When the police came I gave a coherent statement of what happened, but was beside myself seeing the blood all over my shorts and worse, watching Zeno's bewildered look after a neighbor offered to walk him home. Hermes' owner was crying. Hermes himself sat placidly, oblivious to what just occurred.
A sliver of hope awaited me at the hospital, where an ER doctor surmised the finger could be re-attached — in fact, the facility where the ambulance took me is known for its implantation work. The two hand surgeons who arrived a short time later had a grimmer view. Reattachment was ill-advised, they said — a challenging, multi-hour operation with high risk of infection, rejection, nerve damage, arthritis, and other complications, including a bizarre outcome in which the fingernail grows sideways. Plus, it was a dirty, jagged wound — they said it actually would have been better had I hacked off more of the finger with a cleaver than lost a chunk to a dog.
Their recommendation was to give the exposed tissue a deep antibacterial cleansing and then — forgive me — "take back" a few more millimeters in order to remove exposed bone fragments and level the surface so that the remaining skin could be flapped over like a pastry shell for stitching.
By now I was swooning and wanted to cover my finger's ears from hearing such talk — the missing piece sat in a slurry solution in a plastic pan a few feet away. My wife Sarah, who had rushed over, and I had a difficult decision: We could opt for a discharge and haul my fingertip in a cab to another hospital 40 blocks away with a bigger implantation team. Or we could stay and get the injury sewn up right away and start my healing. Staring at the surgeons ready to get it over with, we chose the latter.
Numb from lidocaine, I felt only a tugging sensation as the doctors performed their "take-back" procedure, whispering clinical commentary to one another. "Is that scraping sound good or bad?" I asked at one point. They told me it was to file down the nail bed to prevent errant, skin-puncturing nail growth once the finger was closed. It was all over in 30 minutes. Fortified with a tetanus shot and antibiotics, I was ready to be sent home as a nine-fingered man. But as we were checking out I scrambled back into the ER room to bid my fingertip farewell — alas, an orderly had already come in and removed the pan. It was now a true castaway and gone forever.
In the subsequent days, with my finger wrapped in gauze and protected by a sushi-sized splint, I learned what a legend I'd become around the park. In one version of events, I'd heroically prevented Zeno from being mauled by a mystery Doberman. In another, I stepped in to break up a savage fight between two beasts, and in still another I had valiantly saved the owner of Hermes' intended target. Even people who hadn't made the connection with me and Zeno knew all about the incident. "That was you??" they asked in wide-eyed horror after seeing my bandage. I was hugged by many and introduced to newcomers as "the guy who had his finger bitten off." It seems that finger injuries are a common phobia — nearly everyone had their own frightful story to share and most covered their ears even while they asked for the gory details of mine. One friend asked if I would send him a picture.
It was nice to know my pals had formed such a brave image of me, but I had to own up to the fact that my finger was just in the wrong place at the wrong time. And that raised a larger question: What would trigger an otherwise friendly animal to fly into such a rage, especially since by all accounts the dog that happened to be passing Hermes at the time was an elderly shag named Darwin whose demeanor has been described as ranging from docile to comatose?
Although the 80-pound Hermes had not previously bitten anyone, such an extreme exception could be grounds for putting him down — many in our circle felt that was the right step to take. Next time it could be a child, or someone's face. My whole hand could have been mangled. "That dog should not be anywhere near other dogs, which is virtually impossible in the city," one person said.
Hermes' owners have since told me he was attacked twice by a German Shepherd and that that he gets spooked by larger dogs. I've witnessed countless examples of on-switch aggression among dogs we know — it can be set off by possession of a rubber ball, a bag of treats, being cornered in an elevator, or even whose turn it is at the water fountain. In Zeno's case, he goes nuts for rollerbladers, skateboarders, and anyone on a scooter. I share his distaste for all three species and usually let him bark and lunge furiously as they go by. He also has a thing against boxers and will pounce on smaller dogs that try and get behind him. Even at 16 pounds, his little canines could do considerable damage if they ever hit their mark.
The simple solution to Hermes' code-red syndrome is a secure muzzle. I wish I'd been more aware of his issues — it would have made me cautious in approaching him. I could not have forgiven him — or his owners — had he attacked Zeno, but it would haunt me terribly if he were to be destroyed on my finger's account.
All things considered — and as long as I avert my eyes when either Sarah or the hand therapist change my bandage wrap — I'm not doing too badly. My daughter Emily notes I've been in much darker moods from the constant orthopedic injuries I've had over the years, turning woe-is-me depressive at not being able to exercise. I could almost say I've had blisters that hurt more, until I lightly jam my finger on the top of a chair and an electric bolt of pain shakes me like hitting a third rail. I've also felt the strange tingling and throbbing of the phantom digit that seems to extend beyond the joint that remains.
But I never touched the Oxycodone they gave me at the ER and stopped taking Advil after a few days. Thanks to the splint I didn't even miss a day of push-ups and planking. The worst concession so far has been having to use my index finger to search for the "i", "k", and comma keys when I type. Well, that, and wearing a Ziploc bag on my hand for showering. Oh, and zipping my jacket, holding a spoon, opening a pickle jar, pulling out my wallet, drumming on a tabletop, and trying to write with a pen, so the list could go on.
To gain more perspective, Emily and I do a calculation. We figure the top of my finger weighed around an ounce. Since I stand in at 150 pounds we estimate I've lost .0004 percent of my formerly complete self — a paltry sacrifice. Our family hand doctor describes a suction-fitted prosthetic fingertip so lifelike and functional that it comes in several shades of skin tone so you can change it depending on the season — just the thing for the beach. He added we shouldn't be so quick to get rid of our baby grand.
We watch the YouTube classic "Charlie bit my finger" in which an adorable little British boy sticks his index finger into his baby brother's mouth, only to have the tyke merrily chomp down on it, inducing a teary scold from big brother and a hearty laugh from the father shooting the video — it's been viewed more than 4.5 million times. Oh, if only it had been Charlie who bit my finger.
I discover the missing finger Hall of Fame, which includes Chicago Mayor Rahm Emanuel (he lost his power middle finger to an Arby's meat slicer as a teenager), along with Darryl Hannah, Matthew Perry, Jerry Garcia, James Doohan (Star Trek's original Scotty, whose finger was shot off at Juno Beach during the D-Day landing), Boris Yeltsin (two fingers blown off by a hand grenade), gypsy guitarist Django Reinhardt, and even Galileo — though his three lost digits came nearly 100 years after his death when his body was being moved to its final resting place in Florence. Even Lindsay Lohan tried to join the club recently after ditching a section of her ring finger in a boating accident off the Turkish coast — but the actress is on her own now after choosing reattachment and even posting a video.
It's still hard to shake grisly thoughts, as when I look down at the sloping profile of my right hand and see the stunted view of what should be the skyscraper in the middle. At least several times a day I get hit with a boomerang playback of the bite that repeats in front of my eyes no matter which way I turn. At first I try and concentrate on those poor souls who've experienced far worse maimings than me. But those images only make me shudder and gasp even more.
Clearly, I have some adjustments to make in accepting my condition.
I had my stitches removed the other day. The doctor said all was looking good from a recovery standpoint and to come back in six weeks. It will take up to six months before I can get fitted with a prosthetic. What, no rehab, I wondered?
"Can you make a fist?" he asked and I obliged the best I could with what I had. "Good — just keep doing that," he instructed — his role was over. He did warn me that the finger will likely get colder than the others, from a lack of blood flow.
Laura the therapist dropped in — she previously comforted me with tales of tending to commercial fisherman whose hands were regularly pierced through by massive hooks, and factory workers who suffered horrendous mutilations from industrial paint guns.
"Be sure to keep wrapping the bandage in a figure 8 over the finger to keep the dog ears pulled in," she showed me. The what, I asked? She explained that was amputee shorthand for the little flaps of skin hanging off the sides of the stump. "See," she tried to show me, "they look just like the ears of a dog — you'll remember that." Indeed, I will.
Continue reading for free
We hope you're enjoying The Week's refreshingly open-minded journalism.
Subscribed to The Week? Register your account with the same email as your subscription.
Sign up to our 10 Things You Need to Know Today newsletter
A free daily digest of the biggest news stories of the day - and the best features from our website
Allan Ripp is a former journalist who now runs a press relations firm in New York. He has contributed essays and personal commentary to The Wall Street Journal, The New York Times, The Atlantic, Forbes, Time, AdWeek, the New York Observer, and the Tribune News Service.