The 12 best TV shows we watched in 2016
The Week's writers and editors reflect on the best TV shows of the year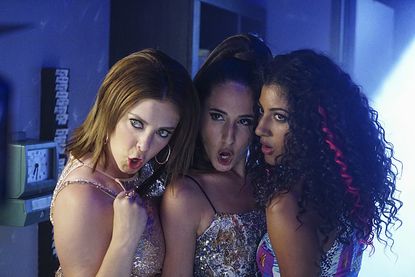 (Image credit: Richard Cartwright/The CW — 2016 The CW Network, LLC All Rights Reserved.)
Sign up to our 10 Things You Need to Know Today newsletter
A free daily digest of the biggest news stories of the day - and the best features from our website
Thank you for signing up to TheWeek. You will receive a verification email shortly.
There was a problem. Please refresh the page and try again.
1. The Americans
The Americans started with a compelling premise: a pair of Soviet spies posing as an all-American family raising their kids in suburban Virginia while they go around stealing secrets and murdering their enemies. The series' conflicted sympathies — with Philip and Elizabeth Jennings as they subvert the United States and do terrible things — made it fascinating from the beginning, not to mention that the show is full of complex supporting characters. But in its fourth season this year — perhaps the best yet — the human stories continued to make it one of the most engrossing shows on television, even as its protagonists piled up bodies. Nowhere on the small screen is there a more nuanced portrayal of a marriage, even though this one happens to be fake. Philip and Elizabeth's commitment to each other evolves in surprising and fascinating ways as they're both traumatized by what they're ordered to do to other people and struggling with how it will affect their very real children.
Which brings us to their teenage daughter Paige, played with extraordinary depth by Holly Taylor. Paige has finally learned who her parents really are, and has to grapple with the crushing responsibility of that knowledge while simultaneously doing things like having her first kiss with a boy. Taylor's performance is so heartbreaking that you want to reach through the screen, give Paige a shoulder to cry on, and tell her that everything is going to be okay. But it most certainly isn't. —Paul Waldman, columnist
Subscribe to The Week
Escape your echo chamber. Get the facts behind the news, plus analysis from multiple perspectives.
SUBSCRIBE & SAVE
Sign up for The Week's Free Newsletters
From our morning news briefing to a weekly Good News Newsletter, get the best of The Week delivered directly to your inbox.
From our morning news briefing to a weekly Good News Newsletter, get the best of The Week delivered directly to your inbox.
2. Better Call Saul
Better Call Saul, a spinoff of Breaking Bad, may have outgrown its source material. In its second season, the show did what good spinoffs (like Frasier) do best: It generated its own tone and its own very particular, totally engrossing set of stakes. Creator Vince Gilligan's trademark boldness, delicious plotting, and stunning portraiture of the mundane pays off beautifully in this amusingly unhurried series. But unlike the high-stakes, meth-addled world of Breaking Bad, Better Call Saul is so unconcerned with thrilling you that the show has yet to introduce its titular character, Saul Goodman. Instead, Better Call Saul follows James "Jimmy" McGill, an underpaid attorney with a penchant for con artistry, who will one day become Saul. But until then, Saul only crops up like a ghost in flash-forwards — confusingly filmed in black and white — that grimly document his life after Saul. We get James McGill's life before Saul, and his life after Saul, but Saul himself is absent: It's as if Saul has been caught, and is talking at us so fast that he fades to a blur. We barely see him at all. As if to double down on that airy unconcern, both seasons end similarly: This is a show less interested in forward progress than in a slowly ascending spiral that will (one assumes) finally become Saul Goodman's origin story.
Bob Odenkirk thrives as the lovable, logorrheic Jimmy. Michael McKean plays Jimmy's brother with incredible texture. Rhea Seehorn's Kim Wexler has become one of my favorite characters on television, and while it's a treat to see Jonathan Banks' Mike Ehrmantraut and other Breaking Bad alumni, the real treat is glimpsing their domestic underbellies — whether it's Tuco Salamanca's abuelita, Mike's daughter-in-law and granddaughter, or Jimmy's relationship with Chuck. If Breaking Bad was largely about their alliances, Better Call Saul is about their allegiances, and that's turning out to be rich territory indeed. —Lili Loofbourow, culture critic
3. BoJack Horseman
There's gorgeous, dynamic, additive cinematography — and then there's what Lisa Hanawalt does on BoJack Horseman. The production designer and lead illustrator of Netflix's animated dark comedy, which follows the booze-soaked life of a washed-up equine sitcom star, has created a vivid backdrop that plays perfectly against the bleakness of the characters' existences.
The show's third season dropped on Netflix in July, and its most touted installment was the fourth episode, "Fish Out of Water." BoJack is thrust into an unfamiliar underwater land where he's unable to speak due to a pesky air helmet. Without dialogue, the visuals (and the score) have to tell the episode's story, and the result is arresting thanks to Hanawalt's use of space and color, which lay bare the depths of BoJack's isolation.
But there's an even better offering that perfectly distils BoJack: the ninth episode, "Best Thing That Ever Happened." BoJack is once again trapped, but this time purposefully, and within the confines of the restaurant he owns, so he can muster the courage to fire his agent-turned-girlfriend-turned-ex, Princess Carolyn. The exes exchange cutting words, and, combined with the claustrophobic chaos of the restaurant, effectively throw the show's whole world off-kilter without stepping outside. If that's not a testament to the power of setting, I don't know what is. —Kimberly Alters, news editor
4. Crainn ne hÉireann (The Trees of Ireland)
You'll have to trust me on this one. To my great surprise TG4, the state-subsidized Irish-language broadcaster, produced a documentary series this year that should be deadly boring, but turns out to be the most hypnotic and mesmerizing thing I've seen on television in years. Each half-hour episode of Crainn ne hÉireann (The Trees of Ireland), hosted in Irish (with subtitles) by Manchán Magan, profiles one type of tree found in Ireland, such as the yew, oak, or holly. The trees allow the viewer to explore not just dendrology or environmental science but also folklore, art, poetry, and all aspects of history — social, commercial, and political. The series makes the most deft use of the increasingly popular drone-flown camera, particularly when exploring forests, stately major courtyards, or a mysterious "cathedral" made out of majestic yew trees. Crainn ne hÉireann is gorgeous television, with a serene soundtrack of classical and romantic music. If you liked the Smithsonian Channel's series Aerial America, have any interest in Ireland, or just revel in the lush wild beauty of nature, you should give this program a shot. —Michael Brendan Dougherty, senior correspondent
5. Crazy Ex-Girlfriend
Crazy Ex-Girlfriend tells the story of a successful lawyer who abruptly leaves her six-figure salary in New York to pursue an old summer camp flame in West Covina, California. The show is bubbly, honest, and filled with relatable characters who don't know how to interact with each other. But what makes Crazy Ex so captivating is that it digs into the psychological makings of that tired rom-com trope, the titular crazy ex-girlfriend.
The show features one of the most realistic portrayals of modern, millennial depression I've seen on screens big or small. In addition to being an accomplished career woman, Rebecca Bunch is a high-energy, friendly chatterbox, who moves a mile a minute to obscure the fact that she relies on meds to numb her emotions, sees a therapist regularly (or tries to), and has dark thoughts triggered by the smallest actions of those around her. In one episode, her crush not answering her call leads to a weekend of binge drinking and drugs that put her job at risk. "I'm happy," Rebecca says to herself during panic attacks. "This is definitely what happy feels like. What's wrong with you? This is what happy feels like."
It's a darkly hilarious kind of lie, and reveals what the show is really about — the inability to control your own emotions, no matter how hard you try. —Kelly Gonsalves, editorial assistant
6. The Crown
There's a lot to love about The Crown, Netflix's hit series chronicling the life and reign of Queen Elizabeth II. The extravagant costumes, the history, and the impeccable details — from Claire Foy's (Her Majesty) carefully crafted accent to Matt Smith's (Prince Philip) slightly wonky gate — make this show a joy to watch. Elizabeth has always been a very private and stoic queen, almost painfully so. For a royal-obsessed audience, watching The Crown feels like scratching an itch: Suddenly, we are allowed to indulge in the intimate drama unfolding behind the closed gates of Buckingham Palace.
But the best part of The Crown is seeing a young Elizabeth learn to shoulder the weight of her responsibilities: family, politics, a post-war Britain. It is so satisfying to watch her feel and fumble her way through her first few years as monarch, gaining confidence in the process. This culminates in a particularly tense scene in the seventh episode in which Elizabeth learns Winston Churchill, her prime minister, has hidden his ailing health from her. She's angry and offended, tired of being treated like a child. So she calls a meeting to scold him. We viewers know she is nervous, but Churchill does not, and he is visibly shaken by her stern reprimanding. She asks if his health has improved, but before he answers, she says, "I would ask you to consider your response in light of the respect that my rank and my office deserve — not that which my age and gender might suggest." It's a great line, one all women should keep in their back pockets as a reminder to demand the dignity and respect they're so owed. —Jessica Hullinger, senior editor
7. Fleabag
Fleabag is a new dark comedy from the BBC and Amazon about a lost 30-something who finds herself the sole owner of a failing guinea-pig themed cafe in London. At the show's center is a grief-ridden broken heart. But whose is harder to say. Is it the titular character, known only as Fleabag, played by a wryly infectious Phoebe Waller-Bridge, Fleabag walls herself off from everyone, saying "I'm fine" so much it's unclear who she's trying to convince. Or is the broken heart owned by her sister Claire, her best friend Boo, or her father, all of whom unsuccessfully ignore the depths of their pain to varying degrees of detriment?
Despite the darkness, Fleabag is funny as hell. Waller-Bridge's Fleabag should be completely unlikable. Instead, you'll find yourself giggling and cheering her every burst of childish petulance and dry self-loathing. The six-part series, fashioned after a one-woman play, breaks the fourth wall often, as Fleabag turns to the camera, letting you in on the joke with a wink, or divulging the deepest hurt of her backstory with a churlish curl of her perfectly painted lips. In the first episode, Fleabag and Claire are sitting in the audience of a sparsely attended lecture. After Claire asks if she's heard from dad, Fleabag says "no" and turns to the camera to fill us in: "Dad's way of coping with two motherless daughters was to buy us tickets to feminist lectures, start f--king our godmother, and eventually stop calling." Fleabag can sting like a sucker punch, but in a good way. —Lauren Hansen, executive editor of multimedia
8. Good Girls Revolt
The good news: Good Girls Revolt is a great show, rich with cultural references, a cast of surprising and dynamic characters, and a compelling storyline about female empowerment. The bad news: Amazon has canceled it after just one season. That one season, however, is most certainly worth a watch. The show follows a group of women as they fight to write for News of the Week, a fictional magazine that relegates women to the role of researchers while letting men bask in the glories of bylines and fat paychecks. The characters face challenges outside of work, too: Free-spirited Patti grapples with her jealousy over her boyfriend's achievements as a reporter; quiet, mousy Cindy starts to come into her own and push back against her stifling husband; and stuffy, blue-blooded Jane finally decides to stop doing what daddy wants her to do. The show is grounded in real-world events, with an actress portraying the late writer Nora Ephron making recurring appearances. The American Civil Liberties Union attorney who represents these fictional women, Eleanor Holmes Norton, did indeed work for the ACLU and is now a congressional delegate representing the District of Columbia. —Becca Stanek, staff writer
9. Man Seeking Woman
Man Seeking Woman follows a trio of millennials — Josh (Jay Baruchel), his best friend Mike (Eric André), and his sister Liz (Britt Lower) — as they navigate the strange realities of dating. It's not necessarily a unique setup, but the series takes a refreshingly sharp turn in its surreal portrayal of the predictable pitfalls of early adulthood and singledom. To wit: When Josh dives into a new relationship, the harsh news is delivered to Mike by two uniformed service members. Mike asks the bearers of bad news when he and Josh can hang out again. One man responds somberly, "Doctors say he may never hang again."
The rest of the second season sees Josh grappling with growing older (he considers settling down with a 1998 mid-sized sedan), rediscovering his faith (after his mother preaches to a congregation about his theater camp past), and making a not-so-subtle play for his crush (in a highly publicized campaign to be her boyfriend). Man Seeking Woman's take on the most basic of human foibles and desires will have you both cringing embarrassment and laughing out loud. —Jackie Friedman, assistant photo editor
10. Soundbreaking
The stated focus of this amazing eight-part PBS series is the recording studio, but it's really an ambitious love letter to popular music. And it was all thanks to Sir George Martin, the record producer most famous as the "fifth Beatle," who died in March, that the production team was able to gather this startling collection of record producers, rock legends, musicians, and other figures in the music industry to sit down and talk with them on camera.
The first episode encompasses the scope of the project: detailing the history of recorded music, and what we gained and lost with each big leap forward from wax disc to MP3. From there, the focus largely turns to various artists and genres.
At times SoundBreaking is maybe too ambitious, but it keeps you pulled in with the stories, usually told by the people involved — how two white guys wrote "Hound Dog" for Big Mama Thornton; the totally improbable origins of Tom Petty's "Free Falling"; how one man secretly created the entire first Boston album in his basement, recording and playing all the parts himself; the mad genius of Phil Spector and Brian Wilson. In a year where the world lost a lot of musical talent, SoundBreaking reminds us why we love musicians and how they live on even after they're gone. —Peter Weber, senior editor
11. Stranger Things
I started watching Stranger Things because of the title sequence. The retro red title card is ripped from a John Carpenter movie (or two — see: In the Mouth of Madness; Christine) and quickly became an internet meme almost immediately after the show was released on Netflix in July.
In many ways, the title sequence to Stranger Things is the perfect embodiment of what the series is: a nostalgic throwback to '80s sci-fi adventure movies in the vein of Steven Spielberg, Stephen King, or The Goonies. The series takes place in the fictional town of Hawkins, Indiana, and investigates the disappearance of a young boy — and the appearance of a strange, bald girl called Eleven. The mystery at the heart of these two events unfolds with satisfying richness and, without giving too much of the fun away, comes to include a parallel universe, a truly terrifying monster, Dungeons and Dragons, Eggo waffles by the armful, an alcoholic police chief, a mother whose mental wellbeing is rapidly deteriorating (terrifically portrayed by Winona Ryder), and, of course, a best friend named Barb.
The season is only eight episodes long, but it will hook you within the first eight minutes of the pilot, right about when the neon red letters of the title buzz onto the screen to the thrum of a synthesizer — the cherry on top of the most absorbing establishment of place, tone, concept, and character since Twin Peaks or The X-Files. —Jeva Lange, staff writer
12. Vanderpump Rules
Most people, wanting to keep their jobs, friendships, and reputations intact don't go around insulting their bosses, hooking up with their BFF's exes, and throwing drinks in people's faces. Thankfully, the cast of Vanderpump Rules, unshackled by such chains of civility, say and do whatever they please.
Vanderpump Rules is both a spectacle, featuring aspiring 20- and 30-something actors/models/DJs connected to Lisa Vanderpump's West Hollywood restaurant SUR, and a cautionary tale of what happens when someone refuses to admit they're pushing 40 and is never going to come close to winning that Oscar.
This season is somewhat tame compared to previous ones, when alcohol-fueled meltdowns and rumors about getting strippers pregnant in Vegas ran rampant. While we do have Lala being accused of dating a married man (gossip spread by Scheana, who became famous for dating a married man), it looks like the impending drama will be a showdown between Jax "I'm the Number One Guy in the Group" Taylor and James "The White Kanye West" Kennedy (yes, those are actual ways they've described themselves). Both are delightfully rotten people, able to hurl insults and lie with the greatest of ease. They dislike each other, I think, because an aging Jax sees in James what he once was, and James sees in Jax what he could become (if he starts lifting more weights and stealing sunglasses).
It's not all hate and hypocrisy — bright spots include Stassi's witty barbs, Schwartz's goofiness, and Ariana's voice of reason. Vanderpump Rules is escapism at its finest, thanks to the cast's antics and producers' editing, and as long as none of these people has the nuclear codes, they can be as bad as they want to be. —Catherine Garcia, staff writer
Continue reading for free
We hope you're enjoying The Week's refreshingly open-minded journalism.
Subscribed to The Week? Register your account with the same email as your subscription.
Sign up to our 10 Things You Need to Know Today newsletter
A free daily digest of the biggest news stories of the day - and the best features from our website