I got an IUD. It was a nightmare.
We need to stop glorifying this form of birth control and instead help women get better access to reproductive health care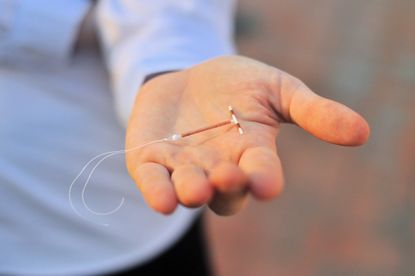 (Image credit: iStock)
The IUD is having a moment.
In recent months, the T-shaped intrauterine device, which is inserted into the uterus to prevent pregnancy, has grown in popularity. This stems, at least in part, from concerns that, under the Trump administration, Americans will lose their health care coverage as ObamaCare is rolled back, and Planned Parenthood will be defunded by the Republican Congress. In a phenomenon dubbed the "IUD rush," women are clamoring to get an IUD (which one study found was the most popular form of birth control among family planning providers) while the procedure is still covered, afraid they'll soon no longer be able to afford other options.
Nine years ago, I would have been one of them.
Subscribe to The Week
Escape your echo chamber. Get the facts behind the news, plus analysis from multiple perspectives.
SUBSCRIBE & SAVE
Sign up for The Week's Free Newsletters
From our morning news briefing to a weekly Good News Newsletter, get the best of The Week delivered directly to your inbox.
From our morning news briefing to a weekly Good News Newsletter, get the best of The Week delivered directly to your inbox.
I was an ideal candidate for an IUD. At the start of a teaching career with no intention of getting pregnant anytime soon, it looked like the best option for me.
But as I soon learned, an IUD isn't right for everyone, and I worry that this point is getting lost in the current conversation. As someone who had an IUD complication, I find this concerning.
Had you asked me as recently as four months ago, I would have had nothing but good things to say about my IUD. In it went, and I forgot about it almost immediately. Even my implantation wasn't nearly as intense as some women experience. For some, an IUD is a horror story right from the start. All over the web, women testify they've experienced severe negative physical and mental side effects starting soon after implantation. Fatigue, headaches, spotting, cramping, bloating, gastrointestinal distress, acne, and cysts are just some of the more commonly reported symptoms. Others say their new device caused weird dreams and nightmares and led to other physiological issues such as mood swings, anxiety, and depression.
Doctors say side effects like these are rare — but they're common enough that sufferers have set up support groups. And, in some cases, complications can be serious. More serious complications relate to the device becoming displaced or expelled from the uterus. In worst-case scenarios, an IUD can perforate the uterine lining, and become lost in the body.
I was never made aware of such risks.
At my yearly pelvic exams, everything appeared normal. Then, in 2010 I lost my teaching career, which meant I lost my insurance, and those wellcare visits stopped. Over the next couple years, I experienced occasional bleeding during intercourse, but when you don't have health insurance, you don't get things like that checked out.
In 2012, I went to a Planned Parenthood and paid out of pocket to have my IUD removed, suspecting something was amiss. That's when I learned my device had migrated out of place. Even so, because I still wasn't intending to get pregnant and I didn't have a backup birth control method, the doctor encouraged me to leave it in. Bad advice: A displace IUD can compromise its effectiveness and result in an ectopic pregnancy — but again, when you don't have insurance, you don't get a second opinion, even when the advice you receive from the first physician doesn't sound right.
I didn't have health insurance again until four years later, after I met and married my husband. Three months after our wedding ceremony, we started talking about starting a family.
Just before Thanksgiving, what was supposed to be a simple procedure to remove my IUD turned complicated when my gynecologist discovered a part of it had become embedded in my uterine lining. I spent the following weekend in pain and fear, nauseous and vomiting, bleeding and cramping. I was terrified by the idea of surgery, which I was told by the gynecologist was my only option. On top of all that, I beat myself up for what I feared was my fault. I should've had it removed earlier, I thought. I should have gone for more regular check-ups. I shouldn't have gotten the device in the first place — as if I could have known.
Luckily, my story has a happy ending (so far): I called another doctor for a second opinion, and she told me to come in. After an hour of poking and prodding, she was able to locate the missing bit of the device and remove it without surgery. But, in addition to a painful and frightening removal procedure, I was warned the device malfunction could impact my ability to carry a baby to term.
Three months later, I am nine weeks pregnant, and I worry. I worry for myself, but I worry for other women, too. IUDs may sound great, but they are not a quick fix for the larger problem, which is a health care system that remains inaccessible to millions of women, leaving them without much-needed family planning options. Rather than glorify the IUD, we need to first work to protect women's access to information and doctors and resources. When it comes to women's reproductive health, there is no one size-fits-all solution, and we shouldn't pretend there is.

Continue reading for free
We hope you're enjoying The Week's refreshingly open-minded journalism.
Subscribed to The Week? Register your account with the same email as your subscription.