I hit a dog with my car. Here's how I explained it to my kids.
They don't teach you about these kinds of conversations in parenting books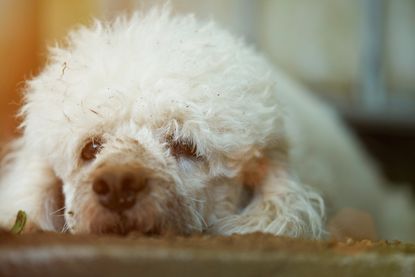 (Image credit: iStock)
Sign up to our 10 Things You Need to Know Today newsletter
A free daily digest of the biggest news stories of the day - and the best features from our website
Thank you for signing up to TheWeek. You will receive a verification email shortly.
There was a problem. Please refresh the page and try again.
While I was driving home from preschool pickup a few weeks ago with my two kids in the backseat, a small white dog darted out in front of my car. I screamed and hit the brakes, but the dog seemed to already be under my vehicle. I heard a bump. Or did I? Oh god, what if I killed a dog?! Panic set in. But then, I saw a little white speck run off; the dog didn't seem to be limping. Shaken, I pulled the car over. What was I supposed to do now? I couldn't just drive away, right? They don't teach you how to deal with things like this in driver's ed, or write about it in parenting books.
So, I made a decision. I went looking for the dog on foot. And I was freaking out the whole time. Hitting an animal with my car is something I really never imagined would happen, and I was not handling it well.
I enlisted the help of a woman arriving home with her son. The woman, whose name I learned was Bridget, led us into her neighbor's backyard after the dog. We cornered the little guy, and Bridget offered up some leftover ravioli from her son's lunch, which I (ever so gracefully) tossed at my target in a futile effort to lure him over to me. Finally, I scooped him up in a blanket from my car.
Subscribe to The Week
Escape your echo chamber. Get the facts behind the news, plus analysis from multiple perspectives.
SUBSCRIBE & SAVE
Sign up for The Week's Free Newsletters
From our morning news briefing to a weekly Good News Newsletter, get the best of The Week delivered directly to your inbox.
From our morning news briefing to a weekly Good News Newsletter, get the best of The Week delivered directly to your inbox.
A filthy poodle-type mix, he was pretty friendly considering his near-death experience. I loaded the sad, grimy creature into the back of my SUV and headed for … where? Where does one take a wounded animal they don't own? The vet, I guessed?
We took the dog to our usual animal hospital where it was determined that he was okay but badly neglected. Matted, gnarly fur, not neutered, no chip, no tag, and a pre-existing heart condition ... the vet said he looked like a street dog and that I could just keep him. What? Keep him? I mean, I felt bad, but with two kids and a pain-in-the-ass dog of my own, I just didn't think I could handle much more.
But I had a more immediate problem: Who would pay for this dog's exams? It had a cut near his eye, and the vet advised x-rays to rule out other injuries, but that would mean hundreds of dollars in vet bills. Should I just pay it? I pondered for a moment, guilt-ridden. What was I even liable for? Why are dog x-rays so expensive?!
I handed over my credit card for an exam and some pain medication. Meanwhile, my daughter had given this random dog a name: La La. I frantically Googled what to do. But — surprise, surprise — I couldn't find any advice applicable to my very weird, very specific situation, or how to talk to my kids about how I'd almost just killed an animal. So I tried to wing it. I explained to them that I hit the dog accidentally, and that the vet had made him feel better. I just hoped they wouldn't grow up to think of me as a dog mangler! My daughter already likes to report on my poor navigation skills, and now she can add that I run into animals with my car. I'll just be at the mailbox waiting for my mom of the year award.
But what if it had gone differently? What if La La had been seriously injured, or killed? How do you explain that kind of thing to little ones? I asked family therapist Elizabeth Mack about this. She told me that just talking about the incident helps kids to process their feelings. She suggests having kids tell the story of what happened with the dog (or whatever animal you might have hit). "Talking about traumatic events helps kids process their feelings by connecting the emotional right side of the brain with the linear, logical left side," she says. Because my kids didn't seem affected at the time, I didn't think to bring up the incident again. But Elizabeth told me revisiting can actually help. "While we certainly don't want to beat a dead horse," (good pun, Liz) "teaching our kids how to talk about difficult things is important … it helps those feelings fade more quickly so we can get on with other important business."
My therapist pal Megan Costello (who provides psychotherapy for children and families) also told me that I should acknowledge my own feelings about the situation out loud, to my kids, saying something like: "That was a scary moment. I felt so worried about that dog. I'm glad we made sure he was okay." That's a good way to open the conversation up and get the kids talking about their own feelings. Luckily I am an over-sharer, so I had this part covered!
The vet wouldn't keep the dog any longer, so we shuttled it from the vet to a shelter with a medical facility. My friend Poukhan lives in the neighborhood where the incident occurred, and she actually found the owners and gave them my number — progress! Finally, I got a call from a teenage boy, asking about his dog — whose real name, I learned, was Cody. I told him what happened, gave him the shelter address, and asked how long the dog had been missing. The kid said he didn't know. "I guess I forgot to check on him," he said.
The next night, the kid's dad left me a voicemail, asking where the dog was. I called back and left a voicemail in return, detailing the dog's condition and location. I also mentioned the vet bill, and that he was welcome to reimburse me. About a week later, Cody was spotted back in his yard, a little cleaner and a little calmer — rumor has it he may be fixed now. As for me, I probably have shingles (again) from the stress of the whole debacle. And I never did get reimbursed for all those x-rays. But at least the dog's okay. And if it ever happens again — oh god, please don't let it happen again — I'll know what to tell my kids. And I'll add a few more dollars to their therapy jar.
Continue reading for free
We hope you're enjoying The Week's refreshingly open-minded journalism.
Subscribed to The Week? Register your account with the same email as your subscription.
Sign up to our 10 Things You Need to Know Today newsletter
A free daily digest of the biggest news stories of the day - and the best features from our website
Writer and blogger Lindsey Hunter Lopez is currently immersed in the world of parenting thanks to her two small children. Her work has appeared at Parents, SheKnows.com, L.A. Parent, OK!, CNN, FOX News, and Preen, among other publications. Lindsey is a graduate of the University of California, Santa Cruz, and New York University. She's endlessly fascinated by parenting trends, subcultures, social media phenomena, and children's clothing.