Feeling the Tokyo blues
American Delta blues strikes a surprisingly deep chord with many Japanese music fans. In an inhibited and reserved society, the genre's raw and often angry honesty resonates.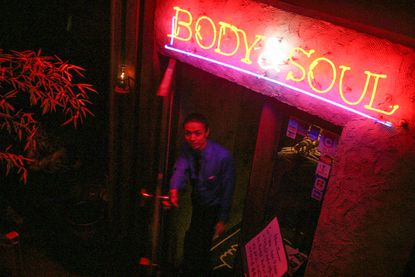 (Image credit: jeremy sutton-hibbert / Alamy Stock Photo)
Sign up to our 10 Things You Need to Know Today newsletter
A free daily digest of the biggest news stories of the day - and the best features from our website
Thank you for signing up to TheWeek. You will receive a verification email shortly.
There was a problem. Please refresh the page and try again.
The curling streets and alleyways of Shimokitazawa, a scrappy neighborhood on the western edge of Tokyo, are too narrow to comfortably accommodate an actual automobile. But on foot, a person can easily lose an afternoon wandering its paths, browsing racks of crinkled vintage T-shirts and shelves of enamel cookware, supping complicated, multi-ingredient cocktails. Tourist guides describe the area as "endearingly haphazard" and "meticulously inelegant." It is, perhaps, a Japanese approximation of Brooklyn's approximation of some bohemian European enclave. Young people congregate in its bars and cafés, fiddling with devices, smoking, looking stylishly aggrieved.
I was in Shimokitazawa to see Steve Gardner, a singer and blues guitarist from Pocahontas, Mississippi, play a tiny club called Lown. American blues performers — purveyors of "black music," as it is known colloquially here — can find good work in Tokyo and its immediate environs. I'd first gleaned something about the Japanese appreciation for specific tributaries of American vernacular music several years ago, when I was reporting a book about collectors of exceptionally rare 78-rpm records.
I couldn't quite figure out why Japanese listeners had come to appreciate and savor the blues in the way that they seemed to — lavishly, devotedly. Blues is still an outlier genre in Japan, but it's revered, topical, present.
Subscribe to The Week
Escape your echo chamber. Get the facts behind the news, plus analysis from multiple perspectives.
SUBSCRIBE & SAVE
Sign up for The Week's Free Newsletters
From our morning news briefing to a weekly Good News Newsletter, get the best of The Week delivered directly to your inbox.
From our morning news briefing to a weekly Good News Newsletter, get the best of The Week delivered directly to your inbox.
I'd spent my first couple of days in Tokyo hungrily trawling the city's many excellent record stores, marveling at the stock. I had shuffled into the nine-story Tower Records in Shibuya and ridden an elevator to a floor housing more shrink-wrapped blues CDs than I'd ever seen gathered in a single place of retail. I had been to a tiny, quiet bar — JBS, or Jazz, Blues, and Soul — with floor-to-ceiling shelves housing owner Kobayashi Kazuhiro's 11,000 LPs, from which he studiously selected each evening's soundtrack. I had seen more than one person wearing a Sonny Boy Williamson T-shirt. What I didn't know was what about this music made sense in Japan — how and why it had come to occupy the collective imagination, what it could offer.
A few hours before Gardner's set, I ducked into a subterranean restaurant called the Village Vanguard (its name was presumably an homage to the famed New York City jazz club). Norman Rockwell prints were nailed to the walls, alongside framed pages from Life magazine. "Paradise City" bleated from overhead speakers. The decor evoked the interior of the roadhouse from Thelma and Louise, except the bar itself was tiki-themed, bedecked with lights and plastic tropical flowers. I was trying to develop some richer understanding of how the Japanese metabolize and reiterate notions of Americana, but the cumulative effect was dizzying — an incongruous amalgamation of signifiers. I nibbled a french fry. There were license plates from Illinois and Montana hung above my table.
I'd made arrangements to meet up with the expat writer Michael Pronko, who was born in Kansas City but has lived in Tokyo for the past 15 years, teaching American literature, culture, film, music, and art at Meiji Gakuin University. Pronko writes and edits for a website called Jazz in Japan, which features reviews, interviews, and essays about Western music in Asia. I eventually found him waiting outside the Shimokitazawa subway station, wearing the hat, glasses, and beard of a man who has traveled extensively — the grizzled yet refined comportment of a war correspondent. We repaired to a bar.
I figured Pronko might have ideas about why American blues resonates so strongly for some Japanese audiences. I already knew the rote sociohistorical explanation — how African-American soldiers stationed in Japan during and after World War II had brought their record collections with them, and how an appreciation for those sounds (which were unfamiliar and, for many Japanese listeners, intoxicating) took root, flourished. This, of course, is also the story of every musical diaspora: A song or style travels, via commercially pressed records or sheet music or radio broadcasts or the performers themselves, and we are reminded anew that art transcends geography and that some expressions are so universally human as to be undeniable.
I was curious, though, about how this particular transmigration might be more complicated. Blues, after all, is especially indebted to its place of provenance, the Deep South — specifically northwestern Mississippi and parts of Arkansas, Louisiana, and Texas. To my ears, it is the most essentially American of all the great American idioms, and contains a more literal retelling of its originating landscape than any other genre I can think of. There is a saturation and a heaviness to early blues, a doused but crackling heat, a flatness.
This is one reason blues tourism continues to flourish in the Mississippi Delta. Fans share a pervasive belief that this music is perhaps best deciphered by more closely examining its wellspring, by coming to know the earth there, by steering the family sedan to the so-called Devil's Crossroads in Clarksdale, where Highways 61 and 49 intersect, and where, in the most apocryphal of all the great blues myths, Robert Johnson sold his soul to Satan so he could finger some hotter licks. Dazed-looking blues fans pull over, climb out of their cars, draw a lungful of soggy Southern air, and, maybe, unlock some part of themselves. I've done it, is all I'm saying — I've gone there looking for answers. I found some.
Pronko and I ordered a round of beers. My theories were rickety, but I charged ahead nonetheless. I asked him about what I understood as a compelling tension between Japanese humility — a pervasive, unwavering stoicism — and the more unfettered spirit of the blues. These were grand, maybe irresponsible generalizations, but even despite my broad strokes, a disconnection felt palpable.
"Blues is raw. There's no filter — [blues musicians] are often saying that they're angry, they're depressed," Pronko agreed. "In Japanese culture, you tend to not express those things. To say, 'Oh, I feel terrible' is a burden on the other person, because then they're obligated to listen to you and take care of you. It's the same in America, maybe, but that obligation is stronger here," he continued. "When I play blues to students, I tell them to not listen to the words, but to listen to the feeling of it — to the gut-punch. Do that first, then we'll get into the words. I think that kind of direct, emotional, uninhibited expression is really appealing to the Japanese, because things are so restrained in Japanese society."
When you are an American plotting your first trip to Tokyo, and canvassing your network for tips, you will be told that the city is inscrutable to outsiders, and especially to Westerners. You will wonder if your colleagues are being hysterical when they say things like, "The streets don't have names," or, "There's a beautiful club, but I couldn't possibly tell you how to find it."
I spent much of my time in Tokyo — eight days in late July — feeling glad but disquieted, perplexed. I could see how Japan might be a place Americans travel not merely to put distance between themselves and their regular lives, but to render those lives incomprehensible; how, if your very existence has started to feel foreign to you, a satisfying solution might be to go to a place where your life is actually unrecognizable, to make real what you already know in your bones.
But surely there's also something about Tokyo's sheer size — 13.5 million people living within the city limits, and 38.5 million within the region, making it the world's most populous metropolitan area — that inevitably reminds a person her life is merely one of many lives, a realization that sounds banal, even stupid, but can still trigger a funny kind of existential spiral. Then there's Japan's particular insularity: It's an island nation, culturally homogenous (at last count, in 2010, its population was 98.7 percent Japanese), and often wary of outsiders. Wandering Tokyo, I found it nearly impossible not to be continually reminded that I was a foreigner.
Before arriving in Tokyo, I'd read about the Japanese phenomenon of karoshi, or death by overworking. It's not especially unusual for a salaryman — as white-collar corporate workers are known here — to very suddenly collapse and die, usually after suffering some type of cardiac event, or via self-inflicted wound. Suicide is presently the leading cause of death for men ages 20 to 44 in Japan, and it is not thought of as a particularly dishonorable or shameful way to die.
Pronko said he'd noticed the way Japanese salarymen seem to transform when they listen to music. "Get me out of my thoughts, my obsession with work, and move me into some human experience," he said. "Let me stop thinking about this bullshit, and start being a person."
It seems possible to argue that American blues offers a new solution to the Japanese, an idea they maybe hadn't encountered before, hadn't realized could work as a balm. It's not merely a reflection of ennui or despair or confusion, it's a deep validation of it. It externalizes the internal in a way that allows for catharsis.
I'd been told a good place to see Japanese musicians playing blues was a club called Blue Heat, in the Yotsuya neighborhood of central Tokyo. When I pulled up in a taxi, around 9 p.m., I saw its big, glowing sign first: LIVE AND BLACK MUSIC BAR BLUE HEAT. When I went inside the building, there was a canary-yellow sticker reading "Real Black Music!!" affixed to its mailbox.
The national census doesn't inquire about race or ethnicity, merely nationality, so it remains difficult to find precise numbers on the country's racial makeup. In my brief time exploring Tokyo, I somehow saw just one black person: the recording artist Ben Harper, strolling through a park with a companion. In 2015, a half-Japanese, half-American couple — Rachel and Jun Yoshizuki — made a YouTube documentary, Black in Japan, exploring the experience via interviews with seven African-Americans and one Jamaican living here. Their subjects' impressions are largely positive, though they do recount being photographed without permission, having their hair touched by strangers, and being called "Whitney Houston."
At Blue Heat, both the crowd and the band were exclusively Japanese. The audience was younger than I'd been expecting: couples who appeared to be in their late 20s or early 30s, crowded around long tables, smiling, smoking, clinking bottles of beer. The men wore skinny ties, and the women were in fashionable dresses and boots. The band, a four-piece — two acoustic guitars, an electric bass, and drums — was called Sweet Bitter Blues.
I took a seat at the bar. After a little banter in Japanese, and titters from the crowd, the band launched into Ray Charles' "Hallelujah I Love Her So," a gospel hymn Charles adapted and released in 1956. Their set was composed mostly of covers. Hearing Allen Toussaint's "Play Something Sweet (Brickyard Blues)," a hit for Three Dog Night in 1974, sung enthusiastically and in a very strong Japanese accent while an approving crowd claps along, is, I can say now, a singular musical experience.
After the show, I stopped for a nightcap in Tokyo's Golden Gai district, a corner of the Shinjuku neighborhood known for its clustering of tiny bars — six narrow alleyways, some of which barely allow for a whole person to pass through, leading to more than 200 ramshackle taverns, most containing fewer than a dozen seats. I wandered into a place called Slow Hand, in part because its sign read EVERY DAY I HAVE THE BLUES.
Inside, I surveyed the ephemera: posters for The Blues Brothers, Eric Clapton, the Butterfield Blues Band, Frank Zappa. A giant, curling portrait of Robert Johnson. I was the only patron. I ordered a Japanese whiskey, which arrived in a heavy, cut-crystal glass. The bartender — and lone employee — set out an ashtray decorated with peace signs and the words HAIGHT-ASHBURY, and began fixing me an octopus and miso salad, although I hadn't asked for anything to eat. We tried to chat, but mostly we mimed, laughed. He said his favorite piano player was Sunnyland Slim, who was born in the Delta but moved to Chicago in 1942, part of the Great Migration of black Southern workers to the industrialized North.
Eventually, he pulled out a ukulele from under the bar and played me a heartbreaking if imperfect version of "What a Wonderful World." I tried to pretend that some dust had gotten in my eyes.
Excerpted from an article that originally appeared in Issue 95 (Winter 2016) of Oxford American. Reprinted with permission.
Continue reading for free
We hope you're enjoying The Week's refreshingly open-minded journalism.
Subscribed to The Week? Register your account with the same email as your subscription.
Sign up to our 10 Things You Need to Know Today newsletter
A free daily digest of the biggest news stories of the day - and the best features from our website