How to save for retirement if you don't have a full-time job
Freelancers have to retire, too! Here's how to build your retirement fund without an employer's help.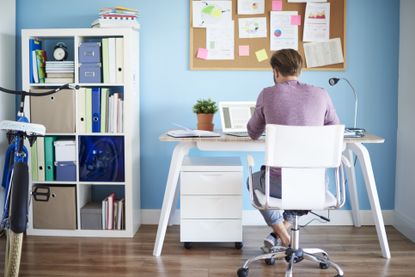 (Image credit: iStock)
For many Americans, 9-to-5 corporate culture is losing its appeal: Nearly one in three working Americans (that's 54 million people!) are freelancers or independent workers, according to the Freelancers Union. It's easy to see why — the benefits of self-employment for both individuals and corporations are numerous. But while it's hard to beat the autonomy of being your own boss, one glaring deficit is the lack of an easily accessible, employment-sponsored retirement plan.
Even if you aren't a freelancer, chances are you have some lingering concern about what your financial situation might look like when you retire. A recent report from the National Institute on Retirement Security says as many as 88 percent of Americans feel strongly that our nation is headed for a retirement crisis. Even more worrying, as many as 76 percent of Americans are concerned about economic conditions affecting their ability to achieve a secure retirement.
For freelancers, or anyone without a full-time gig and a built-in 401(k) plan, finding the right way to invest in retirement can be daunting. Indeed, Kristen Euretig, a certified financial planner and founder of Brooklyn Plans, a financial planning organization, says one of the biggest obstacles she sees freelancers facing when considering a retirement plan is that they're left to fend for themselves in researching and selecting their best options. Unless you're a freelance personal accountant, you probably don't have a strong grasp on the best ways to invest or start building a nest egg.
Subscribe to The Week
Escape your echo chamber. Get the facts behind the news, plus analysis from multiple perspectives.
SUBSCRIBE & SAVE
Sign up for The Week's Free Newsletters
From our morning news briefing to a weekly Good News Newsletter, get the best of The Week delivered directly to your inbox.
From our morning news briefing to a weekly Good News Newsletter, get the best of The Week delivered directly to your inbox.
"Just getting started is the biggest barrier for freelancers," Euretig says. "Where a salaried employee would have access to a retirement plan often through payroll deductions, a freelancer has to open an account on her own and then add to it manually. The setup is overwhelming to people and they get hung up on the particulars."
Also daunting are the complications freelancers can face in having to be their very own accounts payable department. Even the most organized, diligent person can experience feast-or-famine pay cycles, struggling just to make ends meet when clients pay late, or irregularly. And saving money? That can be nearly impossible. Another common issue freelancers have that can deter retirement savings is irregular workflow, which makes it hard to anticipate month-end income and, thus, how much they can afford to store away for retirement on a regular basis.
Even with these obstacles to surmount, Euretig says opting to forego a retirement savings plan would ultimately cost a freelancer more in the long run. "Because they often find themselves having to generate sufficient savings for retirement independently, my freelancer clients have less saved for retirement than my clients on salaries," says Euretig. "They also have fewer benefits, like pensions and health care that help protect them in old age, so it's actually even more important for freelancers to save for retirement than for employees."
So how can freelancers set retirement savings goals that are actually attainable, and not get discouraged or derailed by late client pays and other unexpected expenses?
"I suggest starting with what you know you'll earn and making a baseline plan with that," says Euretig. To wrap your mind around how much money you'll be able to spare each month to contribute to a retirement account, she recommends allotting the more variable aspects of your income into "buckets" by budgeting certain percentages for your monthly living expenses, taxes, and, finally, savings, and see how much money you might have left over.
If you don't have the budget to store away a lot of money, Roth IRAs are a great option, Euretig says. Nicknamed the "golden child of the retirement planning world," a Roth IRA (or individual retirement account) has certain tax advantages. While Roth IRA contributions are not tax deductible, you won't owe taxes on the money you withdraw when you retire. There are some income limitations in contributing to a Roth IRA, so check to see if you qualify first. It's a sensible choice for freelancers and others with vacillating incomes because it allows you to save for retirement without great risk of bankrupting yourself.
If you make enough to put more than $5,500 toward your retirement per year, then a solo 401(k) or a SEP-IRA might be a good fit, though those accounts require the expertise of a pro to set up. A 401(k) is typically set up by an employer, but with the help of an accountant, you can set one up for yourself. Bonus: Contributions to most retirement accounts are tax deductible, so they reduce your taxable income. A SEP-IRA is also a retirement account with tax-deductible contributions, where investments grow tax-deferred until retirement, then you're taxed on what you withdraw.
Even with the effort it takes to kick off the retirement saving process, Euretig says it's better late than never for freelancers. To make it easy and (relatively) painless, she also recommends automating retirement contributions through a checking or savings account on a regular basis, so the money is put away before you even have time to miss it. "Saving even $50 a month adds up," she says. "You can always increase the amount of money you put away over time, but if you never start, you'll never develop the habit of saving regularly."
Also, when formulating a retirement plan, it helps to consider what you want your retirement to look like. Do you plan to live minimally or lavishly? Though freelancers aren't hemmed in by hard and fast stop dates career-wise, aging out of the workplace is a very real risk, so an added cushion might soften the blow when the time comes. If you fully intend on relaxing by the beach, it might help to cut back on a few lattes now. Your future self will thank you.

Continue reading for free
We hope you're enjoying The Week's refreshingly open-minded journalism.
Subscribed to The Week? Register your account with the same email as your subscription.