Kick private bankers out of the Federal Reserve
Make monetary policy an ordinary government department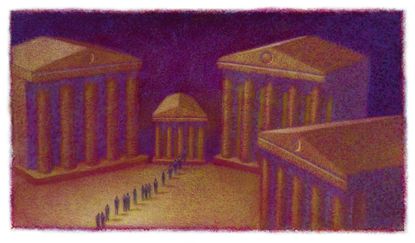 (Image credit: ImageZoo / Alamy Stock Photo)
The business world was briefly rocked Tuesday when Jeffrey Lacker, the president of the Federal Reserve Bank of Richmond, resigned out of nowhere. The reason: He admitted to effectively leaking confidential information in 2012 to a reporter from Medley Global Advisors, an investment newsletter.
The Medley report contained very detailed foreknowledge of the Fed minutes before they were released, and correctly predicted upcoming monetary policy announcements. Since monetary policy has a tremendous effect on the markets, that sort of advance knowledge surely made some Medley subscribers a tidy profit. (Though as Yves Smith points out, there is much left to be explained about the leak; Lacker's lawyerly statement only admitted to a small disclosure, and the Fed itself appears to be quite resistant to an outside investigation.)
This is an outrageous betrayal of public trust — but only what can be expected when private bankers are given a governing role in American monetary policy. In a sane world, private bankers would have no more voice than any other citizen in making that decision. It's time to throw these turkeys out of American monetary policy.
Subscribe to The Week
Escape your echo chamber. Get the facts behind the news, plus analysis from multiple perspectives.
SUBSCRIBE & SAVE
Sign up for The Week's Free Newsletters
From our morning news briefing to a weekly Good News Newsletter, get the best of The Week delivered directly to your inbox.
From our morning news briefing to a weekly Good News Newsletter, get the best of The Week delivered directly to your inbox.
America's central bank, the Federal Reserve, is famously weird. There's nothing like it in the world — it is a public-private hybrid, with regional reserve banks scattered all over the country. Its policy governing board — the Federal Open Market Committee (FOMC) — is composed of seven political appointees and five private bankers (the president of the New York Fed, plus four of the other regional reserve banks presidents on a rotating basis).
Why set it up like this? One ostensible justification is that of monetary policy "independence," which Lacker himself cited in 2015, writing that the Fed's "hybrid public-private governance framework ... is so crucial to monetary policy independence." This idea of independence refers to the belief that unaccountable bureaucrats must control the levers of monetary policy, because elected politicians will simply stoke inflation to win the next election, leading to accelerating price increases.
There is a large whiff of anti-democratic sentiment in this idea — but as I discovered when I investigated central bank performance since 2008, it's also highly empirically suspect, in recent times at least. From then until today, less democratically accountable central banks have done no better at controlling inflation, and perceptibly worse at maintaining growth and employment. In particular, the European Central Bank — which is not just the most independent bank ever but effectively the dictator of the eurozone — has turned in the worst economic record in the history of central banking.
However, even if one believes in independence, as most economists do (this is one of those things that they bludgeon into you in grad school), that is still no reason to include private bankers in policy decisions. If the ideal central banker is some ideology-free technocrat (an a priori impossibility, but never mind), private financial professionals do not remotely fit the bill.
There is no better example of this than Jeffrey Lacker and his fellow reserve bank presidents. As Matthew Stoller points out, back in 2011 — when the jobless rate was over 9 percent — these guys were laughing about unemployment, and blaming people's lack of jobs on their own lack of qualifications. Lacker has asserted that inability to pass a drug test was what was keeping West Virginians from getting jobs; he has also blamed inequality on lack of education.
Private bankers have a huge class interest in monetary policy, which is more or less directly at odds with the rest of the population. Not only do they have a direct interest in running the economy slow so as to prevent full employment and therefore an increasing labor share of national income, they also have a strong attachment to capitalist ideology and ethics, which regards full employment as "unsound," as Michal Kalecki explains in a classic article. Not to mention the fact that any explanation which absolves Wall Street of responsibility for economic crisis will be naturally attractive to such people.
That is how private bankers involved in the most powerful economic policy committee in the world could be fooling around with ridiculous victim-blaming explanations for unemployment right in the middle of the worst depression in 80 years — and plausibly how one of them might end up passing tips to an investor newsletter. If monetary policy is to be made by and for Wall Street, why not directly cut your friends in on the action?
I believe in representative democracy, and therefore I believe the American central bank should be an ordinary government department. But even for those that don't, there is no reason whatsoever to have powerfully interested parties involved in central banking. Indeed, this is how the Fed was originally set up in 1913. It's time to get the bankers out of our monetary policy.

Continue reading for free
We hope you're enjoying The Week's refreshingly open-minded journalism.
Subscribed to The Week? Register your account with the same email as your subscription.