The Leftovers' shocking season 3 premiere
HBO's post-apocalyptic drama is back, and a new terror is looming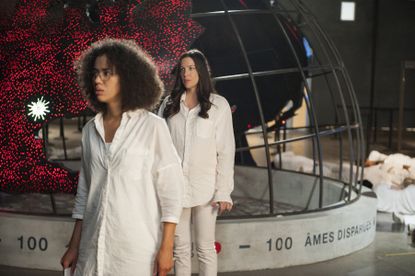 (Image credit: Courtesy of HBO.)
Sign up to our 10 Things You Need to Know Today newsletter
A free daily digest of the biggest news stories of the day - and the best features from our website
Thank you for signing up to TheWeek. You will receive a verification email shortly.
There was a problem. Please refresh the page and try again.
The Leftovers ended its second season on a hard-earned moment of grace: After twice descending into the underworld (which, as it turns out, is a cross between the La Quinta Inn and that hotel from the John Wick movies) and emerging again like some hunky, tatted-up Lazarus, Kevin Garvey (Justin Theroux) staggers back to his house and finds almost everyone in his extended family gathered in his living room. His face betrays his intense physical pain (he has, after all, been gut-shot), his confusion, relief, and abiding love (however complicated) for the people who have been waiting for him — and he finally gives in to his tears when his partner Nora says, simply: "You're home."
This could've served as a perfect series finale (indeed, many critics argued that it should have been): Our characters, who've searched for, if not comfort or hope, then at least some semblance of cold solace, in organized religion and cult life, violence and nicotine, sex and pain, finally find that solace in each other. Then again, that was back in 2015, before the hellish slog of an election cycle that ended, for so many people, in an utter doomsday scenario. The Leftovers has become the ideal dystopia for our times; it depicts a world where people still have to go to work, raise their families, and wait in line at Starbucks as they await the next iteration of "WTF Now?" — whether it manifests as another sudden departure or the nuclear fall-out of a presidential tweet. The third season opener, "The Book of Kevin," exploits this tension between the mundane and the obscene to look at what it's really like in this liminal state, where life goes on — until it doesn't. The episode is a case study in disappointment from its cold open, which, like season two's first moments, shuttles us back in history.
This time, we're in 1844, following a young family waiting to be raptured. As the background music, an anachronistic Christian folk ditty about a sinful Earthly realm where "life was filled with guns and war and everyone got trampled on the floor," swells, the family dons their white finery and stands on their rooftop. They gaze heavenward with shining eyes, but when the sun rises they're still here. And they remain, through each successive date their pastor divines (via messenger pigeon, no less). The husband and son abandon the faith. The wife, however, tries one final time; initially, the lightning strike and rush of rain seems like a sign that her faith will be rewarded. And yet, she descends the staircase mud-battered and barefoot, her face a rictus of rage. This is the kind of immaculate cruelty that the Guilty Remnant would love, so it's fitting that we move back into the immediate aftermath of season two's finale and the cult's invasion of Jarden, Texas.
Subscribe to The Week
Escape your echo chamber. Get the facts behind the news, plus analysis from multiple perspectives.
SUBSCRIBE & SAVE
Sign up for The Week's Free Newsletters
From our morning news briefing to a weekly Good News Newsletter, get the best of The Week delivered directly to your inbox.
From our morning news briefing to a weekly Good News Newsletter, get the best of The Week delivered directly to your inbox.
Evie Murphy (Jasmin Savoy Brown), new convert, confronts Meg Abbott (Liv Tyler) about what, exactly, the group will do now that they've blown "Miracle" wide open. Meg answers in a kind of parable about Siegfried and Roy, doing tricks with those "beautiful tigers … every night, tiger disappears; tiger comes back. They did calendars with those tigers, just laid on them like they were carpets." Of course, "it's just a matter of time before one of those f--kers bites your face off." That's when Evie notices a small scoping device peek through the wall of the visitor's center; she runs for her life, only to meet the drone out in the open, death from above reflected in her glasses. The Guilty Remnant has been such an integral, animating part of the show's narrative, that it's an honest-to-goodness, bone-quaking shocker to see it obliterated within the first 15 minutes of the final season. They have functioned as agents of a grief that the other characters have mostly tried to suppress: silent and pervasive, curdled with regret, and only able to regard memory as a weapon.
The Guilty Remnant's natural story arc may have come to a natural end — the rest of the episode suggests that a far more ephemeral menace awaits — but I am genuinely sorry to lose Meg. Liv Tyler subverted her own willowy, ethereal presence to invest Meg's every action, whether it's taking a drag or lightly mocking her would-be protégé, with an understated menace that somehow contextualized her larger acts of terrorism, like invading Jarden, throwing a fake grenade onto a bus full of children, and raping Tom Garvey. So, it's fitting that Meg's tale of the tigers as paragons of docility who will, eventually, eat your face off gives the episode its thematic framing. We can only wrangle nature — whether it is human nature, or the nature of some mercurial, world-shattering fate — but for so long. We're all devoured in the end.
After a three-year time jump, we see a tanned and happy (well, happyish) Kevin Garvey back in uniform as Jarden's police chief, leading pilgrims into the town square's Coachella-like reverie on horseback. This sequence has an unforced, and, for this show, very rare, levity: Kevin's biggest woe is his son Tom (Chris Zylka), now an officer as well, scuffling with a pair of stoner bros who refuse to take down their giant inflatable Gary Busey. Though Zylka and Theroux haven't shared much screen-time, they convey a genuine familial warmth as they banter about dinner that evening — Tommy's surprise birthday party (Tommy clearly knows, and Kevin clearly knows that Tommy knows). Watching The Leftovers has often been a propulsive, elucidating experience; but, more often than not, it hasn't been pleasant. So the scenes of Tommy offering to give his birthday candle wish to someone who needs it more; or Kevin and Nora (now Agent Durst, with the Department of Sudden Departures) savoring a quick kiss after she's briefed his officers; or even newly-married couple Laurie (Amy Brenneman) and John Murphy (Kevin Carroll) running a psychic scam together feel revelatory in their sweetness.
But for every offered wish, every soft kiss, and every unconscious catharsis, there is an equal and opposite hardship to survive, a new terror looming. Baby Lily is missing; when Jill (Margaret Qualley) asks her father if Nora has talked about it yet, he can only shake his head. Dean (Michael Gaston), Kevin's Patti-snatching, dog-killing co-conspirator from Mapleton, has stalked him to Jarden. As the seventh anniversary of the Sudden Departure approaches, Rev. Matt Jamison (Christopher Eccelston) senses that they truly are in the days before the end of days, and this cataclysmic shift has prompted him to update the New Testament with stories of Kevin's deaths and resurrections. "I'm not f--king Jesus," Kevin yells. "The beard looks good on you," Matt replies. Tiger disappears. Tiger comes back.
The tiger story may work on a thematic level, but it also serves as a direct metaphor for Kevin's current state of being: He's been disappearing to the "other place" again and again, only to come back unscathed. After a tender night with Nora, he calmly duct-tapes a plastic bag around his head. It's a beautifully-filmed grotesquerie: As Kevin gasps for air, the bag clings to his face like some predatory flower. We don't know if Kevin disappears to the same hotel, or why he's able to come back (though Matt thinks that Kevin's seeming immortality is explicitly linked to Jarden). For the first two seasons, Kevin operated in a state of barely-constrained extremis (or out-and-out extremis), but there's no existential despair in these suicides — rather, a sense that Kevin is exploring the limits of his powers, that (to paraphrase Plath) dying is an art he does exceptionally well. In fact, Kevin has become one of the most well-adjusted men on the show, given that Matt's chaotic obsessiveness has driven his wife away and John harbors the delusion that, despite what the giant crater and the dental records suggest, Evie could still come back.
Justin Theroux gives a finely-calibrated performance as a newer, looser Kevin; he may be perplexed by some of his instincts and abilities, but he has enough faith to follow them — like when he somehow just knows that the barrels a group of protestors have dumped into the lake aren't filled with poison, and jumps into the water to prove it. Or when he stares down a rampaging Dean, who goes on full-on Falling Down in downtown Jarden after nobody believes his theory about the kibbles-n'-bits illuminati. Our hero spent so much time fretting for his own sanity that it's jarring to hear him console Tom — who shoots Dean down — by saying, quite matter-of-factly, that he had once had to kill in the line of duty, "a woman … and her security." Clearly, the events of "International Assassin" aren't like Siegfried and Roy's hollow Vegas magic; they are evidence of an unequivocal mysticism that hasn't yet illuminated its higher purpose. Is Kevin a junior varsity Jesus, the reluctant savior that Matt describes in his revised scripture?
Even if he is, should he really save a world of guns and war, where people are trampled on the floor (or 140 characters could start the nuclear holocaust)? Of course, the images of his family gathered at the supper table singing happy birthday, or waiting silently for him, could be the answer to that question. Then again, Kevin might not be a messiah. He might just be a version of that woman from the opening, stuck helplessly between the Earthly world and the otherworldly promise of deliverance. And according to the skywriting that drifts over the big Texas sky in the final moments of the episode, he only has 13 days to find out.
Continue reading for free
We hope you're enjoying The Week's refreshingly open-minded journalism.
Subscribed to The Week? Register your account with the same email as your subscription.
Sign up to our 10 Things You Need to Know Today newsletter
A free daily digest of the biggest news stories of the day - and the best features from our website
Laura Bogart is a featured writer for Salon and a regular contributor to DAME magazine. Her work has appeared in The Atlantic, CityLab, The Guardian, SPIN, Complex, IndieWire, GOOD, and Refinery29, among other publications. Her first novel, Don't You Know That I Love You?, is forthcoming from Dzanc.