The ridiculous grievances of American shareholders
"Labor is being paid first again. Shareholders get leftovers."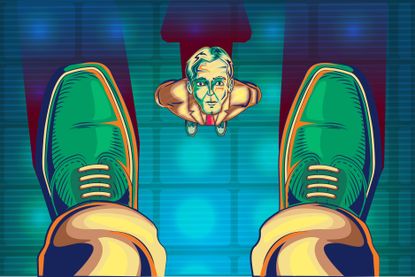 (Image credit: Fanatic Studio / Alamy Stock Photo)
When American Airlines gave its workers a raise recently, its stock plunged. The pay boost was fairly modest: The airline upped the pay of pilots by 8 percent and of flight attendants by 5 percent. This was on top of a much bigger raise (23 percent) when workers received a new contract in 2015. But why did its stock drop 5.2 percent this time?
In two words: angry shareholders. Kevin Crissey, an analyst at Citibank, gave voice to the financial markets' displeasure in a note to clients. "This is frustrating," he wrote. "Labor is being paid first again. Shareholders get leftovers."
Well, okay. But this raises the question: What exactly are shareholders paid for?
Subscribe to The Week
Escape your echo chamber. Get the facts behind the news, plus analysis from multiple perspectives.
SUBSCRIBE & SAVE
Sign up for The Week's Free Newsletters
From our morning news briefing to a weekly Good News Newsletter, get the best of The Week delivered directly to your inbox.
From our morning news briefing to a weekly Good News Newsletter, get the best of The Week delivered directly to your inbox.
We know what workers are paid for: Their labor produces the good or service their business provides. Without them there would be no company. It's not hard to understand why they should be well compensated, and why they'd be frustrated if they weren't. But what do Crissey's clients have to be frustrated about? What value do they provide American Airlines?
To answer that question, we need to work through a few scenarios.
Let's say you have some cash lying around that you want to invest. And let's say some company out there is trying to get off the ground. Maybe it's an airline! We'll call it "American."
American obviously needs a lot of upfront financing. It has to buy planes, fuel, hire workers, and more, all before it can start making money. But lucky for the company, you're willing to give it your extra cash.
Now, you could just lend it the money. In that case, it would pay you interest until it returned the principal. Then your relationship with American Airlines would end. Also, if it happened to go bankrupt, the law says you're first in line to get paid back.
But you could also give American your money by buying its stock. That's how you become a shareholder. Like borrowing, this is just another form of financing. Instead of being paid interest, you get a dividend. The advantage over loaning the money is you get that dividend as long as you hold the stock — the relationship never ends, unless you choose to sell the stock to someone else. (Hopefully for more money than you paid.) The disadvantage is, if American Airlines goes bankrupt, you're last in line to be compensated.
In these scenarios, the reason a shareholder gets paid a dividend is pretty clear: They gave the company money when it needed it.
But most shareholders aren't this sort of shareholder. Companies may need money when they're getting started, but, again, they can simply take out loans to cover startup costs. And when a company is already up and running, it will occasionally finance an expansion by issuing new stock for investors to buy. But mature companies in particular usually finance themselves by borrowing or by spending their own revenue.
In fact, for a mature company like the real-world American Airlines, most of its shareholders never contributed a dime. They simply bought their stock from other shareholders. So what are they getting dividends for?
This brings us to the other advantage of owning a company's stock rather than giving it a loan: You get a say in the company's governance. This can take plenty of forms. (And admittedly, there's nonvoting stock out there as well.) But with big publicly-traded companies like American, shareholders vote to elect the board of directors, or vote on other key business decisions.
How has this worked out in practice?
Well, it's been great for shareholders. Corporate profits after tax are way up as a share of the economy. Payouts to shareholders, as a percent of company revenue, are the highest they've been in at least 35 years.
But for everyone else, it's been a pretty bad deal: Incomes have stagnated for decades and inequality has soared. Productivity growth and GDP growth have slowed to a crawl. Our society is dominated by a small number of super-sized companies who merge like crazy, destroying jobs and pushing out competitors. Corporations feel free to exploit their workers and customers alike.
Now, we don't have to rely on shareholders to govern a company. Just like a company can finance itself by issuing stock or borrowing, there are other options for corporate governance.
For instance, the workers themselves could run the company. They intimately know the inner workings of the business. And since they're paid out of revenues, they have a natural interest in the company's health and success.
This does happen. For instance, any mom and pop store where mom and pop are involved in the day-to-day workings of the shop is worker governed. There are also more official legal forms for structuring businesses as worker-owned and worker-governed. Other countries have even fancier setups: German law, for example, requires that worker representatives be half the board of directors of every company. And no one would suggest German companies are unproductive or rudderless, right?
So next time a shareholder gets mad that workers are getting paid first, perhaps we should ask them why they're paid anything at all.

Continue reading for free
We hope you're enjoying The Week's refreshingly open-minded journalism.
Subscribed to The Week? Register your account with the same email as your subscription.