Last of the master wigmakers
Intricate, high-quality wigs made from real human hair are increasingly in demand. But the artisans who make them are a vanishing breed.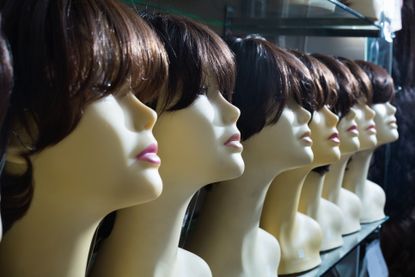 (Image credit: iStock)
Sign up to our 10 Things You Need to Know Today newsletter
A free daily digest of the biggest news stories of the day - and the best features from our website
Thank you for signing up to TheWeek. You will receive a verification email shortly.
There was a problem. Please refresh the page and try again.
Nicholas Piazza keeps 600 pounds of hair in his Staten Island garage.
He stores it in plastic bins and cardboard boxes, opposite the fishing supplies. "Got grays, got browns, got blonds," he said. "Got everything."
Inside one bin, shiny brown bundles nestled around one another like snakes. He picked two thick braids and lifted them from the bin. Uncoiled, they were 3 feet long and nearly reached the ground. "This is all Russian hair cut right off people's heads," Piazza said.
Subscribe to The Week
Escape your echo chamber. Get the facts behind the news, plus analysis from multiple perspectives.
SUBSCRIBE & SAVE
Sign up for The Week's Free Newsletters
From our morning news briefing to a weekly Good News Newsletter, get the best of The Week delivered directly to your inbox.
From our morning news briefing to a weekly Good News Newsletter, get the best of The Week delivered directly to your inbox.
Piazza, 69, is the grandson of Sicilian immigrants, the son of a detective, a tournament fisherman. He does not look like a man who would have an exotic hair collection in his garage. But for decades, Piazza was one of the most sought-after wigmakers in New York City. He made custom wigs and hairpieces for Jacqueline Kennedy Onassis, Brooke Astor, and Lena Horne at Kenneth hair salon. He also made the closest thing the world has seen to mermaid hair, creating the long tresses Daryl Hannah wore in Splash.
Much of his hair came from this stash, which was sourced from around the world and eventually outgrew his studio. "I couldn't close my closets," he said. "I had more hair than I knew what to do with."
Piazza is one of the last Old World wigmakers in New York City, men and women trained mostly by Italian and Jewish immigrants in the centuries-old trade of hand-tying wigs, a fussy affair that on the patience spectrum falls somewhere between tailoring a jacket and counting the stars.
These are not the hot-pink bobs at Halloween stores. They are made from human hair and have intricate hairlines that blend into the skin. To make one requires weaving hair, a few strands at a time, to a lace mesh cap with a small needle, a process known as ventilating. Ventilating a lace wig, which may have as many as 150,000 knots at its roots, takes about 40 hours.
For a quarter-century, Piazza had a studio on 57th Street in Manhattan, once the hub of high-end hair, along with master wigmakers such as Bob Kelly, who for three decades made wigs for Saturday Night Live and died in 2011, and Raffaele Mollica, who long ago moved his atelier to the Upper East Side. These days, Piazza rents a few rooms in an unmarked salon in midtown, where he moved when his old building became a luxury high-rise and where he works just three days a week, mainly doing maintenance on his clients' wigs, which start at $3,850.
"I'm done," he said. "Just coasting."
This may appear to be yet another case of an antiquated craft disappearing from New York, one artisan at a time. But wigs are far from being swept into the past. The demand, it turns out, hasn't been as high as it is now since the wig craze of the late 1960s and early '70s, when Piazza and his fellow wigmakers entered the field. Wigs are part of the boom in the human hair trade that began with extensions.
According to anthropologist Emma Tarlo, author of Entanglement: The Secret Lives of Hair, hair extensions reignited "a frenzied global trade in hair" in the early 1990s. Last year, human hair imports to the United States were valued at $685.3 million, according to the Census Bureau, up from $51.6 million in 1992.
Hair — human, synthetic, animal, and sometimes secretly a mix of all three — has become a billion-dollar industry, and as Chris Rock explored in his 2009 documentary, Good Hair, the driving force is the African-American market, which has embraced wigs along with extensions and weaves.
It began with celebrities wearing lace wigs (the term of art) — Beyoncé, Brandy, the Kardashians, Nicki Minaj. And it's difficult to think of bigger movers in the market.
"It's the cool thing now, whereas before it was something that everyone was trying to hide," said Hadiiya Barbel, who was Wendy Williams' personal wig stylist and now has her own line of wigs.
There are only about 200 trained custom wigmakers in the country today, and the majority work in theater, film, and television, said Michael Meyer, the director of the Wig and Makeup Design Program at University of North Carolina School of the Arts, one of the country's only programs for custom wigmaking.
"There are people who take an online class watching YouTube videos," he said. "But it's a far cry from the people who have been trained and whose work can withstand an HD camera."
One measure of a good wig is its hairline. It's the most difficult thing to imitate, which is why a lot of wigs tend to have bangs. To achieve a naturalistic look, wigmakers stitch hair individually at the hairline, often even adding baby hair.
Another mark of a superior wig is the quality of the hair. Hair of the kind Piazza has in his garage — long, European, and "remy," which means cut from one head, lined up roots to ends — is the most valuable. It is $4,000 per kilogram (about 2.2 pounds), roughly the going rate of truffles. High-grade Indian hair sells for $2,000 per kilogram.
And that is where things get strange. Hair is unregulated, a largely hidden economy open to abuse.
"There are a whole lot of people living off of hair," Tarlo, the anthropologist, said.
Wigmakers are only one stop in a long supply chain. Merchants scour the Earth looking for hair, which they buy from peddlers who travel, usually alone, through poor, remote regions. In Myanmar, villagers untangle hairballs that will be sold to make extensions. In La Parada, a Colombian border town, hair stands recently appeared for women who enter the country from crisis-stricken Venezuela to sell their hair.
There is a ban on the international sale of skeletal remains, but human hair is treated like any other raw material — say, hardwood or textiles. It is delivered to the customer by courier, its provenance unverifiable.
By the end of the 1960s, the United States was the biggest importer of hair, re-exporting it to more than 60 countries. Hair was marketed even to men — even to those who weren't bald. Men were encouraged to wear fake mustaches and mutton chops, which Playboy magazine referred to as "short-order shrubbery." Soldiers who were off duty wore wigs over their buzz cuts.
Piazza apprenticed himself to a German wigmaker after hairdressing school, then went to work for Enny of Italy, under Ernesto Capparelli. He started working for Kenneth Battelle in 1973, and Battelle invited him to start a wig business under the Kenneth salon name in 1979. As the wig craze faded, Piazza diversified.
He made falls, slides, clip-ons, topknots and toupees, a mustache for an open-coffin funeral. In 1976, he said, he was called in to make an emergency merkin for a Penthouse model who didn't have enough coverage. He made a line of hair ornaments that appeared in Vogue and looked suspiciously like fishing lures.
And before long, Piazza began hunting for hair.
"When Kenneth first put me in business, it was very difficult to find European hair in this country," Piazza said. "Everyone always said the finest hair comes from Italy." So he got a list of hair suppliers from the Italian Trade Commission and for the next several summers flew to Italy.
"I'd grab a suitcase with like two T-shirts and a pair of jeans, and I'd come home with about 80 pounds of hair," he said.
Soon hairdressers and other wigmakers started requesting his services.
"They'd say, 'Pick me up a couple pounds, I don't care if you make a few dollars. You've got good hair.' So all of a sudden, I was a hair dealer."
Standing in Piazza's garage among boxes and boxes of hair, I couldn't help wondering whether the hair, harvested decades ago, hadn't started to smell.
"Do you smell anything?" Piazza asked, handing me a braid.
The hair was clean and soft and had a faint, medicinal scent. Before I could answer, he announced: "Mothballs. Sometimes someone will come in and say, 'I smell like mothballs.'" He smiled and took the blame. "I didn't wash it good enough. And I'll say, 'It's your imagination.' It'll come out."
Raffaele Mollica will tell you he is the last wigmaker. He will tell you loudly. He will shout and wave his arms and dismiss his competitors, even the deceased ones: "That hairpiece finagler?"
"I'm the only wigmaker who can make a wig from start to finish on Earth all by myself. If anyone thinks otherwise, I accept," he shouted, standing in his 84th Street atelier. "We can go into a room, bring our fabric, our hair, our ventilating needles, and we can make a wig."
Mollica, who goes by Raffa and Ralph, was born 71 years ago in Sicily and grew up in Astoria, Queens. His wigs start at about $5,000 and are known as Ralphs.
They are so popular in international Orthodox Jewish communities that an impostor has been making imitations that he advertises around Israel, trading on Mollica's reputation. "He's a worthless scurve," said Mollica, showing me a flyer for the so-called Ralph Wig Collection. The real Mollica is the one who gets a call when they fall apart.
Celebrity culture is credited with — or blamed for — the sudden popularity of wigs. But Hadiiya Barbel, the former wig stylist on Wendy Williams' talk show, said the real instigator was technology. Celebrities had always worn extra hair. But in the 2000s, high-definition cameras created the need for a more convincing illusion.
"We really had to make it look like it was coming out of her scalp," she said of Williams, who is vocal about her love for wigs. "We had to perfect the hairlines and balance it — add denseness, take away fullness." Like Tokyo Stylez, who has worked with Lil' Kim and Rihanna, Barbel became part of a new phenomenon: the celebrity wig stylist. The wigs in her line, Araya, run from $750 to $3,000.
"I started converting my clients from weaves to wigs," said Barbel, noting that wigs were the latest development in the so-called natural hair movement, which encourages black women to forgo harsh chemical treatments like relaxers or perms.
It shouldn't be surprising, given the abundance of raw hair, that black women are also hand-knotting their own wigs. Stephanie Park, the general manager of Apollo Beauty Land in Harlem, said sales for wigs were down at the hair-supply store during the winter, when they usually peaked. "People are doing it themselves," she said. "People are getting crafty."
They are learning the once-rarefied art of wigmaking.
Whereas in the past, apprentices had to sweep workshops and learn to sort hair for months before they could touch a ventilating needle, now people can simply watch YouTube.
"Hi, you guys, this is Jacquee," says the voice on a video from 2013. You only see Jacquee's hands, a purple towel, and a Styrofoam head form with lace mesh and a wig in progress. "Today's tutorial is ventilating a wig," she says. "This is my little wig head." Its nickname is Wigna.
For the next 11 minutes, Jacquee demonstrates the ins and outs of weaving hair to lace. "Grab the hair, pull, let it engage, and then like so," she says. The video has nearly a half-million views.
"So there you go, I hope you like it," she says. "Very simple. Very easy."
Excerpted from an article that originally appeared in The New York Times. Reprinted with permission.
Continue reading for free
We hope you're enjoying The Week's refreshingly open-minded journalism.
Subscribed to The Week? Register your account with the same email as your subscription.
Sign up to our 10 Things You Need to Know Today newsletter
A free daily digest of the biggest news stories of the day - and the best features from our website