How the Supreme Court just dangerously undermined the separation of church and state
Remember that critical constitutional principle? It's now endangered.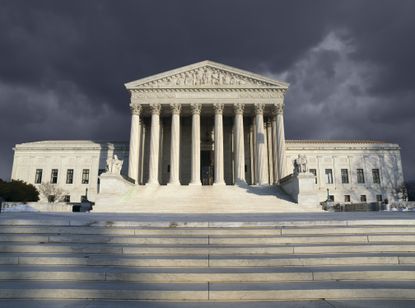 (Image credit: iStock)
If Chief Justice John Roberts is to be believed, the Supreme Court ruled today in a modest case involving playground surfaces. But Justice Sonia Sotomayor saw the Trinity Lutheran Church v. Comer decision for what it is: a fundamental reshaping of the relationship between church and state in the United States, and not for the better.
At issue is the Supreme Court's decision today that the state of Missouri was required to provide funding to a church-run preschool and daycare center under a program to improve playgrounds. Sotomayor wrote a powerful dissent which again makes clear that her nomination was one of the best decisions Barack Obama made as president. But only Justice Ruth Bader Ginsburg joined it. Astonishingly, both Obama's other nominee, Elena Kagan, and the Clinton nominee Stephen Breyer joined Roberts to vote to require Missouri to provide the funding.
The case revolved around a formal policy of the Missouri Department of Natural Resources that prevented public money from being given to religious institutions or individuals in their capacity as religious leaders. This policy reflects the basic logic behind the First Amendment's prohibition on the "establishment of religion." The framers feared that providing public money to religious institutions would both sow religious conflicts within society and promote state meddling with religious institutions. Missouri's policy reflects the sound view that taxpayer money and religious institutions should be kept separate.
Subscribe to The Week
Escape your echo chamber. Get the facts behind the news, plus analysis from multiple perspectives.
SUBSCRIBE & SAVE
Sign up for The Week's Free Newsletters
From our morning news briefing to a weekly Good News Newsletter, get the best of The Week delivered directly to your inbox.
From our morning news briefing to a weekly Good News Newsletter, get the best of The Week delivered directly to your inbox.
The Supreme Court has held, in a limited number of cases, that taxpayer money can directly or indirectly be given to religious institutions for a secular purpose. Today's decision goes further: It requires the state to provide money to a religious institution, standing the Establishment Clause on its head.
In the 2004 case Locke v. Davey, the Court upheld a provision of the Washington state constitution that prevented public scholarship money from being used for theology degrees. Chief Justice William Rehnquist reasoned that there was "play in the joints" between the Establishment Clause and the First Amendment's right to the "free exercise of religion": "[T]here are some state actions permitted by the Establishment Clause but not required by the Free Exercise Clause." Missouri argued that its policy should be upheld on this basis: It was allowed to make a judgment that public money should not be given to religious institutions on limited grounds that even the Supreme Court might rule would not unduly undermine the separation of church and state.
In a brief opinion by Chief Justice Roberts, the Court disagreed. Roberts held that if religious institutions were prevented from applying for state grants, their right to the free exercise of religion would be violated, and therefore Missouri's attempt to apply longstanding principles separating church and state was unconstitutional.
As he often does, Roberts went out of his way to suggest that the effects of the decision are modest. In a footnote, Roberts asserted that "this case involves express discrimination based on religious identity with respect to playground resurfacing." (Justices Clarence Thomas and Neil Gorsuch, who in a concurring opinion argued that Locke was wrong and should be explicitly overruled, refused to join the footnote, denying it the status of a majority opinion.) But despite Roberts' false modesty, this decision is almost certain to have implications well beyond playground improvements.
Justice Sotomayor's dissent makes a powerful argument that the effects of this case will be much greater than Roberts implies. This case was about the relationship between church and state, and as Sotomayor observes, "The Court today profoundly changes that relationship by holding, for the first time, that the Constitution requires the government to provide public funds directly to a church."
The implication of the majority's holding is that Missouri is unfairly discriminating against religious institutions. But as Sotomayor argues, this is an erroneous characterization of Missouri's motives and the core purpose of the First Amendment. Withholding taxpayer money from religious institutions does not represent animus against religion or deny individuals their right to worship (or not worship) as they see fit.
History is definitely on the side of the dissenters. Sotomayor painstakingly details the decision made by one state government after another to end experiments in religious funding. "The course of this history shows that those who lived under the laws and practices that formed religious establishments made a considered decision that civil government should not fund ministers and their houses of worship," concludes Sotomayor. Missouri's policy is consistent with this insight, and to argue that the Constitution actually forbids Missouri from making this sensible decision is wrong.
Sotomayor ended her careful evisceration of Roberts' opinion by pointing it out that it leads to a place where "separation of church and state is a constitutional slogan, not a constitutional commitment." She's right: Missouri's policy of secularism is meant to protect religious institutions based on hard-earned historical lessons. It's dismaying that two Democratic nominees joined with the majority's undermining of a critical constitutional principle.

Continue reading for free
We hope you're enjoying The Week's refreshingly open-minded journalism.
Subscribed to The Week? Register your account with the same email as your subscription.