The power of saying 'we're pregnant'
Being pregnant is so much more than just carrying a child for nine months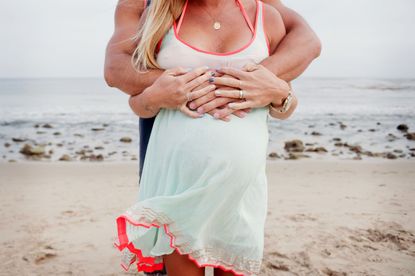 (Image credit: Image Source / Alamy Stock Photo)
Sign up to our 10 Things You Need to Know Today newsletter
A free daily digest of the biggest news stories of the day - and the best features from our website
Thank you for signing up to TheWeek. You will receive a verification email shortly.
There was a problem. Please refresh the page and try again.
When I press my mother for details on my father's absence from my childhood, she says she can't really remember, only that he wasn't really there, she was all alone, and it was "terrible." From the day I was born (and probably before), my father was physically present, but still largely absent from my life. Even though they were married and they lived together, my mother raised us more or less on her own until, some months after my 18th birthday — when he was legally absolved of financial responsibility — my father moved out of the state, and out of my life.
Many women — those who had involved fathers, and those who did not — feel that, when it comes to having kids of their own, they should broach the topic carefully with men, or risk "scaring them off." After all, it's women who crave babies, right? That's been the narrative for years. Women are the homemakers and the caregivers, while men are little more than the breadwinners. Aside from the act itself of making a baby, they're not particularly essential to the child-rearing process.
Pop culture of an earlier era perpetuated this story. In the 1980s and '90s, fatherless households on television and in films were mostly given the "disappeared dad" treatment. Movies like Karate Kid featured kid protagonists whose dads were gone without explanation. Shows like Married with Children glorified a father figure that was physically there, but — like my own father — so flawed or completely negligent in his fatherly duties that the family might have been better off with him gone. On screen, when a character hands a man a baby, he is often transformed into a clueless or bumbling dad, and the image of the absent or reluctant father is reinforced once again. This seems to be saying, once again, that parenting is a woman's job only.
Subscribe to The Week
Escape your echo chamber. Get the facts behind the news, plus analysis from multiple perspectives.
SUBSCRIBE & SAVE
Sign up for The Week's Free Newsletters
From our morning news briefing to a weekly Good News Newsletter, get the best of The Week delivered directly to your inbox.
From our morning news briefing to a weekly Good News Newsletter, get the best of The Week delivered directly to your inbox.
I internalized this narrative.
But three years ago, on my fourth date with Arran, it was him who brought the subject up. Over a picnic in the park, he asked me if I wanted children someday and if I'd thought of names. He had, and as he shared his two favorites, I stared fuzzily across the lawn at a vision of our possible future: a man and woman reclining on a picnic blanket similar to ours, a baby between them.
Honestly, the role reversal sort of freaked me out. But six months after our wedding, we made a decision together to have my IUD removed. Arran downloaded an ovulation app and we started officially "trying." Some months later, I took a pregnancy test, and it came out positive. So began a new and wonderful phase in both our lives.
We are pregnant.
I say "we" because, while not every person who chooses to have a baby will do so with a co-parent, for those of us who do, that co-parent — who is typically the father, but not always — can be invaluable. As my pregnancy progresses, I've come to rely on my husband as a source of continual support. A co-parent is there to figure it out right alongside their pregnant partner.
We are pregnant.
Sure, I'm the one with tender, ballooning breasts, swollen ankles, and a midsection that began expanding almost immediately. My husband didn't have to give up a list of foods, curb his caffeine addiction, or modify his workouts. Without a doubt, growing a future human inside one's body requires sacrifices. But becoming a parent, I've already discovered, is so much more than a litany of physical symptoms. We're in this together, entirely. Saying "we're pregnant" is a verbal representation of our shared experience of having a child. This is happening to both of us, not just me. Mine and my husband's experience may be different, but it's parallel.
The first trimester, while I battled fatigue and nausea, my husband took on more of the household responsibilities. Along the way, he's helped me to understand and respect how my body is changing. Together, we make decisions about our family's future. At weekly family meetings, we discuss things like how we'll afford the new expenses, and how we'll balance child care and work. This is a team effort. Yes, I'm the one carrying a child, but we, as a couple, are shouldering the weight of all these changes equally.
We are pregnant.
My husband is not absent or aloof. He is active and present in this pregnancy. Being an expecting dad means more than just getting me froyo at 11 at night (although my husband does that, too). From the beginning, he's accompanied me to my doctor appointments — even the less important ones, in case of bad news. Together, we ask questions and interpret the doctor's answers. Don't get me wrong, he isn't perfect. Whereas pregnancy can be challenging and put stress on a couple, experts say that — depending on how these stressors are dealt with — it can also be a time of cooperation and togetherness. Dealing with a pregnant partner's moods, fears, and "momnesia" (which is a real thing: I've lost my bank card three times in the last seven months) is all part of co-parenting.
Sending a message to the world that the non-pregnant co-parents are part of the pregnancy process is important for societal reasons, too. The co-parent presence starts early, which is one reason why parental leave is important, not just for biological parents, but their partners, as well. Anyone can be a co-parent — although, admittedly, for me, there is something special about my co-parent being the father, and a man. I realize that I may sound over-celebratory, but it's been more than 20 years since the last time I saw my own biological father, and I don't have many men in my life — certainly none as special as the father of my child. In a culture where dads are perpetually portrayed as absent, disinterested, or inept, I'd say it's time we acknowledge dads — and dads-to-be — who are doing it right.
Continue reading for free
We hope you're enjoying The Week's refreshingly open-minded journalism.
Subscribed to The Week? Register your account with the same email as your subscription.
Sign up to our 10 Things You Need to Know Today newsletter
A free daily digest of the biggest news stories of the day - and the best features from our website
Melissa Petro is a freelance writer and writing instructor living in New York City. She has written for Marie Claire, Pacific Standard, New York magazine's The Cut, Cosmopolitan, Redbook, Esquire, Jezebel, and many other places.