Against home runs
Baseball is in the midst of a home run boom. That's a bad thing.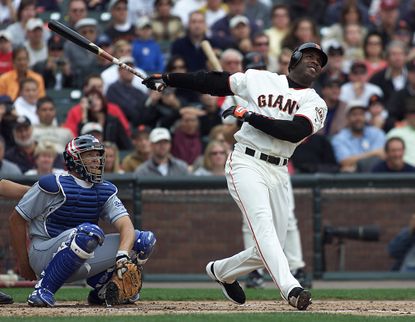 (Image credit: JOHN G. MABANGLO/AFP/Getty Images)
Sign up to our 10 Things You Need to Know Today newsletter
A free daily digest of the biggest news stories of the day - and the best features from our website
Thank you for signing up to TheWeek. You will receive a verification email shortly.
There was a problem. Please refresh the page and try again.
Everything I love about baseball boils down to a 1-2 count with two outs in the ninth inning of a one-game playoff in 1995.
My Seattle Mariners had finished the strike-shortened season 78-66, as had the California Angels. To decide which team would win the American League West crown — and its attendant playoff berth — they would play a single tiebreaker game.
The Mariners dominated the game. By the ninth inning, we were ahead 9-1. There wasn't a whole lot of question about who would win, especially with ace starting pitcher Randy Johnson still on the mound for the Mariners. The anticipation of Seattle clinching its first banner in franchise history was palpable and crackling.
Subscribe to The Week
Escape your echo chamber. Get the facts behind the news, plus analysis from multiple perspectives.
SUBSCRIBE & SAVE
Sign up for The Week's Free Newsletters
From our morning news briefing to a weekly Good News Newsletter, get the best of The Week delivered directly to your inbox.
From our morning news briefing to a weekly Good News Newsletter, get the best of The Week delivered directly to your inbox.
The count was one ball, two strikes. There were two outs already. Johnson wound up and threw — and the Angels' Tim Salmon struck out looking. The game was over, and the Mariners had won.
Over the chaos that followed, announcer Dave Neihaus boomed out his famous call: "Randy looks to the skies and is covered by the dome and bedlam!"
Are you surprised that my favorite baseball moment is about a great pitcher getting a good hitter to strike out looking? Were you expecting me to pick a game-ending home run instead?
When most people think of America's pastime, they picture the dingers, the grand salamis, the Game 7 walk-off touch 'em alls, Jose Bautista's bat flip, and Bobby Thomson's shot heard 'round the world. They think of beating Babe Ruth's home run record, then beating that record, or the players who risk everything on the chance that steroids might give their swing the scooch it needs to tip the ball over the fence. They think of Denver's Coors Field, where the air is so thin the balls have to be kept in humidifiers to get them to behave properly, and Barry Bonds' splashdown bombs into McCovey Cove at AT&T Park. This is America after all. We like things big. And nothing in baseball is bigger than a home run, right?
This is the wrong way to think about baseball.
I know, I know. Home runs are inseparable from the very fiber of the sport, existing as a kind of poetic intersection between athleticism and luck that even detractors can admire. Heck, the term itself has become synonomous with victory. Knocking it out of the park is the highest form of praise.
Baseball players and the Powers That Be that run the sport know how much fans love home runs. A whole generation of players pumped their bodies full of drugs to hit a ton of dingers. In 2013, Japanese league officials admitted to juicing baseballs to increase the number of home runs, and thus — by their logic — the level of excitement. Recently, similar rumors have swirled stateside as well, where round-trippers have suspiciously skyrocketed since the 2015 All-Star break. (The higher-ups flatly deny these allegations).
The point, though, is this: Baseball can even be seen by its commissioners as a "boring" game in which offense, and specifically home runs, are what make it worth watching. That logic is flawed.
First of all, when home runs are common, they lose their punch. This year alone, there have been more than 3,300 long balls league-wide; the chance of seeing one hit out of the park is not slim. As a result, most of these home runs are entirely forgettable. Unless you happen to catch the ball, on any given day you likely won't see a homer you remember a month later.
A glut of dingers saps each individual home run's potential to be legendary. In 1998, baseball fans were electrified by the home run record chase between the St. Louis Cardinals' Mark McGwire and the Chicago Cubs' Sammy Sosa, each of whom was in sight of dethroning Roger Maris' 37-year reign with 61 homers. McGwire ultimately finished with a total of 70, but his record was toppled only three years later by Barry Bonds, who didn't receive nearly the same amount of fanfare when he breezed by with his 71st shot on October 5, 2001. (Asterisks: They probably all cheated.)
More home runs may give everyone a short-term high of excitement. But soon enough, the glut causes excitement to fizzle. Winning too much is boring.
By contrast, reducing the number of home runs heightens the intensity of each at-bat. When runners are allowed on base, and especially when they manage to get into scoring position, each pitch suddenly becomes a Wild West showdown between batter and pitcher. The quirks of baseball — run-downs, steals, errors, thrilling plays at the plate, and even elusive inside-the-park home runs — flourish. Make baseball fun again indeed.
A 1-0 game is usually better than a 12-11 game. I know that's not a sexy opinion. But it's during this under-appreciated grind of moving a runner around the diamond that the sport becomes brilliant. It's also why the game has a reputation for being alienating in its slowness; this part is slow.
But when "nothing is happening" you can tap into the palpable tension of a reliever tasked with holding a razor-thin lead, or an at-the-ready rookie whose sacrifice bunt could be all that's needed to push his teammate closer to home. It is the waiting in baseball that makes it worth it, the breathless windup even when victory is all but assured.
Baseball, perhaps more than any other sport, is a game of characters, more novel than comic book. Rather than waiting for heroes to swoop in to save the day, the real satisfaction comes from getting to know the players — their routines, their weaknesses, their personal victories — on the field. That takes patience. It takes opportunity. It takes time.
Walk-off home runs can swiftly finish games. But so can strikeouts and close tags. In some ways, the difference boils down to the emotional nuance of actively winning vs. making the other team lose. Perhaps it is only fitting that America's favorite pastime prefers the former to the latter.
Continue reading for free
We hope you're enjoying The Week's refreshingly open-minded journalism.
Subscribed to The Week? Register your account with the same email as your subscription.
Sign up to our 10 Things You Need to Know Today newsletter
A free daily digest of the biggest news stories of the day - and the best features from our website
Jeva Lange was the executive editor at TheWeek.com. She formerly served as The Week's deputy editor and culture critic. She is also a contributor to Screen Slate, and her writing has appeared in The New York Daily News, The Awl, Vice, and Gothamist, among other publications. Jeva lives in New York City. Follow her on Twitter.