This nonprofit is teaching vets to farm
For some vets, nurturing a plant from seed is a healing act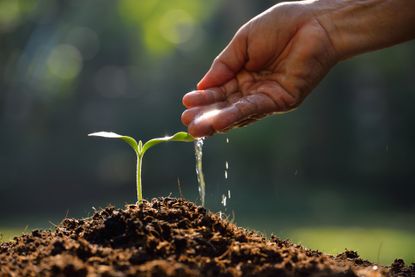 (Image credit: iStock.)
Chris Brown has literally beat swords into plowshares. The former Marine corporal who saw fierce fighting in Iraq's Anbar and Afghanistan's Helmand provinces is the man behind an innovative program that teaches veterans to farm.
"As part of my healing process, I started growing food as a way to reconnect with my surroundings," recalls Brown. He was wounded and suffered a traumatic brain injury during three combat deployments in Iraq and Afghanistan. "I could see it was helping me and I figured, why not try to bring that to a larger scale?"
Brown founded the Washington state nonprofit Growing Veterans in 2013 while earning a master's degree in social work at Western Washington University. His idea was to train veterans in job skills while raising sustainable organic food for the community.
Subscribe to The Week
Escape your echo chamber. Get the facts behind the news, plus analysis from multiple perspectives.
SUBSCRIBE & SAVE
Sign up for The Week's Free Newsletters
From our morning news briefing to a weekly Good News Newsletter, get the best of The Week delivered directly to your inbox.
From our morning news briefing to a weekly Good News Newsletter, get the best of The Week delivered directly to your inbox.
Growing Veterans raises veggies for local food banks and school lunches on a 40-acre plot in Mount Vernon, Washington, and a smaller farm in Lynden, Washington. At the farms, you'll find pole barns and acres brimming with kale, broccoli, beets, cauliflower, lettuce, and herbs. There's dirt-caked hands and knees, vets and volunteers hoeing rows of bright green seedlings ("nothing feels better than the feel of soil between my toes — unless you step on thistles!" exclaims a barefoot ex-soldier). There's easy conversation and laughter about commanders and base camps over the splash of water hosing down carrots in the washrack. There can also be silence, as a young veteran retreats to sit in his truck with his dog or as the guys toy with a slingshot while lighting the grill for a shared picnic lunch.
Growing Veterans was the first program of its kind in the U.S., says Karen Besterman-Dahan, a qualitative core director and medical anthropologist with the Veterans Affairs' Center of Innovation on Disability and Rehabilitation Research in Tampa, Florida. While many VA centers have farmers markets, she explains, the Seattle VA and Growing Veterans created the first site in the country where veteran-owned or -run farms can sell their produce back to veterans.
Brown felt that this kind of peer-support approach would help veterans transition to civilian life. "A lot of the big issues we hear about are homelessness, suicide, unemployment, divorce," he says. "All those issues to me are a byproduct of veteran isolation. We use the farm as a platform to bring veterans into a community."
Besterman-Dahan has conducted research and published several articles with Brown about the efficacy of this kind of "agrotherapy." She has found that the esprit de corps that Growing Veterans fosters leads to participants reporting improvements in depression, sleep, overall health and mental health, and reintegration. "First of all, you're doing something life affirming," she says. "They're used to blowing up things, that's what they're trained to do, and now they're growing life. They're working side-by-side, feeling a sense of mission and empowerment and purpose that was missing in their life. That is part of what Chris has worked to build: the informal peer support in the informal setting of the farm, not in a clinical setting. It's not forced, it happens organically and naturally."
Brown says the farm setting is incredibly therapeutic. "Being able to plant a seed and watch it come to life, having the background some of us have with bad, nasty things, it's very positive to reflect on that," he says.
Growing Veterans' produce features the nationally sanctioned "Homegrown by Heroes" and has garnered quite the following among local chefs. Favorite products now include "PTS-tea," an herbal blend that helped Brown with anxiety and insomnia, and a hot sauce made with homegrown peppers, garlic, and Asian pears. Its working name? "Fire in the Hole."
The program's "graduates" have found work as farm managers and workers. Some even start their own farms. For example, Matthew Aamot of Custer, Washington, lost a brother in Afghanistan and served himself in Germany, Bosnia, and Kuwait. But he grew up farming, so he takes special satisfaction in raising food, and today he's running a sheep dairy in northwest Washington.
Aamot says camaraderie is the biggest thing veterans miss when they leave the military. "Once you're out, you remember being in that brotherhood, knowing somebody has your back," he says. "It's neat to come together and harvest and talk to each other at the wash rack."
The VA has not yet instituted any formal programs that use agriculture to improve veterans' health. But, "at a grassroots level, it's being done all over and in every state, from urban gardens to agricultural communities," says Besterman-Dahan.
Brown sees a bright future for Growing Veterans. He's been contacted by folks all over the country, and hopes to create a regional model that could be in place in three to five years.
"I was an infantryman. I was taught how to fight wars," he says. "Being around other veterans who have been through the same thing makes us feel more normal. It helps us feel like we belong back home."

Continue reading for free
We hope you're enjoying The Week's refreshingly open-minded journalism.
Subscribed to The Week? Register your account with the same email as your subscription.