Trump's tax cuts and the ugly truth about the stock market
Is the very success of the market undermining the case for the tax plan?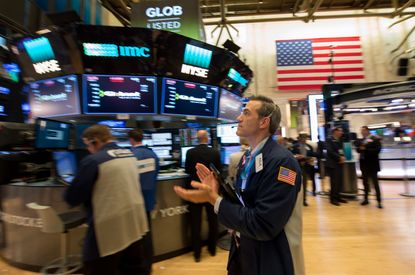 (Image credit: BRYAN R. SMITH/AFP/Getty Images)
Sign up to our 10 Things You Need to Know Today newsletter
A free daily digest of the biggest news stories of the day - and the best features from our website
Thank you for signing up to TheWeek. You will receive a verification email shortly.
There was a problem. Please refresh the page and try again.
The stock market is betting big on the Republican tax plan. All three U.S. stock indexes closed at record highs this past Friday — the 24th time they've done that this year — on the news that Republicans in Congress had successfully laid the procedural groundwork for their long-awaited tax reform package. Markets slipped back a hair on Monday, but overall they've been on a relentless climb since President Trump took office.
But there's something bitterly amusing about these ever-rising stocks: The very success of the market undermines the case for the tax plan it's betting on. In fact, you could go so far as to say it undermines the case for the stock market, period.
The core of the GOP tax plan is a cut in the federal tax rate that corporations pay on their profits, from 35 percent to 20 percent. This is why the stock market is so excited. Generally speaking, corporate profits go into dividend payments for stockholders. So the market figures a big corporate tax cut means bigger after-tax profits, which means bigger dividend payouts. That makes owning a stock more valuable and boosts the stock indexes.
Subscribe to The Week
Escape your echo chamber. Get the facts behind the news, plus analysis from multiple perspectives.
SUBSCRIBE & SAVE
Sign up for The Week's Free Newsletters
From our morning news briefing to a weekly Good News Newsletter, get the best of The Week delivered directly to your inbox.
From our morning news briefing to a weekly Good News Newsletter, get the best of The Week delivered directly to your inbox.
For obvious reasons, however, this is not the story Republicans are telling. Instead, they're trying to sell corporate tax cuts as a boon for working Americans. Trump's Council of Economic Advisors (CEA) recently put out a report claiming the tax cut would boost average wages for Americans anywhere from $4,000 to $9,000 per year. It was a grotesque exaggeration, and one that was quickly savaged by former Obama CEA head Jason Furman and by former Clinton Treasury Secretary Larry Summers — neither of whom are exactly Bernie Sanders-style firebrands.
Even some conservatives thought the White House had gone too far. "The Trump administration has undermined its case for a corporate tax cut by exaggerating the benefits of its overall tax package," writes Michael R. Strain, director of economic policy studies at the American Enterprise Institute.
But if wonky conservatives disagree with the White House's outlandish analysis, they still support the cuts on the theory that they're a win-win for workers and shareholders. "[The Trump administration's] rhetorical excess shouldn't obscure the fact that cutting the corporate rate is worth doing," Strain writes. At an intellectual level, Republican support for a corporate tax cut rests on one of the bedrock principles of conservatism: That taxes actually suffocate the profit incentive for companies, thus squashing their investments, reducing job and wage growth, and generally holding the economy back.
These tax assumptions speak to a theoretical ideal of capitalism. The way markets are supposed to work is that companies have to continually invest in new innovations and efficiencies to stay ahead of rivals and keep their profit margins up. If they do it right, they grow richer and thus have even more money to reinvest back into workers, research, and equipment. In this way, the self-interested pursuit of profits creates jobs and raises wages, and taxes only interfere with the overall beneficence of the market.
But if this is really what's going on, there should be clear signs of it in the economy. Instead, while business investment is depressed and jobs and wage growth are unnaturally low, corporate profits are actually higher now than they've been at any time in the last 70 years.
This paints a picture of the economy much different from what the champions of the corporate tax cut theorize: It's one where worker bargaining power and competition have collapsed; where companies keep profits high through underpaid labor, high prices, and bad service.
This obviously blows up the rationale for corporate tax cuts.
If the Republican Congress really wanted to help workers through tax reform, it would limit itself to improving and expanding the investments that corporations can deduct from their tax liability. That would make sure the incentives of tax reform always push job and wage growth. Cutting the corporate tax rate, by comparison, is a horribly unfocused tool. Under these circumstances, it won't do anything for the economy; it will just further increase the money that corporations can bleed from workers and customers.
But the implications don't stop there.
The theory behind the stock market rests on the assumption that high profit margins are a very reliable indicator of the real-world value corporations create. But that assumption is wrong. There are lots of ways corporations can expand their profit margins, many of which have nothing to do with creating real good for human society. In fact, many are poisonous and destructive to most American workers.
And it makes no difference to the stock market whether corporate profits are produced in good ways or bad. All that matters is that the payouts keep coming. In fact, as my colleague Ryan Cooper recently pointed out, Wall Street investors will often punish companies for trying to compete the old-fashioned way, and force them to exploit workers and consumers. And since the upper management of most companies get a lot of their income from the stock markets themselves, they're quick to fall in line.
So yes, the Republican story for why we need a corporate tax cut has a big hole in it. But our society's story about why we need the stock market has a big hole in it, too.
Continue reading for free
We hope you're enjoying The Week's refreshingly open-minded journalism.
Subscribed to The Week? Register your account with the same email as your subscription.
Sign up to our 10 Things You Need to Know Today newsletter
A free daily digest of the biggest news stories of the day - and the best features from our website
Jeff Spross was the economics and business correspondent at TheWeek.com. He was previously a reporter at ThinkProgress.