Can we all agree that New Year's Eve is the worst?
The prices. The crowds. The hangovers. The unfulfilled resolutions. Enough, I say!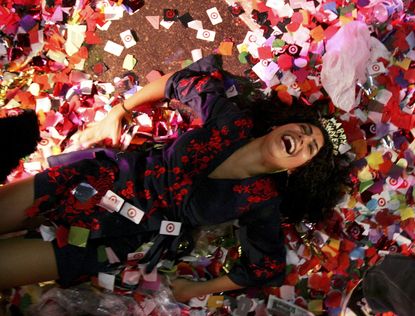 (Image credit: Getty Images)
Sign up to our 10 Things You Need to Know Today newsletter
A free daily digest of the biggest news stories of the day - and the best features from our website
Thank you for signing up to TheWeek. You will receive a verification email shortly.
There was a problem. Please refresh the page and try again.
I remember once shaming my college roommate when she decided at the last minute to flake on our New Year's Eve plans. "Carpe diem!" I shouted at her as I slipped out the door in my leopard-print skirt and glittery Hard Candy eyeliner. She ushered in the millennium in her pajamas; my friends and I danced to "It's the End of the World as We Know It (And I Feel Fine)" in the middle of Austin's Sixth Street. I made sure to tell her how much fun we had when I stumbled home the next morning, conveniently glossing over the fact that bars were charging people $50 to come in and use the bathroom, the crowds had been claustrophobic, and we'd had to beg someone to be the designated driver because cabs were too expensive — not that any of us drank much, on account of not being able to afford to pay to pee.
Nearly two decades later, I've come around to my old roommate's New Year's Eve stance. Over the years, I've forked out huge fees for sad buffets and DJs I've never heard of. I've been groped by drunken revelers, including the man who took the liberty of resting his camera on my shoulder while he snapped photos of the London fireworks display. I've had the flu but slapped on fake lashes anyway. I've rolled down car windows and leaned out to be sick. I've woken up wishing I could schedule a head transplant. I've carpe-ed the diem. And not once have I thought: That was totally worth it.
Of course, there are plenty of opportunities for bad behavior — both mine and others' — on any given day. But we don't expect the average Saturday night to go down in history. On New Year's Eve, however, we pay extra. We try harder. We yearn for more — romance, a bacchanalian feast that would have made a Roman emperor blush, a reset button that lets us emerge the next day as better people. So rarely does that happen. It can be underwhelming and so fraught with disappointment because there's so much pressure for it to be epic, or at the very least, memorable.
Subscribe to The Week
Escape your echo chamber. Get the facts behind the news, plus analysis from multiple perspectives.
SUBSCRIBE & SAVE
Sign up for The Week's Free Newsletters
From our morning news briefing to a weekly Good News Newsletter, get the best of The Week delivered directly to your inbox.
From our morning news briefing to a weekly Good News Newsletter, get the best of The Week delivered directly to your inbox.
And so I'm saying: enough. After years of agreeing to concerts and club nights and bar crawls and special tasting menus, I'm turning my back on the New Year's Eve hoopla. Here's what I won't miss:
The fallacy that January is so special: Beyond being the birth month of Martin Luther King, Jr., Betty White, and Michelle Obama, January really doesn't have the greatest track record. In 2015, David Bowie died just eight days in. 2016 gave us the Trump inauguration. It's also the calendar home of Blue Monday, the most depressing day of the year. Which begs the question … what's the rush?
The cost: New Year's Eve is the Uber surge pricing of holidays; everything is suddenly so much more expensive. A club handing out flyers for half-price drinks on Dec. 30 will demand $150 for a "VIP package" on Dec. 31. This typically includes a champagne toast (not the good stuff), party favors (a cardboard tiara purchased at Dollar General), and a breakfast buffet (lukewarm scrambled eggs) on the way out. Not included: your party dress or tux rental, hotel room, transportation there and back, and all those extra Red Bull vodkas you need to stay up past midnight.
The crowds: About two million people reportedly crushed into Times Square to watch last year's Ball Drop; that's almost a quarter of New York City's population. Just imagine the pushing, the stomped toes, the unpleasant odors, the realization that your first act of the New Year will be mumbling the lyrics to "Auld Lang Syne" with your face wedged in some tourist's armpit.
The single girl expectations: Rom-coms and that one episode of The O.C. have conditioned singletons to believe that their one true love will come rushing into a party Billy Crystal-style just before midnight. As someone who has spent the majority of my New Year's Eves without a special someone, I can assure you that the reality is no Hollywood ending. Your midnight kiss is more likely to be a platonic peck from your best friend, or a slobbery advance from the night's recipient of the Beer Goggles Award.
The resolutions: Resolutions aren't goals; they're annual reminders that I've still never signed up for Italian lessons, taken up knitting, written a screenplay, or mastered a 5-minute plank. If you're the sort of person who can wake up on Jan. 1 and begin training for a marathon, I salute you. If you're not, I feel you. We (and by we, I mean I) may never drink enough water or clean out that closet, and that's fine. Which brings me to ...
The hangovers: How am I supposed to Oprah-ize my life on Jan. 1 when it feels like someone is scooping out my cerebrum with a serrated grapefruit spoon? This holiday is just setting us up to fail.
Ryan Seacrest: That's all I have to say about that.
I'd rather just stay in. As it happens, my best New Year's Eve experience involved babysitting my then-6-year-old nephew so his parents could have a night out. He threw on his dad's oversized waistcoat. I made mocktails with sparkling apple juice and raspberries. We sipped from champagne flutes and dined on pigs in a blanket. The evening's entertainment included a screening of The Goonies and a dance party in the living room soundtracked by repeat listens of Alvin and the Chipmunks' cover of LMFAO's "Party Rock Anthem."
As the hour approached 1 a.m., I skedaddled him into bed, lest my sister accuse me of being a reprobate babysitter. He tossed and turned, and called for me.
"I can't sleep," he said, still wearing his vest. "I'm just so excited about New Year's."
Eh. He'll get over it.
Continue reading for free
We hope you're enjoying The Week's refreshingly open-minded journalism.
Subscribed to The Week? Register your account with the same email as your subscription.
Sign up to our 10 Things You Need to Know Today newsletter
A free daily digest of the biggest news stories of the day - and the best features from our website
Erin Donnelly is an American-born, London-based journalist covering entertainment and lifestyle topics for publications like Refinery29, Elle, Nylon, and Playboy.