Disney vs. Netflix will be the great media battle of our time
Whoever wins, we lose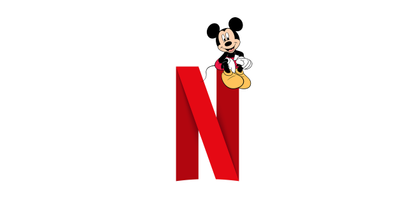 (Image credit: Illustrated | Courtesy Netflix, Art of Drawing / Alamy Stock Photo)
Sign up to our 10 Things You Need to Know Today newsletter
A free daily digest of the biggest news stories of the day - and the best features from our website
Thank you for signing up to TheWeek. You will receive a verification email shortly.
There was a problem. Please refresh the page and try again.
The Magic Kingdom is expanding its borders. On Thursday, Disney unveiled that it's buying 21st Century Fox for a cool $52.4 billion. The content Goliath that already owns The Lion King, Pixar Studios, Marvel Entertainment, ESPN, and the Star Wars saga will now gobble up The Simpsons, the X-Men franchise, and National Geographic as well. Disney is basically getting all of Fox's movie, TV, and cable operations, while the latter will spin off its news and sports networks into a new company.
If you've ever seen Aliens vs. Predator (which, incidentally, Disney just acquired in the deal), that franchise is a good model for what Disney is preparing for: an epic clash between two media monsters, with the future of movies and television shows, and how we consume them, at stake.
And the Predator to Disney's Alien? Netflix.
Subscribe to The Week
Escape your echo chamber. Get the facts behind the news, plus analysis from multiple perspectives.
SUBSCRIBE & SAVE
Sign up for The Week's Free Newsletters
From our morning news briefing to a weekly Good News Newsletter, get the best of The Week delivered directly to your inbox.
From our morning news briefing to a weekly Good News Newsletter, get the best of The Week delivered directly to your inbox.
Let's review. Netflix began its life in 1997 as a humble DVD rental service that mailed the discs to your door. Then, as the internet grew, Netflix moved into providing customers with movies and TV shows over direct streaming instead. Then the company blew up, and today it hauls in annual revenue of over $11 billion.
For a long time, this didn't worry Disney much. If Netflix wanted its content, great. That was just one more way for Disney to make money. And in 2012, the company inked a deal that let Netflix distribute many of Disney's biggest properties.
But Netflix wasn't just another potential revenue source. It was also a rival for Disney's other big revenue source: cable TV. Netflix has been at the vanguard of the cord-cutting revolution, as more and more customers either ditch cable packages or never sign up for them in the first place, relying on digital streaming services instead. Both the Disney Channel and ESPN have been hemorrhaging subscribers as a result.
At the same time, what did Netflix decide to do with all this money and these new customers? It decided to make its own content. From House of Cards to Orange is the New Black to Marvel's Defenders to the recently released Mindhunter, Netflix is offering up a wealth of successful programming all its own. By 2018, the company wants half of the content it offers to be its own original productions. Not only is Disney seeing its traditional revenue base in cable TV erode, it's seeing its content on Netflix being overshadowed by Netflix's own.
Disney may have raked in $55.6 billion in revenue for 2016 — far more than Netflix — but a lot of that was due to its theme parks. When it comes to television and movies, the future is pretty clear. And pretty intimidating.
That brings us to Disney's plan to deal with Netflix: basically, become Netflix.
Disney's purchase of 21st Century Fox is part of its gamble to turn itself into a fully integrated company — one that both produces movies and shows, and runs the streaming services that consumers sign up for to watch them. Netflix did this by first building a customer base with its streaming service, and then erecting a content production factory atop it. Disney is taking the opposite approach: It's starting with the factory — plus a huge storehouse of must-see content, even bigger now after the Fox deal — and trying to build a new foundation of customers who'll buy its streaming service. Disney already announced its going to launch such a service in 2019. On top of that, buying Fox also gives Disney a commanding ownership stake in Hulu.
But the clearest sign that Disney's gearing up for war? When it announced its 2019 digital streaming service, Disney also pulled all its content from Netflix's catalog.
As consumers, we're basically headed for a future of picking between rival behemoths: If you want Netflix-produced content, you have to buy Netflix's streaming service. If you want Disney content, you have to buy Disney's streaming. Same with Amazon, and so forth.
Is that a bad future? Well, this sort of situation — where the same company both produces a good or service and owns the network that distributes that good or service — is called vertical integration. More traditional horizontal mergers involved combining two companies that do the same thing. Disney buying Fox's content is more of a horizontal merger. But thanks to the Hulu ownership it also has vertical components. And then there's the other upcoming streaming service. Basically, Disney is integrating vertically and expanding horizontally at the same time.
Vertical integration used to be outright forbidden under antitrust law. Back in the mid-century, government regulators wouldn't have allowed Disney to own Hulu or its own streaming service. In fact, they probably would've forced Netflix to break up into separate streaming and content-producing companies.
All that changed in the 1980s, under the logic that vertically integrated companies can still face competition from other vertically integrated companies. But just how much competition will there actually be in this situation? A Disney-Fox behemoth would own 40 percent of 2017's top-grossing films and pull in 31 percent of all box office revenue.
The logic that led regulators to welcome vertical integration was bad, and they ought to reverse course. But if they're going to allow it, that's all the more reason to prevent Disney from merging horizontally and gobbling up ownership of even more content than it already has.
So that's our likely future, and those are our options for dealing with it. But whatever route we take, if Disney vs. Netflix is going to be the real-world version of Alien vs. Predator, it's worth remembering that movie's tagline: Whoever wins, we lose.
Continue reading for free
We hope you're enjoying The Week's refreshingly open-minded journalism.
Subscribed to The Week? Register your account with the same email as your subscription.
Sign up to our 10 Things You Need to Know Today newsletter
A free daily digest of the biggest news stories of the day - and the best features from our website
Jeff Spross was the economics and business correspondent at TheWeek.com. He was previously a reporter at ThinkProgress.