I miss very special episodes
The '90s TV sitcom staple taught kids like me lessons to live by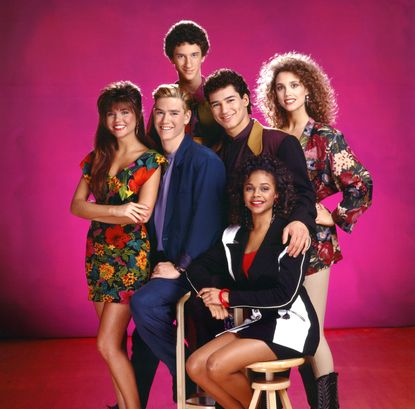 (Image credit: AF archive/Alamy Stock Photo)
Sign up to our 10 Things You Need to Know Today newsletter
A free daily digest of the biggest news stories of the day - and the best features from our website
Thank you for signing up to TheWeek. You will receive a verification email shortly.
There was a problem. Please refresh the page and try again.
If you've ever found yourself seconds away from smoking pot with a movie star when suddenly you have the urge to throw the joint down and shout, "There's no hope with dope!" then you and your lungs have Zack Morris to thank.
Just saying no was one of the many lessons learned during one of the many Saved by the Bell very special episodes. Throughout the 1980s and '90s, television sitcoms and dramas, particularly those for which the target audience shopped at Claire's and bought Clearasil in bulk, had these very special episodes in order to tackle controversial topics like drug use, sexual assault, child abuse, and AIDS. It was a way to bring in viewers by discussing something taboo, possibly win the show some accolades come award season, and hopefully teach people a lesson or two along the way.
As someone who watched ABC's TGIF block of programming religiously, I know a thing or two about very special episodes, and I miss them. These were must-see events, which the networks made a big fuss over — they'd have promos before the shows aired, and write-ups in TV Guide.
Subscribe to The Week
Escape your echo chamber. Get the facts behind the news, plus analysis from multiple perspectives.
SUBSCRIBE & SAVE
Sign up for The Week's Free Newsletters
From our morning news briefing to a weekly Good News Newsletter, get the best of The Week delivered directly to your inbox.
From our morning news briefing to a weekly Good News Newsletter, get the best of The Week delivered directly to your inbox.
For example, you did not want to miss the episode of Family Matters where Laura Winslow, after getting beat up by a girl gang trying to steal her jacket, decided to buy a gun from a classmate for protection. While Laura was making a deal with him, her friend Josie got shot just a few feet away by those same gangsters, after refusing to give them her shoes. To really bring home the point that gun violence was an issue, the cast appeared as themselves at the end of the episode, and urged viewers not to bring guns to school, and to turn in anyone coming to class packing heat.
This was a very heavy subject matter for a fourth-grader on a Friday night, and these very special episodes ranged in tone from intense but not frightening (Jonathan Taylor Thomas waiting to find out if he had cancer on Home Improvement) to wow that was pretty dumb (Cherie on Punky Brewster crawling into an old refrigerator while playing hide and seek and getting locked inside) to dear God I am going to need expensive therapy after watching this (the infamous Diff'rent Strokes episode where a skeezy old man who owns a bicycle shop attempts to molest Arnold and his buddy Dudley).
Very special episodes were super dramatic and usually pretty exciting, which is why I loved them so much. Think about it, which episode of Boy Meets World sounds more entertaining: watching Cory and Topanga act like an old married couple even though they are both 17 years old, or watching Sean join a cult? The cult wins every time! How about Blossom — do we want to see more of Blossom's dad playing the piano, or Blossom running away with her cute boyfriend Vinnie? It's Vinnie! The answer is always Vinnie!
Some shows seemed to have a very special episode every week, like Beverly Hills, 90210. This was always a teen soap, but before it got too sudsy once they were all out of college, each week something major happened to Brenda, Brandon, and peripheral characters you'd likely never see again. If it wasn't the track team all taking steroids it was Dylan being tempted to fall off the wagon after he watched his dad die in an explosion, or Donna finding out her mom is having an affair at the same hotel where Color Me Badd is staying. That's a lot for high school kids to have to go through — let them spend one week without having to look at a police lineup or call random strangers trying to find out if that's their biological mother, only to find out she's long dead (yes, that happened to poor Steve).
There's a hilarious Funny or Die YouTube series about very special episodes, appropriately titled "A Very Special Episode," and it's fascinating to see how some of these shows used to deal with serious topics. For instance, on a 1986 episode of Mr. Belvedere, it's revealed that Wesley's friend, Danny, has AIDS. It's pretty jarring now to watch a show produced during a time when a lot of people weren't educated about HIV and AIDS, and even more so when there's a laugh track that goes off every five seconds. Because sitcoms always tie up all loose ends in less than 30 minutes, Wesley ultimately stops acting like a jerk and gets people to accept Danny, but it's still a wild, inappropriate chuckle-filled ride.
The '90s weren't that long ago, but times have changed immensely, and there really isn't a need for very special episodes anymore. Not only has the internet transformed the way we get information, but so many things that you just could not talk about are now discussed openly without anyone batting an eye.
Reality TV definitely has something to do with this, as different shows have helped raise awareness of so many issues, but it's also a case of the very special episodes doing exactly what they were designed to do: get people talking and educate them. Today, people know that you can't get HIV by touching someone who has it, so that Mr. Belvedere episode can make its way to wherever shows about English butlers go to die.
Of course, not everyone who watched very special episodes took the lessons to heart, but they did get conversations started, dispelled myths, taught kids about things like stranger danger, and brought me hours of entertainment. A belated and sincere thank you to D.J. Tanner, Jessie Spano, Steve Urkel, and the rest of their fictional '90s cohorts for warning us of the dangers of crash dieting, caffeine pills, and hiking up your pants way too high.
Continue reading for free
We hope you're enjoying The Week's refreshingly open-minded journalism.
Subscribed to The Week? Register your account with the same email as your subscription.