The drug war is a moral monstrosity. End it. Now.
How can we defend an initiative that provides legal cover for gross sexual abuse by law enforcement?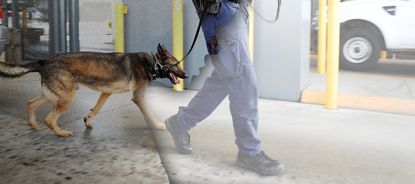 (Image credit: Illustrated | Mario Tama/Getty Images, OSTILL/iStock, johnjohnson13/iStock)
America's war on drugs has failed in myriad ways — including by providing legal cover for gross sexual abuse by law enforcement.
Consider the experience of C.R., a 16-year-old girl who traveled with her adult sisters on a family trip to Mexico last fall. At the San Ysidro pedestrian port in Southern California, she was stopped by U.S. Customs and Border Protection (CBP) agents who said a drug sniffing dog had alerted in her direction.
As the lawsuit C.R.'s family has since filed details, the agents demanded she undress, relinquishing even her sanitary pad, and squat "while officers probed and shined a flashlight at her vaginal and anal areas." She cried throughout the ordeal, and no drugs were found.
Subscribe to The Week
Escape your echo chamber. Get the facts behind the news, plus analysis from multiple perspectives.
SUBSCRIBE & SAVE
Sign up for The Week's Free Newsletters
From our morning news briefing to a weekly Good News Newsletter, get the best of The Week delivered directly to your inbox.
From our morning news briefing to a weekly Good News Newsletter, get the best of The Week delivered directly to your inbox.
This is rape.
It does not matter that the rapists wore government uniforms. It does not matter that they were merely following orders. It does not matter that they were not acting on personal sexual impulses. They raped this girl because a dog — an easily manipulated animal motivated chiefly by a desire to please its handler — pointed at her. They raped this girl because our government has decided that its futile effort to control what Americans consume is more important than our most basic rights to bodily integrity.
C.R. is not the CBP's only victim. As The Washington Post reported Sunday, the last seven years have seen at least 11 similarly disturbing lawsuits accusing CBP of grossly invasive searches of women and girls at U.S. ports of entry.
This is not a Trump administration innovation. In one particularly horrifying case from 2012, smack in the middle of the Obama years, an unidentified woman was detained on suspicion of drug smuggling at the Philadelphia airport. Her lawsuit said she was held for seven hours, shackled, and forcibly taken to a hospital. On arrival, CBP agents lied to medical staff, telling them she was a drug mule. She was then told she'd be detained "until she had urinated and defecated into a plastic container in the presence of an officer."
When the woman's heart rate became elevated — understandable given her position of extreme duress — medical workers thought she might be suffering drug toxicity (as would happen if a bag of drugs had burst inside her). Then, her lawsuit said, she was "tied to a bed with restraints, stripped naked by medical staff, and had a tampon removed from her vagina during a body search." She was also given intravenous sedation, catheterized, and subject to multiple scans. Once again, no drugs were found.
Even if she were found to have had drugs, this woman's experience would not be justified. This is wildly inhumane extrajudicial punishment, and it is beyond disproportionate. I share every sensible and ethical person's horror of drug abuse, but there is no scenario in which this state-demanded medical rape is acceptable. I believe "cruel and unusual" is the proper phrase — except it isn't all that unusual. CBP is not an outlier agency, a warehouse of federal sociopaths. Other government agencies are just as guilty.
In 2016, police in South Carolina conducted a roadside cavity search trying to find drugs. Video of the incident appears to show two officers with their fingers in their victim's rectum at the same time. "What are you talking about, right here?" one asks. The other answers, "Right straight up in there." No drugs were found. They were feeling the victim's hemorrhoids.
The same thing has happened with police in Maryland, Texas, Pennsylvania, New York, New Mexico, California, Illinois, Kansas, Florida, Georgia, Wisconsin, and probably every other state of the union. These are just a few of the cases we know about, typically because — you guessed it! — no drugs were found; the cops got sued; and the story made headlines. In the New Mexico case, a man named David Eckert was subjected to repeated anal probes, forced defecation, three enemas, and a colonoscopy, all in search of marijuana. He didn't have any marijuana.
Even the Department of Social Services has gotten in on the action, forcibly catheterizing a screaming 3-year-old boy to test whether he had drugs in his system. Yet again, no drugs were found, and the procedure gave the boy a staph infection.
"[I]t seems to me that there's a choice before Americans," muses The Atlantic's Conor Friedersdorf after a review of some of these stories. "Do they want to be the sort of society where armed agents of the state occasionally probe the rectums or vaginas of innocents in search of drugs, or the sort of society where actual drug dealers can, with forethought, occasionally conceal a tiny amount of illegal narcotics from police officers?" Friedersdorf concludes the latter option is the obvious choice, and so should we all.
There are many reasons to want to end the drug war. We should end it because it has cost more than $1.5 trillion over half a century and yet addiction rates have not budged. By both historical and international standards, American drug use is persistently high while taxpayers are being bilked for ineffective drug law enforcement.
We should end it because it wastes limited law enforcement resources, with more than 1.2 million arrests made annually for simple drug possession. One in three new prison admissions are drug offenders, making the drug war a major contributor to our national crisis of mass incarceration.
We should end it because its enforcement is demonstrably a tool of institutionalized racism. Though white Americans and racial minorities use illegal drugs at basically the same rate, minorities are more likely to be stopped, searched, arrested, charged, convicted, sentenced to prison instead of non-detention punishments, and given longer sentences for the same crime.
We should end it because decriminalizing drugs in places like Portugal and the Netherlands has proven far more effective at lowering abuse rates and making users feel it is safe to seek help. The opioid epidemic has made harm reduction ever more important.
We should end it because it is inhumane. It leads to broken families and tortuous detention practices. It deprives the desperately ill of treatment options. It makes our cities more violent, just like Prohibition before it. It is literally killing people.
All these reasons are compelling, some deeply so, and I am happy to make those arguments for reform. But given our government's practice of rape in the name of enforced sobriety, they should not be needed to end the war on drugs. Even one of these stories of sexual assault should be enough to shut it down.
The drug war is morally monstrous, and so are we if we maintain it knowing the abuse it occasions.

Continue reading for free
We hope you're enjoying The Week's refreshingly open-minded journalism.
Subscribed to The Week? Register your account with the same email as your subscription.