Terrible tales from the holiday customer service desk
Be nice to your customer service reps. They know more about you than you think.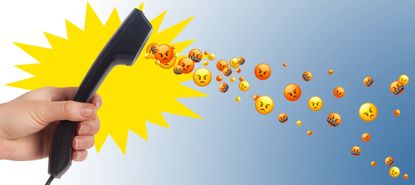 (Image credit: Illustrated | new_lady/iStock, Apple)
It wasn't Oprah's fault, but I held it against her anyway.
Even before her holiday gift show ended at 5 p.m., the phone lines for the luxury goods magazine where I worked were jammed with people clamoring to order her latest promotion. The overloaded sales department roped in customer service to help field the increasingly desperate calls.
The gift set she'd featured vanished almost immediately. First it went on back-order, then it was gone, with nothing but a trail of irate customers left in its wake. When fans couldn't get the two-item set Oprah told them to buy, panic ensued. We plugged the dam, mollifying callers by ordering the two items separately and promising them extra samples, free shipping, anything so they'd get off the phone and clear the line for the next caller. We were only delaying the inevitable though, holding back the building swell of wild-eyed holiday shoppers.
Subscribe to The Week
Escape your echo chamber. Get the facts behind the news, plus analysis from multiple perspectives.
SUBSCRIBE & SAVE
Sign up for The Week's Free Newsletters
From our morning news briefing to a weekly Good News Newsletter, get the best of The Week delivered directly to your inbox.
From our morning news briefing to a weekly Good News Newsletter, get the best of The Week delivered directly to your inbox.
When some callers heard the items were out of stock, they would instantly demand to speak to a supervisor. First they would insist, then they would start to yell. Sometimes they just started yelling as soon as we picked up the phone. Maybe they thought supervisors had special powers enabling them to create more products out of thin air. Maybe they were incensed at how polite we were in their time of consumerism-fueled rage. They needed their Oprah products!
Sometimes we'd put rude customers on hold just to encourage them to cool down. Sometimes we'd put them on hold and "forget" they were there. We even had a code name — Veronica — that we assigned to particularly grinchy customers. When those people inevitably demanded our name, we gave them the code. That way, when they called back to complain to the next person about how horrible the last rep had been, whoever picked up knew what to expect.
The closer we got to Christmas, the tenser the mood became. My co-workers wore the grim, clench-jawed look of people bracing for battle. There were the normal grievances, like the woman who insisted that we needed to pay her doctor's bill after she dropped one of our over-sized soaps on her foot. Then there were the negotiators ("Since it's out of stock now, why don't you discount the order 20 percent for my inconvenience?"), the disbelievers ("I'm sure you've got more at your warehouse. Did you check?"), and the outright liars ("I don't care that my signature is on there, I never received that enormously expensive package!"). It was exhausting.
The only thing that relieved my anxiety was fleeing the city and heading home for the holiday. And when I did go shopping, I was fully aware of the luxury I enjoyed by being in front of the cash register, rather than behind it. I did my best to smile at everyone who was wearing a name tag, because I knew their holiday plight.
The people who answer the phone, who take your money, who process your exchange when you bought the wrong color/size/brand — they know all about you. How we act under duress speaks volumes about who we are. In the crucible of holiday customer service, I learned that I am someone who will bend over backwards for people who take a moment to say "please" and "thank you," who understand that "back-ordered" isn't a personal insult, and who appreciate the offer of two extra samples being added to their order, rather than demanding another five. I try to do the same for others, even the woman in the unenviable position of answering the phone to tell me I was stuck with a malfunctioning dishwasher two days before Thanksgiving.
The holiday season is supposed to be about giving, and that should extend beyond just giving gifts. We should give the benefit of the doubt, give the chance to fix a mistake, give a smile instead of an attitude. I know these gifts aren't always easy to produce, but trust me, they will create far more peace and goodwill than any boxed set ever could.

Continue reading for free
We hope you're enjoying The Week's refreshingly open-minded journalism.
Subscribed to The Week? Register your account with the same email as your subscription.