Apple used to offer only the best. Now it offers everything.
There was a time Steve Jobs wanted to get rid of buttons because he so valued simplicity. What happened to that company?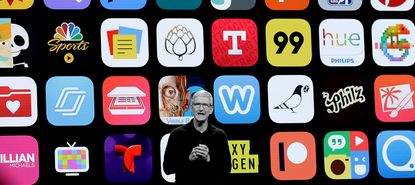 (Image credit: Illustrated | AP Photo/Marcio Jose Sanchez, File)
It happened almost under cover of night. This week, Apple launched new iPads without an event or any fanfare — just an updated website and a tweet from CEO Tim Cook.
While Apple occasionally updates products this way — usually products getting unremarkable spec bumps — the quiet approach here was odd. The new iPad Air and iPad Mini both have substantial new features: not just faster processors, but also support for the Apple Pencil, plus support for a smart keyboard and better speakers for the Air.
One possible reason for the low-key release is that Apple's event next week will focus on its video streaming and news services, and the company wants undivided attention for that news. But another explanation is that it's getting a bit difficult to explain why so many Apple products exist.
Subscribe to The Week
Escape your echo chamber. Get the facts behind the news, plus analysis from multiple perspectives.
SUBSCRIBE & SAVE
Sign up for The Week's Free Newsletters
From our morning news briefing to a weekly Good News Newsletter, get the best of The Week delivered directly to your inbox.
From our morning news briefing to a weekly Good News Newsletter, get the best of The Week delivered directly to your inbox.
The new iPads join a lineup of five tablet models — and that's just tablets. There are officially five different iPhones for sale, but with the continued popularity of the iPhone X, that's really more like six. There are four different MacBooks, including two versions of the MacBook Air and more than one generation of the MacBook Pro on offer at once. Apple even threw in an extra couple of iMacs this week, bringing that line to three models.
There was a time Steve Jobs wanted to get rid of buttons because he so valued simplicity. What happened to that company?
On the one hand, this growth is arguably normal. As they mature, markets expand, and companies can either choose to focus on a narrow slice of consumers, or produce new products to hit different price points. Apple is clearly doing the latter, with iPad offerings that start at $329 and go all the way up to an absurd $1,899 for the very top-of-the-line iPad Pro.
In that context, the new iPad Air, priced at $499, is an attempt to do a couple of things at once: make the possibility of an iPad as a laptop replacement more affordable, especially for students; and get low-end customers to consider options beyond a very cheap iPad, as the base iPad is often on sale for $249.
But this latest expansion is more than a little confusing, too. For one thing, while Apple's whole flagship lineup of iPhones and iPads has moved to an interface without a physical home button — inarguably better, by the way — these new iPads bring the home button back. So in the very likely event that owners of these new devices also have an iPhone X or later, they will have two different interfaces to handle, as will both Apple and its developer partners. Additionally, the new iPads support the Apple Pencil, but only its first generation, not the second, which has already been released.
Is Apple the only company with a confusing lineup? Certainly not. Windows laptops are still regularly named by baffling model numbers like "XU507" that are as arcane as they are unhelpful. But Apple has long been known for clear branding — that clarity itself was a key selling point.
Consider what it means to shop in the second decade of the new millennium. People who live in wealthy countries aren't so much spoiled for options as we are spoiled by them. There is so much choice among consumer goods that it is not just time consuming and difficult to wade through our options; it is often overwhelming.
Part of Apple's charm was that if you had the money and wanted the best tablet, laptop, or smartphone available, all you had to figure out was which size iPad, MacBook, or iPhone you wanted to buy. The lack of choice was a kind of relief, a simplification of a world and economy that had pushed the idea of variety to the point of absurdity.
Apple's current lineup fails to cut through the chaff. Should I get an iPhone XR or drop a couple of hundred more for a XS? Should I save a few hundred dollars on a 7th generation Intel Core processor MacBook or should I get one with an 8th gen chip? Why should an average consumer have to care about such questions? Apple's quest to expand its lineup has lost it a key advantage.
To be clear, I don't mean to argue this will diminish the company's success. Apple will continue to rake in billions, and its many products will sell at rates of which most companies could only dream. But it does stand out as a mark of something a little sad and a little unfortunate: that even the very best of products and companies are sucked into the grand machine and come out the worse for it.
It's enough to make one want all products to be launched with no fanfare. At least then, if we don't know much about them, choosing what to buy won't be so impossibly hard.

Continue reading for free
We hope you're enjoying The Week's refreshingly open-minded journalism.
Subscribed to The Week? Register your account with the same email as your subscription.