Detective Pikachu should have said the F-word
This is almost the Ryan Reynolds movie we were promised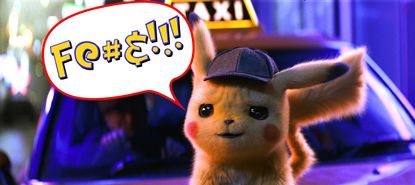 (Image credit: Illustrated | Courtesy of Warner Bros. Pictures, AQtaro_neo/iStock)
When I first learned that foul-mouthed Deadpool actor Ryan Reynolds was going to be the voice of Pikachu in a new live-action Pokémon movie, I had only one question: Was Pikachu going to say the F-word?
Parents, relax: He doesn't. Pokémon Detective Pikachu, out Friday, is rated PG rating for nothing more provocative than "action/peril, some rude and suggestive humor, and thematic elements." It's family friendly. Here's the thing, though — Detective Pikachu would have been a much better movie if it was rated R.
If you, like I, landed in the sweet spot of being between the ages of 6 and 12 when Pokémon was introduced in the United States in 1998, then you're somewhere between the ages 26 and 33 now. And if you were anywhere near as obsessed with Pokémon as I was back then, then you probably still have a Bulbapedia of useless Pokémon knowledge drifting around your head. You still might know all the words to the Pokémon theme song. You might even have too much of your identity tied up in whether you took Charmander, Bulbasaur, or Squirtle as a starter in Pokémon Red and Blue.
Subscribe to The Week
Escape your echo chamber. Get the facts behind the news, plus analysis from multiple perspectives.
SUBSCRIBE & SAVE
Sign up for The Week's Free Newsletters
From our morning news briefing to a weekly Good News Newsletter, get the best of The Week delivered directly to your inbox.
From our morning news briefing to a weekly Good News Newsletter, get the best of The Week delivered directly to your inbox.
It's adults like us who have our ears perk up when we discover that Pikachu says "hell" in the Detective Pikachu trailer. First of all, even casual fans know that Pikachu isn't supposed to speak at all: Pokémon are (with rare exception) only capable of saying their own names. Secondly, Pikachu is supposed to be adorable, with a chirpy, cheerful voice — not sound like a 42-year-old man. Third, Pikachu definitely isn't supposed to say things like "get me the hell out of here!" And his demeanor certainly shouldn't make you think of a washed-up alcoholic. As an interviewer described the live-action version of Pikachu back to Reynolds in an interview for ComicBook.com, "he's mouthy as all get out, which is, like, perfect for me." Perfect for me too, because something different is going on here — something that appeals to adults who were fans back in the early aughts.
Specifically, it appeals to our humor; Detective Pikachu is funny because Reynolds' Pikachu is so untraditional and unexpected, the antithesis of the cute yellow cartoon character we grew up with. In the same ComicBook.com interview, Reynolds explained that in conceiving the character of Pikachu, he would sometimes improv with adult humor and language that didn't make it through the editing process. "You go into a room ... and then it's just throwing 800 versions of any joke or any moment up against a wall," he said, adding "and you know, some things would come out PG-13, bordering on rated R, so that stuff didn't make it." Still, it was a part of the conception of the Detective Pikachu character, and audiences can tell. It's just too bad we don't get to hear it.
I wanted Pikachu to cuss like a sailor, I wanted him to drop F-bombs and make off-color jokes, because as fitting as they were to Reynolds' conception of the character's personality, it also fit the film's parody of a hardboiled noir. Detective Pikachu, which revolves around finding out what happened to the missing father of 21-year-old Tim Goodman (Justice Smith), riffs on crime dramas by transposing the genre to, well, the world of Pokémon of all things. It's hilarious and weird, and shouldn't at all work, but it does.
Mixing genres also helps the movie lean into what it does best: Fan-service and in-jokes, illuminating how wacky the whole Pokémon concept was in the first place (I'd honestly never thought before about how messed up it is that Cubone wears the skull of his dead mother, but seriously, whose idea was that?). It's only when Detective Pikachu tries to tightrope between appealing to the franchise's mature fans and kids that it stumbles.
Someone out there is yelling but what about the children?! to which I say: Today's Pokémon-loving children are going to be okay. There is a wealth of Pokémon TV shows and movies out there that are appropriate for younger audiences. I'd also question whether young kids should even be watching a Pikachu character voiced by Ryan Reynolds, regardless of whether or not he curses. Certainly jokes about "sleeping alone" and a gag about huffing gas will go over their heads.
In his ComicBook.com interview, Reynolds is specifically asked about just that. What would an R-rated Pokémon movie have looked like? Reynolds' answer: "I think if you could remake a Pikachu version of Mean Streets that might be kind of fun ... or Goodfellas."
Yes, exactly. Pikachu shouting, "Now go home and get your f---in' shine box." I can hear it now.

Continue reading for free
We hope you're enjoying The Week's refreshingly open-minded journalism.
Subscribed to The Week? Register your account with the same email as your subscription.