Will a Robert Pattinson-led Batman trilogy break new ground for DC?
The studio has yet to show they understand what comic fans want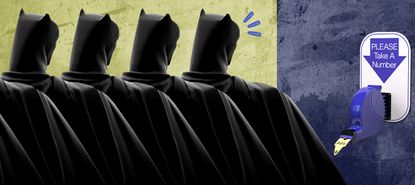 (Image credit: Illustrated | sidewaysdesign/iStock, KHALED KASSEM / Alamy Stock Photo, yopinco/iStock)
Sign up to our 10 Things You Need to Know Today newsletter
A free daily digest of the biggest news stories of the day - and the best features from our website
Thank you for signing up to TheWeek. You will receive a verification email shortly.
There was a problem. Please refresh the page and try again.
On Friday, Variety confirmed that Robert Pattinson will play Batman in a 2021 Warner Bros. film, likely the first of a trilogy, directed by Matt Reeves and tentatively titled The Batman. As DC casts its third Batman in a decade (following the forgettable Ben Affleck residency, which in turn followed the hulking shadow of Christian Bale), the question is why the studio stubbornly insists on retelling the origin stories of a few marquee stars when they're sitting on a vast roster of beloved characters. Why, when Marvel has proved many times over that audiences have ample appetite for new heroes and new stories, is DC positioning itself to give us more of the same?
Little more than a decade ago, Batman was one of the only superheroes found at the box office, alongside Superman and Spider-Man. Lesser known characters like Green Arrow and Black Widow stayed on the page and off the screen. But Marvel upended that in 2008 with its first Iron Man film, launching what would become one of the longest and most lucrative series of franchise movies of all time, including a slew of characters previously unknown to the popular consciousness (such as Ant-Man and Doctor Strange) who helmed their own films to great success.
To a lesser extent, DC began exploring their own back catalogue of characters with the launch of Arrow in 2012 and subsequent small screen offerings like Supergirl and the forthcoming Batwoman. On the silver screen, however, DC has yet to nail its blockbuster formula, playing it safe with big names like Wonder Woman and Aquaman — which, admittedly, put up pretty big numbers at the box office — but fumbling all of its team-ups (Batman v Superman: Dawn of Justice, Suicide Squad, and Justice League) and treatment of minor characters (they're trying to fix Harley Quinn — we'll see).
Subscribe to The Week
Escape your echo chamber. Get the facts behind the news, plus analysis from multiple perspectives.
SUBSCRIBE & SAVE
Sign up for The Week's Free Newsletters
From our morning news briefing to a weekly Good News Newsletter, get the best of The Week delivered directly to your inbox.
From our morning news briefing to a weekly Good News Newsletter, get the best of The Week delivered directly to your inbox.
DC has also failed its viewing audience because it hasn't stayed true to the spirit of its comics, whereas Marvel knows what it's about. Marvel's characters, in both comics and films, are grounded in reality — you could bump into its heroes in Hell's Kitchen or Queens — and superpowers are less important than the heroics, which bleed ordinariness. Anyone can wear a mask because anyone can do good, so really, the mask doesn't matter.
DC's heroes, on the other hand, protect Gotham, Metropolis, and Central City. The mythology surrounding each hero outweighs the individual. Fan favorite Wally West becomes The Flash after years of training under his uncle, Barry Allen. Dinah Laurel Lance assumes the identity Black Canary following her mother, Dinah Drake. It doesn't so much matter who wears the mask as long as the mask is being worn. It's a mantle, and it's also an inheritance. If the different iterations of the same superhero ally themselves via friendship in Marvel lore (like Miles Morales, Peter Parker, and the spider heroes of Spider-Man: Into the Spider-Verse), then DC's are bound by blood.
Arguing that one philosophy is better or worse is futile; they're simply different. What stokes a well-deserved critique is how effectively each comic book publisher adapts its philosophy to film. And it's hard, as a fan of DC Comics, to think that the studio hasn't failed at this so far when, of the two comic book publishers, DC's material and web of characters was more suited for serialization across dozens of movies. What makes The Batman comics great, for instance, is the complex ways that heroes give up their identities to serve the greater good and the familial relationships that form between people sucked into the orbit of the mythology. You could make a family sitcom based on how many orphans and wayward kids the comic-book Bruce Wayne has legally and metaphorically adopted and turned into little vigilantes.
Yet most of the movie-going contingency of fans think that Bruce Wayne copes with the trauma of his parents' deaths with JUSTICE rather than filling the family-shaped hole in his heart by adopting and mentoring fellow orphaned kids.
In DC's long publication history, these apprentices grow up, shedding the personas of Robin and Batgirl to become their own heroes, and the cycle repeats. The story of Bruce Wayne is more interesting than the story of Batman, and the story of Bruce Wayne is more interesting with characters like Tim Drake and Cassandra Cain at his side. And I can hardly think of a better mechanism for creating a long-lasting and ever-expanding cinematic world.
There's a reason the news of Pattinson's casting was met with eye rolls in many corners of the internet. Fans are tired of reboots and origin stories that come across as cynical cash grabs; we want to see character development and worldbuilding.
In that regard, there's at least hope. With reports that Reeves will start in the middle and focus more on Batman's detective work, maybe we'll finally meet Nightwing and Oracle. And maybe DC can begin to create the organically interwoven movie franchise they say they've always wanted.
Continue reading for free
We hope you're enjoying The Week's refreshingly open-minded journalism.
Subscribed to The Week? Register your account with the same email as your subscription.
Sign up to our 10 Things You Need to Know Today newsletter
A free daily digest of the biggest news stories of the day - and the best features from our website