An unabridged guide to proper umbrella etiquette
How to stay dry without being a jerk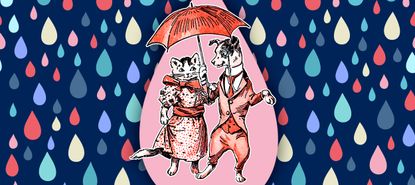 Sign up to our 10 Things You Need to Know Today newsletter
A free daily digest of the biggest news stories of the day - and the best features from our website
Thank you for signing up to TheWeek. You will receive a verification email shortly.
There was a problem. Please refresh the page and try again.
It has come — rather painfully — to my attention that very few people know how to properly use an umbrella.
Having grown up in Seattle, I hadn't realized this was a nationwide epidemic. Despite my hometown's 155 days of rain a year, our last umbrella shop closed in 2017 — everyone in the Pacific Northwest knows that a good rain hood protects you just as well. Since becoming an East Coaster, though, I've begrudgingly adopted the umbrella as a means of surviving the torrential downpours that sweep the region in the spring and summer.
Some people, however, put no thought into their umbrella usage at all. Navigating the streets of New York on a rainy day is a dangerous obstacle course, where one wrong move will put a metal rib in your eye (did you know that the curve of material between an umbrella's ribs is fittingly called the gore?). Yet whether you're equipped with the Cadillac of umbrellas or a junker you just picked up at CVS and are promptly going to forget on the bus, umbrella usage is like all things in life: Better when it is given ample consideration of others.
Subscribe to The Week
Escape your echo chamber. Get the facts behind the news, plus analysis from multiple perspectives.
SUBSCRIBE & SAVE
Sign up for The Week's Free Newsletters
From our morning news briefing to a weekly Good News Newsletter, get the best of The Week delivered directly to your inbox.
From our morning news briefing to a weekly Good News Newsletter, get the best of The Week delivered directly to your inbox.
I'm here to sort this all out. Welcome to my umbrella academy.
Do you actually need an umbrella?
Does it look like it's going to rain? Did you feel "something"? Has it recently stopped raining? Is it misting but not quite raining? Is it snowing? Does your weather app say it's raining but you have not personally confirmed this to be true? Then you do not need an umbrella.
I don't care if you just did your hair (trust me, humidity is going to ruin it anyway), if you're wearing a nice shirt that's going to show every drop, or if your umbrella is easily accessible and really no problem to pull out. If I could Thanos-snap my fingers and disappear one category of person, it would be those who have a loose trigger finger on their umbrella springs. If your umbrella is not 100-percent necessary, do not put it up. Period. You are not the Wicked Witch of the West and going to melt from a few little raindrops.
The scourge of overeager umbrella users is a real one, though; we could make city streets more navigable if people just waited for actual rain to start before flapping open their gigantic nylon canopies. The keyword here is patience. Assess the situation: Does it look like there is going to be a measurable amount of accumulation? Can you walk for 30 seconds without your precious sky shield to determine if it's really rain-rain? Are you making excuses for yourself because you're a moisture-fearing baby? Also take into consideration the water pressure and the distance you have to travel: If you're running across the street, you probably don't need an umbrella unless it's really a downpour.
Only after assessing the situation soberly and determining that some sort of over-head protection is necessary may you engage in umbrellas up (Rihanna will illustrate):
Oh, and lest I forget, never under any circumstances is it okay to use an umbrella in the snow. Do not argue with me.
Repeat after me: Umbrella usage requires active participation
Now that you've determined that you absolutely must use an umbrella, you don't just get to barrel down the street with tips a'flailing, ready to catch any unsuspecting passerby in the eye, nose, mouth, hair, or forearm. Even worse, though, is the sort of person who sees someone approaching with an umbrella and doubles down on their own course in a dangerous game of chicken. Don't be that person, either.
By using an umbrella, you must actively plot a course that weaves and bobs its way through and around other umbrella users, ideally without ever having your tips touch. That sometimes requires making eye-contact (gasp!) with other people, communicating in the same unspoken language as that between drivers who arrive at a four-way stop at approximately the same time.
It helps to adhere to the general rule of traveling on the right side of the path, too, so you don't plot an immediate collision course into someone else. When passing, assuming there isn't sufficient space to scoot aside, you ought to tilt your umbrella ever so slightly, so you remain covered but the passerby in the other direction doesn't get scratched by a tip. In particularly close quarters, you can also opt to lifting your umbrella up high, as to go over the other umbrella, or pulling yours down close to your head to sweep under. In extreme circumstances, you can even gently unlatch your umbrella to pull it into a partial-collapse over your head to make space for someone else.
Absolutely never do this:
Obstacles: A primer
Here are some of the obstacles you may encounter while out in the world with your umbrella, and how to handle them.
Other people: Be considerate. Just because you remembered to take your umbrella to work does not mean that everyone else did. Walk fast and purposefully so those who nobly refuse to stop in a drug store to buy their umpteenth umbrella can also get to their destinations relatively un-soaked.
Lightning: Trust me, getting a little wet is better.
Rogue umbrellas: Do not become an obstacle for someone else. Hold tightly to your umbrella to prevent it from flying away and becoming a sad scrap of debris, or from ganging up with other loose umbrellas to unite against man:
Sidewalk sheds: You must — must!!! — put your umbrella down if you are covered from above by scaffolding, a tunnel, etc. I am only going to tell you this once.
Public transportation: Prepare your umbrella before entering or leaving a subway or bus, as to prevent a clog of people at the entrance. This means having your hand on the neck of your umbrella to time its closing with your arrival at the entrance (you will get a little bit wet; please see notes on not melting). Do the reverse — prepare the umbrella to open — when exiting. Keep things moving.
One last thought for the road
Do not use a preposterously large golf umbrella as rain cover under any circumstances that do not directly involve golf. We will all thank you for it.
Continue reading for free
We hope you're enjoying The Week's refreshingly open-minded journalism.
Subscribed to The Week? Register your account with the same email as your subscription.
Sign up to our 10 Things You Need to Know Today newsletter
A free daily digest of the biggest news stories of the day - and the best features from our website
Jeva Lange was the executive editor at TheWeek.com. She formerly served as The Week's deputy editor and culture critic. She is also a contributor to Screen Slate, and her writing has appeared in The New York Daily News, The Awl, Vice, and Gothamist, among other publications. Jeva lives in New York City. Follow her on Twitter.