The gerrymandering ruling proves it: Democrats must pack the Supreme Court
Since the Supreme Court won't end gerrymandering, Democrats should gerrymander the Supreme Court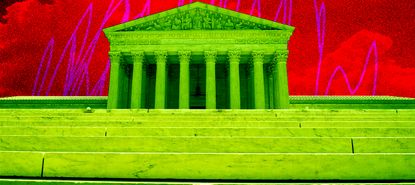 (Image credit: Illustrated | NICHOLAS KAMM/AFP/Getty Images, Anna Erastova/iStock)
Yesterday a Supreme Court drifting steadily toward illegitimacy handed down a party-line, 5-4 decision upholding the right of states to engage in gerrymandering, even when it is explicitly designed to diminish the electoral prospects of a political party. The decision, authored in hand-wringing fashion by Chief Justice John Roberts, affirmed yet again that the primary role of today's Supreme Court majority is to act as a handmaiden to ill-gotten Republican electoral power. Should Democrats ever regain power, they must remember this moment.
The cases at hand, Rucho v. Common Cause (from North Carolina) and Lamone v. Benisek (from Maryland), revolve around unfair district maps for the U.S. House drawn by state legislatures in North Carolina and Maryland following the 2010 census and reapportionment. Many states allow majorities in elected legislatures to draw those maps, typically with the consent of the governor. That means that states with "trifectas" (control of both houses of the legislature and the governorship) for one party or the other can use increasingly sophisticated software to draw district lines that benefit the party in power and make it immensely difficult for the opposition to win power back.
When Republicans dominated the midterm elections in 2010, they won the right to draw these district lines in a series of swing states — Pennsylvania, Ohio, Wisconsin, North Carolina, Florida, Virginia, and Michigan — uncontested. The maps they drew packed Democrats into a small number of districts where they held an overwhelming advantage, and ensured that Republicans would win a majority of House seats in each state even if they lost the aggregate vote decisively. Because they held far more of these trifectas than Democrats did, it allowed Republicans to game the results of state and national elections for a decade and counting. The results were stark, deeply unfair to Democrats and corrosive to the very idea of representative democracy.
Subscribe to The Week
Escape your echo chamber. Get the facts behind the news, plus analysis from multiple perspectives.
SUBSCRIBE & SAVE
Sign up for The Week's Free Newsletters
From our morning news briefing to a weekly Good News Newsletter, get the best of The Week delivered directly to your inbox.
From our morning news briefing to a weekly Good News Newsletter, get the best of The Week delivered directly to your inbox.
Even in the wave election year of 2018, when national Democrats were able to overcome this problem by winning the House, these gerrymandered maps held up for the GOP in many places. In North Carolina, Democrats won over 48 percent of the statewide House vote but just three of 13 House seats. The effect was just as powerful in gerrymandered state legislatures. In Wisconsin, Democrats won 54 percent of the vote for the state assembly but just 36 of 99 seats. (For the sake of fairness, Republicans won 32.8 percent of the statewide vote in Maryland last year, but got just one out of eight House seats). For the entirety of the post-2010 period, Republicans have won far more seats in the most gerrymandered states than they should be entitled to under any fair allocation of power. This is to say nothing of the deeply destabilizing impact on our politics of having hundreds of House seats deliberately drawn to be uncompetitive.
This history is like scripture to anyone who has read David Daley's magisterial book Ratf**ked, a meticulous investigation into the GOP's ingenious and successful effort to fortify the party's fortunes against all but the largest partisan waves. But the practice of gerrymandering itself is an affront to democratic decency, something that is allowed in its particular American form by no other advanced democracy on the planet. Its very purpose is to frustrate the will of the majority with clever engineering made to look fair.
The Court had multiple constitutional ways it could have struck down gerrymandering, thus instantaneously improving the practice of American democracy and restoring wavering faith in our electoral processes. But it chose instead, as it almost always has under Roberts, to protect systematic injustices that benefit the Republican electoral coalition. The same court that recently bypassed Congress and rewrote American labor law to eviscerate unions now claims that "federal judges have no license to reallocate political power between the two major political parties."
Well, that's super convenient to claim today, isn't it? Because it seems like from Bush v. Gore to the gutting of the Voting Rights Act in Shelby County v. Holder, the assault on organized labor — a key Democratic constituency — in Janus v. AFSCME, and the unleashing of national dark money operations with Citizens United, the Supreme Court has done nothing but "reallocate political power" from Democrats to Republicans, again and again. The Roberts Court hasn't issued a single ruling related to electoral politics that would benefit Democrats.
Roberts, who seems at least to recognize the problematic nature of gerrymandering, practically invited Congress to address it. He wrote, "The Framers also gave Congress the power to do something about partisan gerrymandering in the Elections Clause. That avenue for reform established by the Framers, and used by Congress in the past, remains open." Roberts is referring to the right of Congress, stipulated clearly in the Constitution, to set more or less whatever rules it deems necessary for the conduct of federal elections in the states.
But what kind of sense does this make? The House is, in large part, produced by gerrymandering, which benefits Republicans disproportionately. Roberts knows perfectly well how difficult it will be for Democrats to hold the House in 2020, let alone capture the Senate and presidency to end gerrymandering. Rather than use the Court's power to end this scurrilous practice for good, Roberts has decided to delegate action to the men and women whose very power depends on its existence. It's like asking arsonists to write the town fire code.
There have been some great successes at the state level to fight the practice of gerrymandering. And earlier this year, Democrats passed a bill, H.R. 1, that contained sweeping changes to how American elections are conducted. It isn't going anywhere in Mitch McConnell's Senate, but it is a good starting point for what the party can do if it wins back power in Washington. Among many other things, H.R. 1 would require all states to appoint 15-member, non-partisan redistricting commissions comprised of five Democrats, five Republicans, and five independents.
Any districting plan would need the approval of at least one Democrat, one Republican, and one independent. But the scheme would leave the existing districting structure of the House in place, and there is little doubt that Republicans would, in at least some states, find an end-run around the protocols, especially in states where they would begin with overwhelming advantages. That's why Democrats would be wise to consider enlarging the size of House districts to three or five members and using Ranked Choice Voting. Doing so would make maps almost impossible to gerrymander, and would eliminate the need for elaborate partisan balance schemes on districting commissions, which are themselves vulnerable to all kinds of chicanery.
But Democrats shouldn't stop there. If they are able to capture power in 2020 in spite of all the anti-majoritarian, Supreme Court-approved obstacles placed in front of them, Democrats simply cannot afford to let the Roberts Court run roughshod over the progressive agenda. What they need to do, should Republicans refuse to jointly pursue a constitutional compromise based on Supreme Court term limits, is a little bit of gerrymandering of their own.
They must cordon the five conservatives in a kind of always-lose district by expanding the Court's membership to 11 or 13 or whatever it takes to achieve the long-thwarted liberal majority. If they don't, they will watch every serious policy they want get subjected to TEGWAR (The Exciting Game Without Any Rules) by Federalist Society zealots at all levels of the court system. Does anyone doubt that despite his seemingly good-faith call for Congress to eliminate gerrymandering, that any kind of national law seeking to overturn the practice would make its way back to the Roberts Court? Does anyone trust this court to do the right thing?
The answer is no. And due in large part to its abuse of power and its open alliance with the Republican Party's long-game effort to stifle popular democracy, the Supreme Court is careening toward a long-overdue showdown with Democrats that will bring its powers, its shape, and its very legitimacy into question.

Continue reading for free
We hope you're enjoying The Week's refreshingly open-minded journalism.
Subscribed to The Week? Register your account with the same email as your subscription.