You don't have to earn your mental health struggles
"I don't deserve to be depressed" is a troubling refrain coming from America's campuses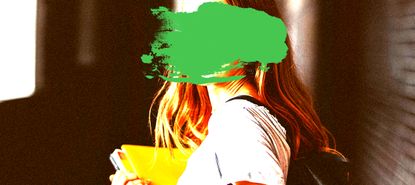 (Image credit: Illustrated | jacoblund/iStock, rudchenko/iStock)
"A lot of times I feel like I'm not allowed to complain, to be upset or stressed, because whatever's on my plate isn't horrible enough."
Jane (not her real name), a junior at Duke University, explained to me recently that most of her freshman year she had been depressed. She never sought help, however, because she thought it would mean she was shallow and unappreciative.
"There are people in way worse situations than I am. Nothing has really happened to me and I didn't really feel like I 'deserved' to be depressed," she said.
Subscribe to The Week
Escape your echo chamber. Get the facts behind the news, plus analysis from multiple perspectives.
SUBSCRIBE & SAVE
Sign up for The Week's Free Newsletters
From our morning news briefing to a weekly Good News Newsletter, get the best of The Week delivered directly to your inbox.
From our morning news briefing to a weekly Good News Newsletter, get the best of The Week delivered directly to your inbox.
Jane is not alone. In the last four years, I talked with women of different races, sexual orientations and socio-economic statuses from 15 institutions of higher learning across the country, and have heard this same sentiment over and over again.
"I am top of my class. My parents have some money. Nothing is wrong with my life, so why am I having such a hard time?" another student questioned.
The National Alliance on Mental Health reports that over 25 percent of college undergrads have been diagnosed with or treated for a mental health condition within the past year. Active Minds estimates 39 percent of undergrads experience a significant mental health issue while in college, yet two-thirds of those struggling with anxiety or depression do not seek treatment.
Women are disproportionately affected, as they are twice as likely to be diagnosed with depression upon reaching their teens. The situation appears to be worsening, with suicide rates among teenage girls hitting a 40-year high in 2015. Many activists point a finger at the stigmas surrounding mental health, causing those struggling to remain silent.
For undergrads in particular, Emory University's Gary Glass additionally points to the pressures of existing within competitive campus environments where achievement is a continuous focus. In a column for Inside Higher Ed, Glass describes a mentality of "pursuing a vaguely defined success, fueled by a perpetual fear of failure." He asserts that such a mindset "banish[es] the vulnerability that everybody feels and promote[s] a competitiveness that divides the world into winners and losers, privileging conformity to those who hold power and status while marginalizing those identified as other."
Such a culture of "compare and despair" makes loneliness and anxiety almost inevitable.
Yet those who feel lucky enough to have made it as far as they have — to attend a good college, to land a solid summer internship, to earn a coveted spot on a sports team or in a club — often report that coming from privilege or having access to privilege makes them feel like they should not be "allowed" to claim the diagnosis of depression because they have not "earned" it.
Several of the female undergrads I spoke with described a strong sense of guilt about reaching out to others regarding their mental health for this very reason. They feared others would take their cry for help as distasteful attention seeking.
Studies show that this feeling can be particularly strong in communities of color. For instance, a 2014 study on African-Americans' attitudes toward mental illness found that, while stigmas are decreasing within this community, older generations are still inclined to believe mental illness is "a sign of weakness and lack of inner strength."
Another of my undergraduate interviewees from Duke explained that, as a woman of color, when she finally gathered the courage to tell her parents she thought she might be clinically depressed her sophomore year, they wrote depression off as "a white people issue" and "a rich people issue."
Her parents had come to the United States as refugees and given everything they had to set their children up for better lives. Here she was attending college, with access to resources beyond their wildest dreams, and she was depressed? It did not add up to them.
Claiming the title of "depressed" when others she knew had been through "so much more" made her feel guilty. She felt she did not deserve the "privilege of being able to label [her] pain," when doing so had been denied to so many others before her.
She says she struggled as the first generation of her family to be equipped with the language to say, "What I'm feeling right now is depression," or "What I'm feeling right now is anxiety." While she found this new vocabulary key to effectively describing her emotional struggles, she did not feel like it was welcome conversation in her community.
This is often the case in other minority racial groups, as well. The 2017 California Well-Being Survey found that Asian-Americans in the state reported higher levels of self-stigma than Caucasians in regards to mental illness. Latinos interviewed in English also reported higher levels of self-stigma; while Latinos interviewed in Spanish reported lower levels of stigma, though they were also the least likely of all racial and ethnic groups to have used mental health services.
Stigmas surrounding mental health fail to recognize that environmental factors are only part of the equation. Depression is a biochemical condition and, depending on the genes that have been passed down to us, some are more prone to depression, based on brain chemistry.
The comparison of, "this person experienced this and was fine, so why can't I power through and be fine, too," is an unfair judgement of mental toughness and coping efforts. Someone who has inherited a greater susceptibility to stress, anxiety and depression may feel trauma and tragedy more intensely than an individual without that susceptibility would.
"You don't need to have this horrible traumatic experience to hurt," Jane says. "It doesn't have to be suicide to be depression. Hurt is hurt. Pain is pain. It's not a contest."
Now having spent time in therapy, Jane says she realizes the importance of relating to others without competing, especially when it comes to mental health. She encourages others to recognize that we are all just doing the best we can with the brain chemistry we have been given, plus the environmental factors that surround us.
Mental health treatment is not something to earn or win. It is just something millions need.
Caralena Peterson is a high school teacher, writer, and visual artist. She is at work on the forthcoming book, The Effortless Perfection Myth. You can follow her on Instagram at @caralenapeterson or @badasscreative_.

Continue reading for free
We hope you're enjoying The Week's refreshingly open-minded journalism.
Subscribed to The Week? Register your account with the same email as your subscription.