The forgotten adventurer who made history in Apollo 11's shadow
Fifty years ago this week, John Fairfax became the first solo oarsman to cross an ocean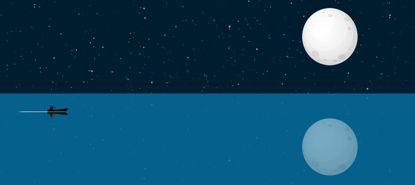 (Image credit: Illustrated | Bertinova/iStock, colematt/iStock, FORGEM/iStock)
On July 16, 1969, as three astronauts boarded a Saturn V rocket at the Kennedy Space Center with the dream of landing on the moon, a small boat drifting 120 miles off of Miami was being pelted with bananas and batteries.
For John Fairfax, the lone person on board the vessel, the rain of provisions from a passing airplane marked day 177 of his death-defying mission to do what no man had likely ever done before. For Neil Armstrong, Buzz Aldrin, and Michael Collins, setting off on a similar mission into the unknown just a few hundred miles away, it marked day one. Yet despite their parallel accomplishments, as America prepares to honor the 50th anniversary of putting the first man on the moon on Saturday, Fairfax's quinquagenary on Friday is a decidedly less boisterous affair.
It shouldn't be. Having stepped ashore at Hollywood, Florida, on July 19, 1969 — the day before the moon landing — Fairfax became the first solo oarsman in recorded history to cross an ocean, an accomplishment that earned him the glowing admiration of the Apollo 11 astronauts. "We who sail what President Kennedy once called 'the new ocean of space' are pleased to pay our respects to the man who, single-handedly, has conquered the still more formidable ocean of water," the trio's telegram to Fairfax went.
Subscribe to The Week
Escape your echo chamber. Get the facts behind the news, plus analysis from multiple perspectives.
SUBSCRIBE & SAVE
Sign up for The Week's Free Newsletters
From our morning news briefing to a weekly Good News Newsletter, get the best of The Week delivered directly to your inbox.
From our morning news briefing to a weekly Good News Newsletter, get the best of The Week delivered directly to your inbox.
"We find it an interesting coincidence," the astronauts added, "that you completed your arduous voyage here on Earth at a spot very near the one from which we started our voyage to the moon, and that you arrived at your destination quite near the time that we reached ours. Yours, however, was the accomplishment of one resourceful individual, while ours depended upon the help of thousands of dedicated workers in the United States and all over the world."
An Italian-born Englishman, Fairfax didn't step foot in Britain proper until 1966, when, at the age of 29, he made up his mind to row across the Atlantic in the metaphorical wake of his heroes, Frank Samuelsen and George Harbo, who were the first recorded people to traverse an ocean in an 1896 voyage. By the time Fairfax embarked on the journey in 1969, though, only four other people had attempted to row across the Atlantic that century. One team made it; the boat belonging to the other two-man team was found overturned mid-Atlantic, with no trace of its former occupants. No one had dared to try the feat alone.
Fairfax, though, was undeterred. A "professional adventurer" with a roguish penchant for women and telling stories so outrageous that you can only half-believe them, he was banned from the Boy Scouts at the age of 9 for shooting at his comrades (luckily no one was hurt). After the firearm incident, his mother moved him to Argentina, where by the age of 13 he was hunting exotic cats in the jungle to sell their furs. By 20, he resolved to commit suicide-by-jaguar after having his heart broken while studying literature and philosophy in college (at the last minute, as The New York Times puts it in his 2012 obituary, "reason prevailed — as did the gun he had with him").
Fairfax later became the apprentice to a pirate in Panama, where he earned his sea legs running guns, liquor, and tobacco across the world. "Over the next three years I learned navigation and made my first million," Fairfax recounted to the Ocean Rowing Society in an interview.
Eventually Fairfax tired of all the smuggling and arranged for his boat to be hijacked as an out. The authorities were waiting for him at the predetermined meeting place, though, and Fairfax was the only person of his four-man crew to escape. "I had my mask, flippers, and false passport all set to go," he said. "I swam five miles to get away." The subsequent two weeks were spent lying low in a brothel. Fairfax then picked up work in Jamaica as a fisherman, was involved in another shoot-out in Panama, and returned to Argentina on horseback, before finally taking over a mink farm. A few years later, he resolved to row from the Canary Islands, just off the coast of Morocco, to Florida in Britannia (or "Britt," as he sweetly would refer to it), the self-righting rowboat designed by Uffa Fox.
"Why row across the Atlantic, then?" pondered Fairfax in his memoir, Britannia: Rowing Alone Across the Atlantic. "Because, with a bit of know-how, almost anybody can sail, but I was after a battle against nature at its most primitive and raw. [...] To those who may feel inclined to ask, 'To what purpose?' [...] I have no answer, and don't suppose I ever will have, except that it mattered to me, and if that makes me selfish, then I am selfish."
On January 20, 1969 — a month after Apollo 8 completed the first manned lunar orbit — Fairfax took to sea from the shores of Gran Canaria. Although the trade winds route is supposed to be 3,600 miles, he ended up rowing an estimated 5,000 miles due to unfavorable winds, surviving primarily on fish and the occasional passing generosity of shipping boats or friends' seaplane visitations. His only associates otherwise were a dolphinfish named Jerrycan, whom he companionably spared from his spear, and the planet Venus, which, in his isolation, served as deity, fickle lover, and muse.
Fairfax had perhaps another companion at sea, as well. "Winds still from the south, force 4," he wrote in his log on May 5. "And I saw two UFOs shortly after sunset." As he elaborates in his biography, "I know most people will say, 'Poor chap, the way he was feeling at the time, there is no doubt that he suffered a hallucination' — which of course I did not."
Finally, on his 180th day at sea on July 19, just a half mile from Florida's coast, Fairfax hailed the charter boat Dragon Lady and asked to be towed in. The crew refused, insisting he finish the half-mile row to shore himself. "My comment — the only printable one, that is! — was reported the next day all over the press: 'Bloody stupid,'" Fairfax recalled. "Eventually, I did row myself ashore, and that was the hardest, longest, most irritating half mile I had rowed in my life." Once on land, he requested a victory meal of "a nice steak, a bottle of Scotch, and two aspirin."
Despite his grumblings, Fairfax wasn't done with rowing just yet. In 1971, he became the first person to row the 8,000 miles across the Pacific Ocean with his girlfriend, Sylvia Cook, in 361 days. Seriously, Hollywood, where's that biopic?
But in some ways, despite the double-history-making accomplishment of that later Pacific voyage — in the process, Cook became the first recorded oarswoman to ever cross any ocean — it is the Atlantic journey that most boggles the imagination. Part of the great romantic attraction of space, after all, is its overwhelming loneliness, that vacuum in which you are alone to commune with the planets, stars, and whatever unknowable gods or monsters inhabit the black voids in between. But going to sea alone is to make oneself lonely on a planet of seven and a half billon people, to diminish oneself by putting the infinite cosmos not only above but also below.
"Venus — my adorable, beautiful, gorgeous Venus — you are the greatest!" wrote Fairfax in his log during one April sunset, the articulation of the sort of mad and ancient prayer of one who has looked up at the stars and found, against all odds, comfort there. "Keep pushing for me, keep pushing, and we'll make it."

Continue reading for free
We hope you're enjoying The Week's refreshingly open-minded journalism.
Subscribed to The Week? Register your account with the same email as your subscription.