What it's like to be a rabbi in a time of rising anti-Semitism
'Just because there's hatred out there doesn't mean that we should diminish our identity'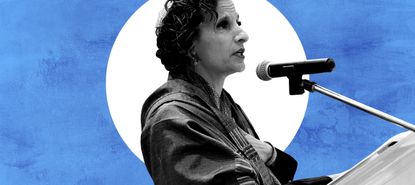 (Image credit: Illustrated | Congregation Emanu El, jessicahyde/iStock)
This wasn't something they taught in rabbinical school.
Rabbi Lindy Reznick studied the Torah, Jewish law, and ethics, and even spent a year learning all three in Israel, but never listened to a lecture or wrote a dissertation about how to lead a congregation during a time of rising anti-Semitic violence and increased public hate speech.
"I never imagined that the challenges I'm dealing with today would be the challenges I was actually going to face," Reznick tells The Week.
Subscribe to The Week
Escape your echo chamber. Get the facts behind the news, plus analysis from multiple perspectives.
SUBSCRIBE & SAVE
Sign up for The Week's Free Newsletters
From our morning news briefing to a weekly Good News Newsletter, get the best of The Week delivered directly to your inbox.
From our morning news briefing to a weekly Good News Newsletter, get the best of The Week delivered directly to your inbox.
The world has changed in the decade since she completed her studies. Last summer, Reznick became the rabbi of Congregation Emanu El in Redlands, California, about an hour's drive from Los Angeles. The reform congregation's roots run deep in San Bernardino County, with services first held in the 1850s before an official charter was granted in 1891. Reznick is the first female rabbi to head Emanu El in its 128-year history.
"It's something that I've always wanted," she says. "To me, it's a calling, it's not just a job."
Growing up in Santa Monica, Reznick never felt different; the westside of Los Angeles has a sizable Jewish population — some religious, others secular and cultural — and while she knew about anti-Semitism, it wasn't something she experienced. Now, she's had to navigate her congregation through waves of anti-Jewish violence — the shooting in October at Pittsburgh's Tree of Life synagogue, which left 11 people dead, and the shooting at Chabad of Poway on April 27, where one woman lost her life after stepping between the gunman and her rabbi.
The Anti-Defamation League says the Tree of Life shooting was the deadliest attack against Jews in United States history. The FBI's most recent data on hate crimes is from 2017, and that year, of the 1,749 known victims, 58.1 percent were Jewish. In its 2018 audit of anti-Semitic incidents, the Anti-Defamation League found there were 1,879 attacks against Jews and Jewish institutions, the third-highest year on record since the organization began tracking in the 1970s.
"It's hard," Reznick says. "There's a lot of fear, a lot of fear of expressing our Judaism outwardly, a lot of fear about presence in the synagogue and in Jewish life. My goal with my community and with fellow Jews I meet is to say just because there's hatred out there doesn't mean that we should diminish our identity. If anything, we should be out in the community more, educating, reaching out, teaching, talking to people."
Her congregation has more than 200 members, including Holocaust survivors and teenagers who are attending the synagogue's School for Jewish Learning. They're being taught about what it means to go out into the world as a Jewish person, and how to deal with any hostility they might encounter. For the younger children, the message is "about tolerance and how we accept people of other faiths and people who are different than us," Reznick says. "How we can be loving toward them, even if they aren't the same, and how we represent who we are with pride."
What Reznick doesn't want to do is spread panic or nurture a culture of fear in the face of violence and hatred. "That's not what we're about," she says. "Jews have been dealing with anti-Semitism for centuries. Yes, right now there is a real increased spike in it, but I don't want our community to be united through fear. I want us to be united through hope, through tolerance, through education, through these positive values that we are about. That's the delicate dance with dealing with the world we're in right now."
Reznick is in regular communication with her fellow clergy members in Redlands, and when a young woman from Hillel, a group for Jewish college students, was personally affected by the Pittsburgh shooting, they all attended a candlelight vigil at the temple.
"The Christian and Catholic community here is so much larger, and they are amazing interfaith partners," she says. "I think we're pretty committed here to working together to create a more peaceful co-existence between our faiths and I'm very grateful for that."
Congregations have been stepping up their security and introducing new protocols in an attempt to stay safe, and Reznick says it's "disheartening and sad to think that people want to take away an individuals' sacred space. There are very few sacred spaces left in our modern world, and to me, a synagogue should be that. It should be a place of comfort and safety and security and connection and relationship and vibrancy. But we're still doing the work, and the work is to continue to create that for people."
Reznick believes in the power of education to get through to people, especially youth. While some feel alienated and are becoming indoctrinated by white supremacists online, there are others who are being taught hatred at home. "It's ingrained in different areas that they're immersed in," she says. "That's when it's problematic. When you're given license by a grown up to do that, you're going to, or when you're desperately seeking attention." 

A lot of young people turn to hate groups because they crave a sense of belonging, and to have a connection with others. Reznick hopes her congregation can help fill that void. "That's what kids want, that's what most humans want, we want to be a part of something," Reznick says. "My goal here in our community is to help people feel that, and do that in positive ways."
It takes a lot to shock Reznick, but she found it jarring to hear President Trump recently tell reporters that Jewish people who vote for a Democrat are either ignorant or disloyal. She says such a statement is "an age-old rhetoric of anti-Semitism."
"Jews have been accused of being disloyal, that's like one of the cores of anti-Semitism," she says. "Before the Holocaust that was used, it's been used throughout the Diaspora where Jews have lived, they are accused of being disloyal because they're loyal to Judaism, to their faith, to their people, and therefore not to wherever they're living."
Still, Reznick remains hopeful through it all, believing that optimism is a choice we all have to make. "Personally, I would rather live in that space," she says. "I find it one where you can experience creativity and divinity and growth and humankind and it's a much nicer way to live. That's why I choose it."
That doesn't mean that there aren't hard times, but the members of Congregation Emanu El have each other, bonded by tradition, fellowship, and the faithful who came before them.
"We're all human," Reznick says. "There are great moments of sadness. We cry together and we get strength from crying together. It's all about connection and human beings who are part of our community, who have been around for quite a long time, and invest and believe in our values and our faith and our people."
Want more essential commentary and analysis like this delivered straight to your inbox? Sign up for The Week's "Today's best articles" newsletter here.

Continue reading for free
We hope you're enjoying The Week's refreshingly open-minded journalism.
Subscribed to The Week? Register your account with the same email as your subscription.