Greta Thunberg's prosperous future
The activist is going to live on a prosperous, high-energy planet. And it's going to be fantastic.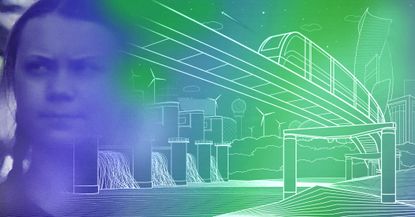 (Image credit: Illustrated | panimoni/iStock, TIZIANA FABI/AFP/Getty Images)
Greta Thunberg, the teenage climate activist from Sweden, is right to be passionate about climate change, maybe even petrified. Right-wing populists mock her angry tears, but she's a lot closer to the truth than those who dismiss climate change as a hoax cooked up by big-government loving progressives or the Chinese Communist Party — or maybe both.
Humanity is doing something new to the atmosphere, and the results could be pretty bad. Trying to quantify just how bad was the life's work of Harvard University economist Marvin Weitzman, who died last month. Climate change, Weitzman wrote in a 2009 paper, is characterized by "deep structural uncertainty in the science" and thus the "probability of a disastrous collapse of planetary welfare from too much CO2" is both ''non-negligible" and ''not objectively knowable."
But there's no problem that probably can't be made worse through a wrong-headed response. And Thunberg unfortunately reflects the views of some more seasoned environmental activists when she rages at "fairy tales of eternal economic growth." They see technological progress and the supposedly insatiable capitalist need for evermore consumption as the true villains in this dystopian drama. To de-carbonize, we must de-consumerize, de-computerize, and embrace the spirit of Luddism.
Subscribe to The Week
Escape your echo chamber. Get the facts behind the news, plus analysis from multiple perspectives.
SUBSCRIBE & SAVE
Sign up for The Week's Free Newsletters
From our morning news briefing to a weekly Good News Newsletter, get the best of The Week delivered directly to your inbox.
From our morning news briefing to a weekly Good News Newsletter, get the best of The Week delivered directly to your inbox.
And the de-growth crowd does have a point. Modern civilization was built by capitalism, which burned plenty of fossil fuel in the process. The tempting conclusion is that more economic growth must mean more carbon, more warming, and a worsening existential crisis for humanity.
Except it also matters that capitalism brought much of humanity out of deep poverty and continues to do so today, especially in Asia. And more needs to be done to raise global living standards. We need more growth, which will require energy. And that means we also need more innovative capitalism, not less. We need dynamic economies that produce ambitious entrepreneurs — aided by far more government-funded basic research — to help generate next-generation solar and nuclear as well technologies that suck carbon from the atmosphere. Eternal economic growth is the enabler of dreams, not their destroyer.
Rather than bemoaning their fate, young people should be getting excited about how emerging technologies can help create a prosperous, sustainable future — and how far along we already are. Even if the worst-case climate scenario starts to happen, we have options. Weitzman favored research into geoengineering solutions, just in case. In a recent blog posting, tech analyst Eli Dourado highlights several intriguing possibilities along such lines, including converting heavily forested Siberia to grassland to maintain the region's carbon-trapping permafrost. Another is Project Vesta, which envisions spreading large volumes of greenish volcanic rock on 2 percent of the world's beaches, where waves will break it down, thus accelerating and intensifying Earth's natural carbon cycle for removing CO2 from the atmosphere.
The anti-capitalist view also misses the great advances that have already happened in making economic growth more environmentally sustainable. The forthcoming book More from Less, MIT scientist Andrew McAfee argues that rich nations such as the United States have reached a point in development where they can grow their economies while using less of the Earth's resources. In other words, our economies are "dematerializing." McAfee finds that the annual U.S. consumption of metals such as aluminum, copper, and steel all peaked near the year 2000 and have uniformly declined to pre-1980 levels. GDP has continued to increase throughout this decline — in fact, GDP trends have been decoupled from consumption trends since at least the 1980s.
McAfee credits this development to the collaboration between technological progress and capitalism. The combination has generated innovations that allow us to create value digitally rather than physically. In his words, we are more and more "substituting bits for atoms." As McAfree recently wrote, dematerialization is "not happening because of recycling, rationing, or lots of people deciding to consume less or go back to the land." Rather, as they say in Silicon Valley, software really is eating the world. For instance: A smartphone provides us with a calculator, camcorder, clock, camera, and GPS device, thereby dramatically cutting down on material used to provide the same ends as before. More from Less would be a great read for Thunberg as she travels back home.
Want more essential commentary and analysis like this delivered straight to your inbox? Sign up for The Week's "Today's best articles" newsletter here.

Continue reading for free
We hope you're enjoying The Week's refreshingly open-minded journalism.
Subscribed to The Week? Register your account with the same email as your subscription.