Avenue 5 is the perfect escape from our crushing reality
Armando Ianucci's new HBO series is refreshingly off-topic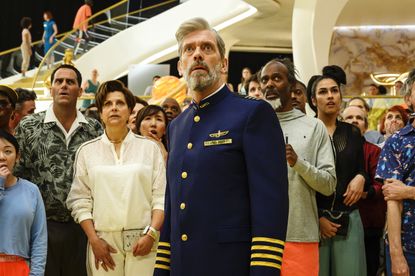 (Image credit: Alex Bailey/HBO)
Sign up to our 10 Things You Need to Know Today newsletter
A free daily digest of the biggest news stories of the day - and the best features from our website
Thank you for signing up to TheWeek. You will receive a verification email shortly.
There was a problem. Please refresh the page and try again.
Space is ... predictable. Because it's never really about "space," is it? Set a movie or TV show on a rocket ship and suddenly what you're really talking about is the Vietnam War, or "what makes us human," or daddy issues.
So when I heard that Veep creator Armando Iannucci was returning to HBO with a show set on a luxury spaceship, it seemed a little too easy. One of the great political satirists of our time, Iannucci was surely going to use Avenue 5's space backdrop to say something about the "unmanned ship" that is America, or the false hope of the tech billionaires — after all, as The New York Times writes, "this is a golden age ... for topical television comedy." But to my surprise, Iannucci is doing something different with Avenue 5 (at least so far in the first four episodes that were made available to critics): He's refreshingly using comedy not to comment on the current political moment, but to offer an escape from it.
One part The Poseidon Adventure, one part Sartre's No Exit, Avenue 5 (premiering Sunday) is a darkly funny disaster story that finds several thousand wealthy passengers trapped together aboard a spaceship after an antigravity malfunction knocks them from their eight-week trajectory into a three-year one. The crew is wholly unprepared to handle the ensuing crisis, including Captain Ryan Clark (Hugh Laurie), who helms the Avenue 5 spaceship and is widely considered a hero due to his actions during a fire on the Avenue 3 (the spaceships are all named for New York City avenues). The nihilist head of passenger services, Matt (Zach Woods), is more inclined to worsen a situation than help it ("this is fate, and it's freestyling with us — this is like jazz fate," he excitedly tells terrified passengers), while the billionaire owner of the ship, Judd (Josh Gad), is a font of bad ideas and reined in only by his handler Iris (standout Suzy Nakamura). Of course, the passengers aren't content to be sitting ducks: Nosy Karen (Rebecca Front), whose personality might best be summed up as "I want to speak to the manager," boldly inserts herself into the crew's affairs.
Subscribe to The Week
Escape your echo chamber. Get the facts behind the news, plus analysis from multiple perspectives.
SUBSCRIBE & SAVE
Sign up for The Week's Free Newsletters
From our morning news briefing to a weekly Good News Newsletter, get the best of The Week delivered directly to your inbox.
From our morning news briefing to a weekly Good News Newsletter, get the best of The Week delivered directly to your inbox.
Set 40 years in the future, the premise, of course, isn't totally without political reference points; America doesn't seem to be doing great, anyway, seeing as Fyre Festival founder Billy McFarland is described at one point as our FBI director. It's easy, also, to see Trumpiness in Judd's gaudy gold bedchambers, or read him as an exaggerated "goofball techbro" like Elon Musk. The nature of the show's premise also raises questions about leadership, or rather, as Iannucci put it in an NPR interview, how "no one really knows what they're doing."
But at a time when political jokes seem otherwise to be the inescapable bread-and-butter of American comedy, Avenue 5 steers mostly clear. Even the leaders Iannucci is satirizing aren't just incompetent buffoons; they are endearingly earnest, people who are trying their best even in the worst circumstances. Iannucci is on the record as having intentionally gone out of his way to do something different than his usual blistering commentary, too: "After doing Veep and The Thick of It, I knew I didn't want to do another political show," Iannucci said at a recent Television Critics Association session, as reported by Indiewire. Instead, he aimed to tackle, somewhat less specifically, "anxiety, a sense of foreboding doom about the climate, […] populism and how crowds can take on a life of their own."
The result? I felt happy watching Avenue 5. Sure, not everything about it is a success — many critics have noted that there are kinks yet to be worked out and, particularly in later episodes, there are more gross-out jokes than I might have needed. But watching a failed attempt to launch a coffin into space, only to have it get stuck in the gravitational pull of the ship, bumping up against passengers' windows, was a bit of pure hilarious escapism that didn't simultaneously make me want to cry. Iannucci references the suffocating dread many of us are feeling about the state of the world only through the broadest strokes, finding humor in hurdling toward doom generally, without needing to bring up the myriad ways that we are.
That's not to say there isn't important work being done in topical satire, nor that it can't also be fun; I'm extremely excited for the forthcoming Space Force Netflix show, which will make fun of Trump's new military branch, for example. But Avenue 5, with its mostly off-planet concerns, offers comedic escapism of the sort that is rarer these days — and, I imagine, also harder to stick to, when there's so much low hanging fruit. It also poses an interesting question: Can satire even be satire if it isn't satirizing any one condition, person, or moment so much as (if you'll excuse the pun) a general atmosphere?
Avenue 5 is intent on trying. Although I would never go as far as to describe the result as "feel good" exactly — there are a lot of dead people! — it is more often than not a wickedly amusing retreat from reality.
And I, for one, count that as a welcome surprise.
Want more essential commentary and analysis like this delivered straight to your inbox? Sign up for The Week's "Today's best articles" newsletter here.
Continue reading for free
We hope you're enjoying The Week's refreshingly open-minded journalism.
Subscribed to The Week? Register your account with the same email as your subscription.
Sign up to our 10 Things You Need to Know Today newsletter
A free daily digest of the biggest news stories of the day - and the best features from our website
Jeva Lange was the executive editor at TheWeek.com. She formerly served as The Week's deputy editor and culture critic. She is also a contributor to Screen Slate, and her writing has appeared in The New York Daily News, The Awl, Vice, and Gothamist, among other publications. Jeva lives in New York City. Follow her on Twitter.